Is aquatic physical therapy right for you?
Orthopedics
Dec 11, 2018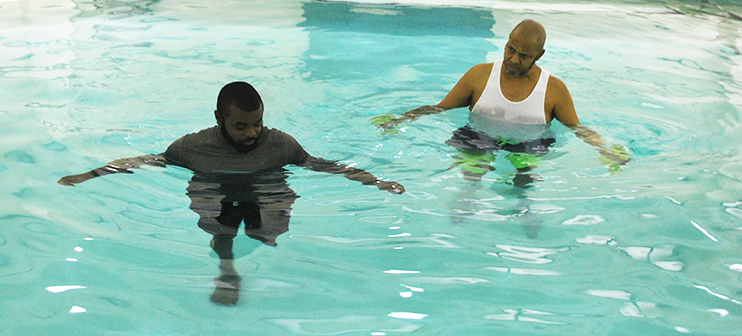 St. Joseph's/Candler offers aquatic therapy at its Candler Hospital Outpatient Rehabilitation location
A swimming pool can be used for a lot more than a game of Marco Polo or cooling off in the summer sun. With a trained staff, an aquatic environment is a great source of exercise or therapy for many ailments.
St. Joseph's/Candler offers aquatic physical therapy at its Candler Hospital Outpatient Rehabilitation location. Aquatic physical therapy is rehabilitation, prevention and wellness for a wide array of patients in a safe aquatic environment.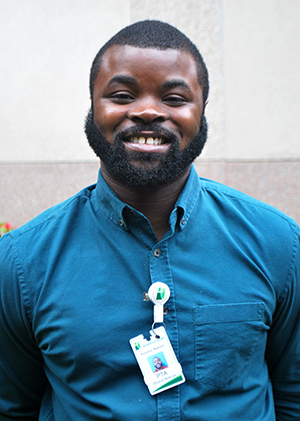 Simply put, aquatic therapy employs the principles of physical therapy just in water, says Brandon Madison, PTA, physical therapy assistant with Candler Hospital Outpatient Rehab. Examples of exercises can include anything from walking forward to help hip flexors to walking sideways to help hip abductors to quad stretches to water weight lifting. Additionally, swimming strokes may be included in conjunction with treatment techniques.
"I like to start out walking as a warm up with any patient and any injury," says Madison, who averages four hours a day with aquatic therapy patients. "A lot of people don't realize how weak the hips can be and how important they are to walking, which almost everyone needs to live out their daily life."
Who is aquatic therapy for?
Aquatic therapy can be effective for a variety of patients with a variety of conditions. An aquatic physical therapy plan can be developed for any age and may be well suited for:
Patients experiencing low back pain and have trouble standing or walking
Anyone recovering from surgery
Patients not allowed full weight bearing but need to work on walking
Patients that cannot tolerate high impact activities
Madison says the majority of patients he sees are recovering from knee surgery or a knee or hip replacement, those suffering from osteoarthritis or other joint conditions, those having issues with gait and patients coming off surgery following a fractured bone.
Some aquatic therapy patients have tried traditional physical therapy before without success and benefit from therapy in an aquatic environment. Others choose aquatic therapy as an alternative to surgery.
"It's a good feeling to know there is something out there other than surgery that can help manage some of that pain you are in," Madison says. "Talk to your doctor and see if aquatic therapy is something worth doing. I believe with aquatic therapy, you will see results."
What are the benefits to aquatic therapy?
The physical characteristics of water are used to support, resist and/or assist in increasing flexibility and muscle strengthening while an injury heals. One beneficial characteristic is the amount of reduced stress aquatic therapy has on the body.
Gravity can sometimes be our worst enemy, especially when trying to rehab a knee replacement or lower back pain, Madison says. Just by submerging yourself in water to hip level, you are reducing your body weight by 56 percent, he says. Go as deep as shoulder level, and your body weight is about 10 percent. This helps put less stress on the joints.
"People that have injuries, an ACL tear or osteoarthritis, for example, can really see results in the first two or three sessions in aquatic therapy compared to land therapy just based on the gravity-reduced environment," Madison says.
Aquatic therapy has been shown to increase:
Circulation
Flexibility
Blood flow
Muscle strength and tone
Range of motion
Coordination
It also helps reduce swelling and stress to painful joints and promotes better posture. There's also the fact that it just feels good, Madison added.
"There are certainly principals that carry over from land to water therapy that don't change. It's just the factor that it feels good," he says. "The temperature of the water is between 82 to 90 degrees. It's nice and warm and that makes the patient feel good and relaxes the muscles. That takes away about a third of the pain and therefore the patient can move a little bit better."
How to start aquatic therapy?
If you are interested in aquatic therapy, talk to your doctor as a physician's referral is required. You also may want to check with your insurance to see what and how many sessions are covered.
Typically, aquatic physical therapy consists of one to three sessions a week, lasting about an hour. Depending on insurance, the length of therapy can vary between four to eight weeks.
It should be noted that aquatic therapy patients will have exercises to do outside the pool, such as hip, quad, lower back and hamstring strengthening.
"A lot of things we do, whether it's incresaing mobility or strength, should be carried over to land because we are not fishes, we have to live on land," Madison says.
For more information about aquatic therapy or any of the St. Joseph's/Candler Outpatient Rehabilitation services, visit our website or call 912-819-6176.