Have diabetes? Then you need to check your blood pressure regularly.
Heart Health
Feb 21, 2019
People with diabetes are twice as likely to have hypertension
High blood pressure, also known as hypertension, can happen to anyone. However, it is twice as likely to strike a person with diabetes as a person without.
Nearly 2 in 3 people with diabetes report having high blood pressure or take prescription medications to lower their blood pressure, according to the American Diabetes Association. More so, a person with diabetes and high blood pressure is four times more likely to develop heart disease than someone who does not have either condition.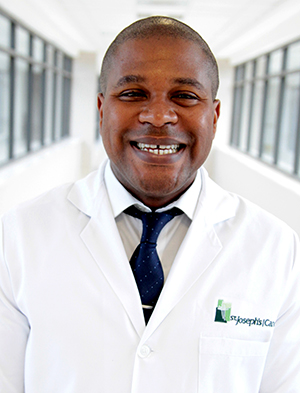 Related Article: What causes high blood pressure?
"High blood pressures are a common problem in patients with diabetes," says Dr. Russell Pacquette, internal medicine physician with St. Joseph's/Candler Primary Care located on Eisenhower Drive.
Both conditions share common risk factors including obesity, a diet high in fat and sodium and inactivity. In addition to heart disease, a patient with hypertension and type 2 diabetes is significantly at risk of stroke or developing other diabetes-related diseases, such as kidney disease or retinopathy, which may cause blindness.
While diabetes is not curable, there are ways to lower one's blood pressure, Dr. Pacquette says. These include:
Taking oral antihypertensive medications, particularly ACE inhibitors
Reduce salt intake
Weight loss
Stop smoking
Exercise at least 30 minutes a day, several days a week
Avoid excessive alcohol use
"It is important for people with diabetes to monitor blood pressure regularly because most times elevated blood pressure has no symptoms," Dr. Pacquette says. "Having your blood pressure measured regularly can help with early detection of hypertension prior to development of complications."
Related Article: Have diabetes? You better put that cigarette down.
The St. Joseph's/Candler Center for Diabetes Management can help people with diabetes control the disease through counseling. Ask your primary care physician for a referral to the program. Learn more here.