Education may be the best tool to protect against concussions
Neurology
Mar 14, 2019

St. Joseph's/Candler athletic trainer offers tips to reduce the risk of getting a concussion
Accidents happen – both on and off the field of play – that can result in a concussion. However, there are steps you can take to prevent brain injuries whether it's a young athlete or an elderly parent. It starts with education.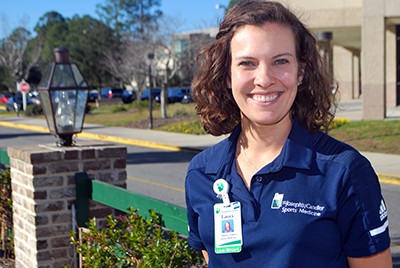 A concussion is a type of traumatic brain injury caused by a bump, blow or jolt to the head or a hit to the body that causes the head and brain to move rapidly back and forth. There's no bleeding or fracture when a concussion occurs, but the sudden movement that causes the brain to bounce or twist can create chemical changes in the brain and damage brain cells.
Concussions should be taken seriously and never ignored, says Laura Hancock, MAT, ATC/L, athletic trainer with the St. Joseph's/Candler Sports Medicine Program. Hancock is the athletic trainer at St. Vincent's Academy. She's one of several athletic trainers stationed at area high schools.
As an all-girls school, St. Vincent's obviously doesn't have a football program. That doesn't mean other student athletes can't get a concussion. Soccer is the leading sport when it comes to female athletes getting concussions; however, concussions are possible in any sport. While working at another school, Hancock treated a track player for a concussion after she fell and hit her head on the track.
Non-athletes also are susceptible to concussions whether from a fall, car accident or some other incident that causes a brain injury. More than three million concussions are diagnosed every year. Even more so, concussions are easily undiagnosed.
The best detection for a concussion is the symptoms, which can include:
Headache
Confusion
Lack of coordination
Memory loss
Nausea and/or vomiting
Dizziness
Ringing in the ears
Excessive fatigue
Related Article: Would you know if you had a concussion?
Preventing concussions
Associations from youth football to high school soccer to professional basketball have made efforts to reduce the risk of concussion. In Georgia, for example, the state high school football association reduced full contact during practice to just three practices a week for a maximum of 30 minutes per practice. In youth soccer, the state association ruled that leagues with players ages 10 and younger cannot head the ball during practice or intentionally during games. In leagues ages 13 and younger, headers can only be practiced a maximum of 30 minutes per week with no more than 20 headers per player per week.
"For a young athlete, we take concussions very seriously and conservatively because they have their whole lives ahead of them," Hancock says. "They don't always see it that way, and they may not understand why we are pulling them out of a game, but what we are doing is making sure they are going to be able to pass their next test because their brain is functioning."
The long-term effects of concussions affect:
Thinking
Memory
Learning
Coordination and balance
Speech
Hearing
Vision
Emotions
Multiple concussions at the same time, referred to as second-impact syndrome, in extreme cases can cause brain interruption, which can put you in a vegetative state or even cause death.
That's why it's so important to educate athletes, parents and coaches on concussions, Hancock says.
"We want to make sure they know what a concussion is, what to look for and how it happens," Hancock says. "That way they know, 'I have a headache and I recently hit my head, I better go talk to someone.' A good way to prevent them from getting a second concussion is to educate."
Other ways to reduce the risk of a concussion or multiple concussions for anyone include:
Always wear proper headgear, including helmets for football, lacrosse and baseball players, biker riders and boxers
Enforce the rules of the sport for fair play, safety and sportsmanship
Make sure your athletes are comfortable reporting signs of a concussion
Limit contact during practice
Teach athletes proper ways to avoid hits to the head and not to target or spear opponents
Wear a seat belt every time you're in a motor vehicle
Reduce the risk of falls by eliminating clutter in your home, removing slippery rugs and installing grab bars in the bathroom, if needed
Never work on a ladder if you feel dizzy or lightheaded or if you've been drinking alcohol or take medications that make you dizzy
Have your vision checked at least once a year. Poor vision can increase your risk for falls and other types of accidents
To learn more about the St. Joseph's/Candler Sports Medicine Program, visit our website.
If you are a parent, coach or other that would like to learn more about preventing concussions in children and teens, the CDC's HEADS UP initiative is a great resource. Visit the website to learn more.