Healthcare professionals warn of the dangers of e-cigarettes and vaping
Miscellaneous
Apr 30, 2019

Clinical pharmacist also says e-cigarettes are not a good alternative to smoking cigarettes
It's a hot topic these days: e-cigarettes and vaping. While researchers still have a lot to learn about the long-term health effects, many healthcare professionals warn of the dangers of e-cigarettes.
E-cigarettes come in many shapes and sizes. Most have a battery, a heating element and a place to hold a liquid. They produce an aerosol by heating the liquid which usually contains nicotine flavorings and other chemicals that help make the aerosol.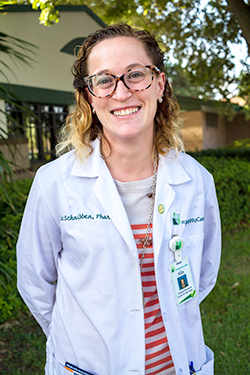 Vaping is the act of inhaling and exhaling the aerosol, often referred to as vapor, which is produced by the e-cigarette, says Alix Schnibben, PharmD, BCACP, CTTS, St. Joseph's/Candler clinical pharmacy specialist and certified tobacco treatment specialist. Vaping liquids and e-cigarettes come in a variety of flavors from gummy bear to pound cake, leading to an increase in popularity, especially among youth, since 2007, Schnibben says.
E-cigarettes are less harmful than regular cigarettes, but that doesn't mean they are safe. The e-cigarette aerosol that users breathe from the device and exhale can contain harmful substances including nicotine, volatile chemicals and heavy metals, such as nickel, tin and lead, Schnibben says.
Nicotine is highly addictive and has known health effects, especially to developing fetuses and adolescent brain development. Nicotine has shown to increase heart rates, constrict central, peripheral and coronary blood vessels and increase blood pressure. Additionally, nicotine has been linked to learning, memory, attention and behavioral problems in adolescents.
Even if the e-cigarette is marketed with zero percent nicotine, trace amounts have still been found, Schnibben says.
"Besides nicotine, e-cigarettes can contain harmful and potentially harmful ingredients including ultra-fine particles that can be inhaled deep into the lungs and flavorings, such as dactyl, a chemical linked to serious lung disease," adds Schnibben.
E-cigarettes also have been linked to heart disease, respiratory illness, gum disease, bad breath, teeth grinding, gum recession, a weakened immune system, gastrointestinal conditions, nicotine poisoning and injury caused by e-cigarette battery explosions, Schnibben adds.
More research is needed about the health risks associated with vaping and increased cancer risks, Schnibben says; however, researchers know many e-cigarette aerosols contain cancer-causing chemicals.
"Vaping is becoming an epidemic with our teens. The Surgeon General just announced concerns about the epidemic," Schnibben says. "It is important that parents, teachers, physicians and other healthcare professionals educate teens and others about the risks associated with e-cigarettes and encourage everyone not to use."
E-cigarettes for tobacco cessation
Researchers also have mixed opinions about e-cigarettes use in tobacco cessation. While they are less harmful than tobacco cigarettes, e-cigarettes are not FDA approved for tobacco cessation, Schnibben says.
She finds most patients become addicted to vaping after stopping combustible cigarettes and continue to expose their body to harmful nicotine and chemicals. There are other means to quit smoking altogether. Instead of turning to e-cigarettes, Schnibben encourages tobacco cessation.
Related Article: How one image got a lifelong smoker to quit
The St. Joseph's/Candler Comprehensive Tobacco Cessation program gives patients the support and resources needed to help you quit smoking altogether. The program includes:
One-on-one comprehensive patient education
Group classes
Nicotine-dependence assessment
Customized treatment plans to assist in smoking cessation
Pharmacologic treatment management for smoking cessation
Follow-up counseling to monitor patient progress
"E-cigarettes are as addictive as combustible tobacco products (cigarettes) and this is the main reason not to use these devices," Schnibben says. "It is best to stop the addictive agents and not start a new one."
For more information about the St. Joseph's/Candler Tobacco Cessation program or for a referral, visit our website or call 912-819-8407.