Reading to children at a young age builds literacy, language skills
Family Health
May 30, 2019
Just because school is out doesn't mean it's time to put down the books. That applies to both children and parents.
In fact, regularly reading to and with young children has shown to stimulate optimal patterns of brain development and strengthen parent-child relationships at a critical time in child development. That in turn, according to the American Academy of Pediatrics, builds language, literacy and social-emotional skills that last a lifetime.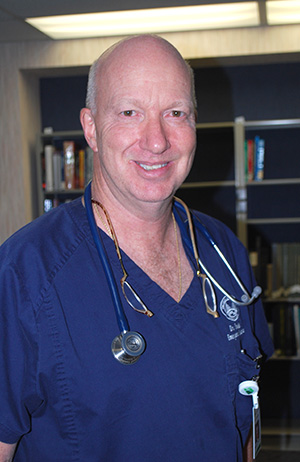 Dr. John Rowlett, St. Joseph's/Candler Director of Pediatric Emergency Medicine, has been interested in the effect of reading on child development for more than 20 years.
"Studies have shown that the earlier you start reading to a child, the more comfortable that child gets with reading and language," says Dr. Rowlett. "And clearly, children still have to learn how to read. We may have all these new media sources, but you still have to sit down, look at the written word and translate it into something useful in your world."
Every year, more than 1 in 3 American children start kindergarten without the language skills they need to learn to read, according to the American Academy of Pediatrics. Reading proficiency by the third grade is one of the most important predictors of high school graduation and career success. Unfortunately, nearly two-thirds of children each year in the United States and 80 percent of those living below the poverty threshold fail to develop reading proficiency by the end of the third grade.
Reading aloud with a young child is one of the most effective ways to expose them the literacy skills needed to promote school readiness, Dr. Rowlett says.
"Children that are read to earlier have a bigger vocabulary, and they then read better themselves," Dr. Rowlett says.
Dr. Rowlett acknowledges that many parents have limited time and means when it comes to reading. He suggests the American Academy of Pediatrics' "5 Rs":
Reading together as a daily fun family activity.
Rhyming, playing, talking, singing and cuddling together throughout the day.
Routines and regular times for meals, play and sleeping, which help children know what they can expect and what is expected from them.
Rewards for everyday successes, particularly for effort toward worthwhile goals such as helping, realizing that praise from those closest to a child is a very potent reward.
Relationships that are reciprocal, nurturing, purposeful and enduring, which are the foundation of a healthy early brain and child development.
"There's no better investment that you can make in your child's future than reading to them at an early age," Dr. Rowlett says. "You can read the same story 20 times, but also read 20 different books. Those experiences will become part of the language and the fabric of your child's life."