What are nurse navigators?
Cancer
Jun 6, 2019
At the Nancy N. and J.C. Lewis Cancer & Research Pavilion, a team of navigators help you on your cancer journey
Your cancer journey can at times be confusing and scary. The good news is you don't have to face it alone.
In addition to the most experienced physicians and the latest technology, the Nancy N. and J.C. Lewis Cancer & Research Pavilion offers patients nurse navigators. Nurse navigators are registered nurses that help patients through the process of their cancer diagnosis and treatment.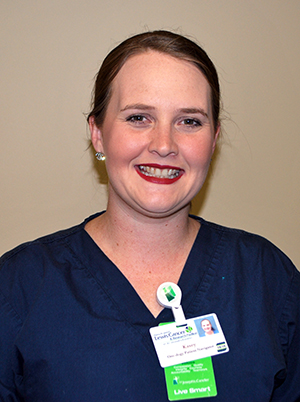 "The way I describe what a nurse navigator is to my patients is that I am here to help be their point person in their cancer journey," says Kasey Wilson, RN, BSN, CHPN, oncology nurse navigator at the LCRP.
Don't recall what your doctor said at your last meeting? Call your nurse navigator.
Not sure when you're due for your next PET-CT scan? Ask your nurse navigator.
Just need a shoulder to lean on? Your nurse navigator will be there.
"This can be an overwhelming time, and I explain to patients that they have enough to worry about just focusing on trying to beat this and deal with the side effects of treatment, both physically and emotionally, and to let me do some of the leg work," Wilson says. "I don't want them to worry about when to go to this appointment or get this scheduled or get this scan. Let me take some of that burden off where they can focus in on some of the other stuff."
Patient navigators are able to help patients in multiple ways, depending on a patient's individual needs. Navigators can help with:
Understanding your diagnosis and treatment options
Voice any questions or concerns with your doctors and other health care team members
Gain access to the latest treatment information available through clinical and research trials
Coordinate delivery of test results, lab work and X-rays
Make referrals and schedule/coordinate appointments
Acquire outside medical records
Assist with arranging transportation to treatment
Explore work-related or financial concerns that you may have and connect you to appropriate resources
Embark on Survivorship to help you live with and through a cancer diagnosis
Address psychosocial needs and make referrals as appropriate
Patients are assigned to a nurse navigator typically upon their diagnosis, or as a physician, social worker or other LCRP co-worker feels a patient needs navigator assistance. The nurse navigators will attend appointments with patients, regularly check-in with them, answer any questions they have and address other needs through the treatment process. Many patients and navigators stay in communication even months or years once they are cancer free.
"I think people are becoming more aware of nurse navigation. I think in the very beginning sometimes they are not quite sure what to make of it, but they find out they do enjoy having that person that they know they can call directly if they have any questions," Wilson says. "I do think patients are grateful for this service."
The LCRP has a team of nurse navigators that are divided up by cancer site. The team includes:
Dana Coleman – Clinical Special Services Manager, CNS, oncology nurse navigator and melanographer
Krista Aliffi – Oncology patient navigator (breast cancers) and Clinical Special Services Manager
Beverly Weaver – Oncology patient navigator (survivorship)
Sheila Lowe – Oncology nurse navigator (GI and GU cancers)
Laurie Luteran – Oncology nurse navigator (Thoracic cancers – lung and esophageal)
Cindy Homberger – Oncology nurse navigator (Skin, melanoma and sarcoma cancers) and melanographer
Kasey Wilson – Oncology nurse navigator (Head, neck and hematological (blood) cancers)
Additionally, there are two diagnostic navigators. These navigators work with patients from imaging to diagnosis. After diagnosed with a cancer, a nurse navigator then takes over the patient's case. Benae Thompson is the Diagnostic Lung Navigator and is a radiology technician. Malissa Kennedy is the Diagnostic Breast Navigator for the Telfair Pavilion.
The LCRP also has patient resource navigators who can assist with financial programs and information related to diagnosis. These are certified social workers who additionally provide links to community agencies and services and give support to patients and their families. Our patient resource navigators are:
Sarah Copeland, BSW
Marcia Thompson, BSW
Tonya Ruffin, BSW (South Carolina)
Related Article: Cancer services offered in South Carolina
Recently, the LCRP added a financial navigator to its team. She provides patients assistance understanding their financial obligations and choices. Our financial navigator is Marianne Fahey. Learn more here.
"I'm grateful that we have the opportunity to be able to have these services here and all the support that we have not just from the physicians in the Cancer Pavilion but all of the staff from nursing to radiation to chemotherapy and administrative staff," Wilson says. "I think we all work really well together."
If you have more questions about any of the LCRP's navigation services, please call us at 912-819-5704 or visit our website.