Did you get the measles vaccine?
Family Health
Jun 13, 2019
St. Joseph's/Candler Clinical Pharmacy Specialist Allison Presnell explains what you need to know about the MMR vaccine
The most commonly asked question directed to St. Joseph's/Candler clinical pharmacists currently is: "How do I know I'm protected from the measles?"
The best way to prevent the virus is to get vaccinated. Most people receive a measles vaccine as a young child.
Measles was deemed eliminated in 2000. But it's come roaring back in the last year as some families are choosing not to vaccinate their children. Healthcare officials, however, are confident the supply of vaccines across the board is the safest in history.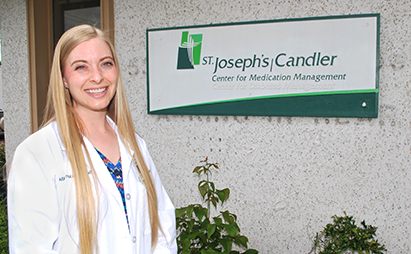 Adults who are unsure if they received the vaccine or need proof they did receive it should contact wherever they may have gotten vaccinated, such as a pediatrician's office. Local health departments also keep immunizations records. For Georgia residents, most of this data is reported to the Georgia Registry of Immunization, a database your physician or pharmacist can access.
If you find out you have not had the measles vaccine, it's important to get vaccinated as soon as possible.
"Routine vaccination in accordance with the Centers for Disease Control ensures preventable diseases, such as measles, will maintain elimination status and benefits public health in the United States," says Allison Presnell, PharmD, BCACP, BC-ADM, clinical pharmacy specialist with St. Joseph's/Candler.
About the measles
Measles is a disease caused by a virus that infects the respiratory tract and spreads throughout the body. Symptoms can include cough, fever and a distinct rash that typically starts on the face and spreads across the entire body.
Related Article: VIDEO: St. Joseph's/Candler Director of Pediatric Emergency Medicine talks about the measles
Measles is highly contagious. It spreads through the air when an infected person coughs or sneezes, Presnell explains. The virus remains active and contagious in the air or on an infected surface for up to two hours.
Once considered eliminated, measles has surged in the United States this year. As of May 31, 2019, there were more than 980 confirmed cases of the measles, according to the Centers for Disease Control and Prevention. That's the highest number of cases in 27 years.
"If this trend continues, measles may lose its status as an eliminated disease," Presnell says.
Who's at risk of getting the measles?
A person most at risk of getting the measles is someone who has not received the MMR (measles-mumps-rubella) vaccine. Others at risk of getting the virus are:
Individuals who are sick or have weakened ability to fight infection (immunocompromised)
Healthcare personnel
International travelers born in 1957 or later and not vaccinated
Persons attending colleges or other post high-school students not vaccinated
About the MMR vaccine
Measles can be prevented with measles-containing vaccine, which is primarily administered as the combination measles-mumps-rubella vaccine, Presnell says. Mumps is a viral infection that affects the salivary glands. Rubella is a type of viral infection that can cause a severe red rash.
Some younger patients may get the MMRV vaccine, which additionally includes varicella to prevent chickenpox.
Related Article: Even with vaccine, parents should still be aware of symptoms of chickenpox
Both the MMR and MMRV vaccines are given in two doses, typically at 12 to 15 months old with a second round given at four to six years old.
One dose of the vaccine is approximately 93 percent effective at preventing measles, according to the CDC. Two doses are approximately 97 percent effective.
If an adult needs the vaccine, a single booster dose may be appropriate, but that should be determined by a healthcare provider, Presnell says. For those high-risk adults, two doses will be administered at least 28 days apart.
Who should not get MMR?
While the MMR vaccine is proven to be safe and effective against measles, not all patients are eligible for vaccination, Presnell says. Those include:
Severely immunocompromised individuals
Women who are pregnant or planning to become pregnant
Individuals who have had any severe allergic reaction to any component of the vaccine
Anyone who has received a live vaccine within four weeks
Where can I get the MMR vaccine?
If you have not received the vaccine and need to do so, talk to your primary care physician. They can administer the vaccine in office. The price of vaccine varies, depending on insurance, but typically costs around $140.
Some pharmacies also can give MMR vaccinations with a prescription. Cost begins at $85 and goes up.
If you have questions or concerns about the measles or vaccination, talk to your healthcare provider.