What to expect during an MRI
Miscellaneous
Jun 27, 2019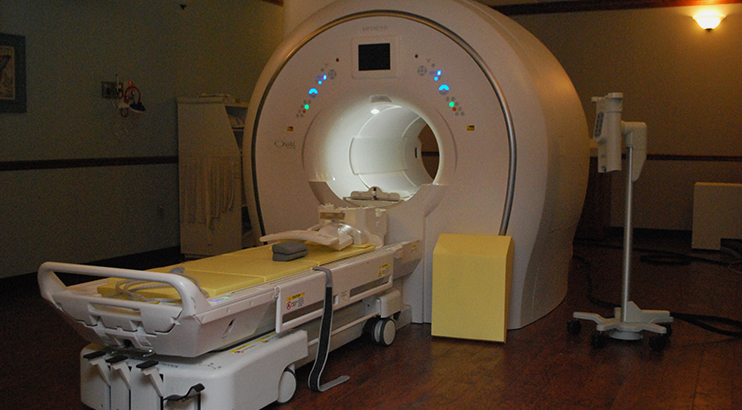 St. Joseph's/Candler Technologist Jonathan Nelson answers six questions about MRIs
When doctors need to look inside a patient's body for disease or injury, they have several imaging diagnostic modalities to choose from. One such tool is MRI.
Magnetic Resonance Imaging (MRI) is a non-invasive diagnostic scan to look at a part of the body internally, explains Jonathan Nelson RT(R)(CT)(MR)MRSO, staff technologist at the Candler Hospital outpatient imaging center. Using a magnetic field, radio waves and a computer, MRI creates a detailed picture of the anatomy without exposure to radiation, which is used in X-rays and CT scans.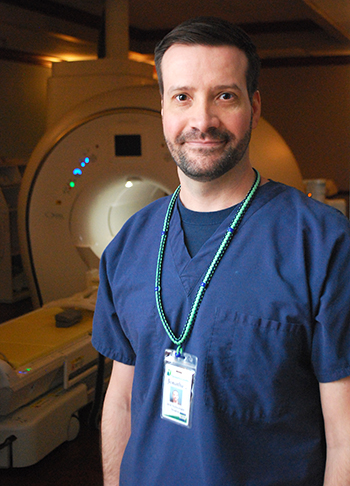 St. Joseph's/Candler uses the latest MRI technology to make patients feel comfortable and get them in and out as quickly as possible. At St. Joseph's Hospital, we offer 3T MRI, which is the most powerful magnet in the surrounding region. Candler Hospital and the SJ/C Pooler Campus also offer complimentary technology in an oval magnet providing the widest 1.5T opening in the area, designed to accommodate larger or more claustrophobic patients, Nelson says.
"The technology is making it more convenient for lots of different people, and we're able to do more things since we've gotten these newer scanners."
Related Article: St. Joseph's/Candler offers the latest technology in imaging services
With more and more people needing MRIs, it's important to have a good understanding of the scanner and not fear it. Here are six things you should know about MRIs:
Who needs an MRI?
A MRI can help a physician diagnose a disease or injury. It also can be used to monitor how you're responding to a certain treatment. MRI technology is especially useful in imaging the brain, heart and abdomen, along with muscles, joints, ligaments and cartilage injuries. At Candler Hospital, Nelson says MRIs are commonly scheduled to scan the brain for signs of stroke or multiple sclerosis, the liver to see how patients are responding to a transplant and those with suspected tumors. A physician's order is required for an MRI.

Is it safe?
MRI scanners are safe, Nelson says, and precautions are taken before a MRI to ensure patient safety. For example, patients are screened first for any metal, such as piercings or even a bobby pin in your hair, or implanted devices, such as a pacemaker. It's also important to make sure patients have proper kidney function if the MRI requires contrast. Contrast is an agent that improves the visibility of the anatomy for clearer images. Contrast is also safe, but some patients may experience nausea following a scan, Nelson says. Not all MRI scans require contrast.

What if I'm claustrophobic?
Claustrophobia is the biggest concern Nelson sees among patients getting an MRI. The staff take several steps to try to help claustrophobic patients. During the initial screening before the MRI, you will be asked if you are claustrophobic. If you have a driver with you, the nurses can give you something to help you relax. St. Joseph's/Candler also has the widest scanners available to help open up the machine and hopefully reduce feelings of claustrophobia.

How loud is it?
You may have heard the MRI scanner is noisy, and you'd be correct. After claustrophobia, the second most common concern Nelson hears from patients is the noise. St. Joseph's/Candler also works to make patients feel at ease despite the noise. Ear plugs are available and music can be piped into the room. And because it is loud, technologists cannot hear a patient in the exam room. Therefore, a call button is given to a patient to communicate with the team.

How long does it take?
A misconception about MRIs that Nelson hears is that it takes a long time to do the scan. That's not always the case. Patients are often surprised to be done in 20 minutes as opposed to their preconceived notion it would take 90 minutes. A single MRI can be as short as 10 minutes. There are certain scans that may last longer, up to an hour, and if a physician orders multiple scans, it can take longer than that, Nelson says.

When do I get my results?
Following your MRI, the images are sent to a radiologist, which is physician trained to read imaging and diagnose and/or recommend treatment. The radiologist's findings are sent to the ordering physician who goes over the results with the patient. Typically, results are faxed out to the physician office within 24 hours, Nelson says. Once you meet with your physician to get the results, they go into your patient portal within 48 to 72 hours.
For more information about all of St. Joseph's/Candler imaging services, visit our website.