Ovarian cancer: A silent killer
Cancer, Women's Care
Sep 10, 2019

Gynecologic oncologist Dr. Sarah Gill explains risk factors, warning signs of ovarian cancer
Ovarian cancer is not a particularly common female reproductive cancer, but it can be very deadly.
"Ovarian cancer is often viewed as a 'silent killer' because it has proven so difficult to detect in its early stages," says Dr. Sarah Gill, gynecologic oncologist with St. Joseph's/Candler Gynecologic Oncology and Surgical Specialists. "Unfortunately, the disease is most often diagnosed at an advanced stage, where the disease has spread to other areas of the abdomen, pelvis and sometimes the chest and other parts of the body."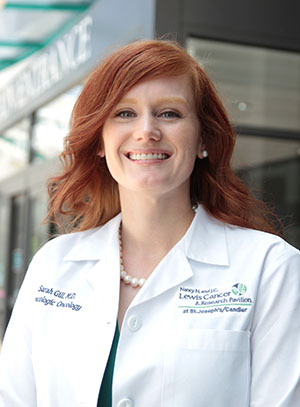 More than 22,500 women will be diagnosed with ovarian cancer this year in the United States, according to the American Cancer Society. Of that, more than half will die from the disease, ranking fifth in cancer deaths among women and accounting for more deaths than any other cancer of the female reproductive tract.
Ovaries are reproductive glands found on each side of the uterus. They are positioned deep within the pelvis, which prevents them from being seen and reliably examined by medical providers, Dr. Gill explains.
Currently, there is no proven method of screening for early detection of ovarian cancer. Ovarian cancer is only definitively diagnosed with tissue analysis or biopsy, says Dr. Gill.
"Yearly pelvic exams and Pap smears do not screen for ovarian cancer, but are still important to screen for cervical cancer and other women's health issues," Dr. Gill adds.
Related Article: OB/GYNs and gynecologic oncologists work hand-in-hand for female wellbeing
Because ovarian cancer can be hard to diagnose early, it's important to understand the risk factors and possible symptoms of the disease.
Risk factors
There are several risk factors for ovarian cancer including:
Age – about half of women diagnosed with ovarian cancer are 63 or older
Family history of ovarian cancer
Certain familial genetic mutations
Nulliparity, meaning a woman has never given birth
Early menstruation or late menopause
Endometriosis
Obesity
"Other risk factors have been suggested but not definitively proven in other studies, such as polycystic ovarian syndrome, diet and others," Dr. Gill says. "Talc and its contribution to the risk of ovarian cancer has been a hot topic lately, but the evidence does not definitively support an increased risk of ovarian cancer with exposure."
Related Article: Should I have my genes tested if my mother or grandmother had breast or ovarian cancer?
Symptoms of ovarian cancer
Another reason ovarian cancer is hard to detect early is because it's often asymptomatic. The only early warning sign would be an ovarian cyst or mass, Dr. Gill says.
Patients with advanced ovarian cancer commonly experience:
Abdominal bloating
Abdominal pain
Changes in bowel or bladder habits
Weight loss
Inability to eat a normal meal due to a feeling of fullness
If you frequently experience any of these symptoms, you should talk to your doctor right away.
Treatment options
At Gynecologic Oncology and Surgical Specialists, Dr. Gill helps women suspected of having ovarian cancer or those already diagnosed. They offer surgery and other options to first obtain a diagnosis and then to evaluate and treat any abnormal findings.
The majority of women with ovarian cancer will first have surgery, called cytoreductive, or debulking, surgery, to remove as much of the cancer as possible. Once patients are recovered from surgery, chemotherapy is typically given in order to treat any remaining disease, Dr. Gill says, and obtain the best chance at a cure.
In some women where the cancer has spread to areas where it cannot safely be removed with surgery, chemotherapy is given before cytoreductive surgery (neoadjuvant chemotherapy), which is then followed with more chemotherapy, Dr. Gill says.
Currently, there are exciting clinical trials in ovarian cancer offered to patients here at the Nancy N. and J.C. Lewis Cancer & Research Pavilion. In one trial, the patient receives chemotherapy first where they have the opportunity to get an additional drug shown to have promise in improving outcomes for ovarian cancer patients in combination with standard chemotherapy, Dr. Gill explains.
If you have any questions or interest in enrolling in a clinical trial for gynecologic cancer, please feel reel to contact Dr. Gill at her office at 912-819-5771.