Wellness in Movement exercise program helps movement disorder patients achieve a better quality of life
Fitness, Neurology
Sep 12, 2019
Next eight-week class starts October 8 at the St. Joseph's/Candler Wellness Center
Exercise is important for everyone. It's known to reduce the risk of life threatening illnesses such as diabetes and heart disease. Exercise also plays a vital role in people with movement disorders, helping them with balance and mobility.
A movement disorder is defined as a group of neurological conditions causing involuntary or abnormal movement. Common movement disorders include Parkinson's disease, essential tremor and restless leg syndrome.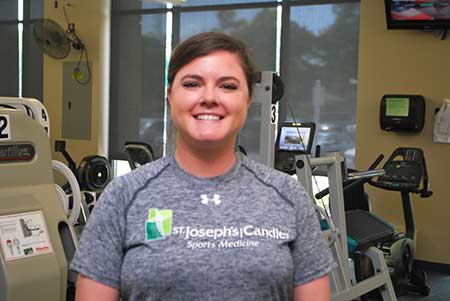 Related Article: Six common movement disorders
St. Joseph's/Candler offers an eight-week program to help patients with movement disorders exercise in a safe and learning environment. The Wellness in Movement program is offered through the St. Joseph's/Candler Wellness Center. It started in the fall of 2017, explains Stephanie Beall, exercise physiologist with the Wellness Center. The next class begins October 8.
Participants meet once a week for one hour, Beall says. Each week includes a different activity or educational lecture. The first week, for example, consist of a seminar on how to safely exercise with a movement disorder. Participants will continue to do a variety of aerobic training, resistance exercises and balance exercises to improve strength, posture and gait, Beall says.
Some of the classes and lecture topics may include:
Chair aerobics
Mindful meditation
Boxing
Tai Chi
Nutritional lectures
"Our goal is to help people with movement disorders achieve a better quality of life through these different forms of exercise and education," Beall says. "We want to enhance their sense of wellbeing and confidence through improving their strength, posture and balance."
Research has shown that exercise helps patients with movement disorders improve their confidence, flexibility, posture and strength. In some patients, exercise has even been shown to slow down the progression of a disease, such as Parkinson's. Beall has seen it firsthand.
"It's amazing to see some of our participants start the class nervous and questioning if they can do this, but by the end of the eight weeks, they have noticeably better balance and strength, and they are excited to exercise."
During the program, Beall and others involved are sure to include tips for exercising outside of the class, whether that's joining the Wellness Center at the end of the eight weeks or finding another mode of exercise. It's important that these participants continue some form of physical activity to maintain and continue to improve their balance, strength and range of motion.
It's also important to note, Beall says, that this program is not meant to replace physical or occupational therapy. It's another tool to help people with movement disorders manage their symptoms, she says.
Related Article: Physical therapy can help Parkinson's patients with walking, daily functions
Wellness in Movement is free for Wellness Center members and SilverSneakers. It's $120 for others.
The next class starts at 1 p.m. on Tuesday, Oct. 8. You can sign up by calling the Wellness Center at 912-819-8800.