What do I do if my medication is recalled?
Miscellaneous
Oct 9, 2019
St. Joseph's/Candler Pharmacist Allison Presnell explains how to know if your medicine has been recalled
It's hard to go a week watching the news without hearing a certain food or drug is under a recall.
Just within the last several weeks, heartburn and ulcer medicines, including the generic version of the popular brand-name drug Zantac, were recalled. Earlier this year, dozens of medications used to treat high blood pressure were recalled in just a matter of several months. These medications were discovered to have potential cancer-causing impurities in them.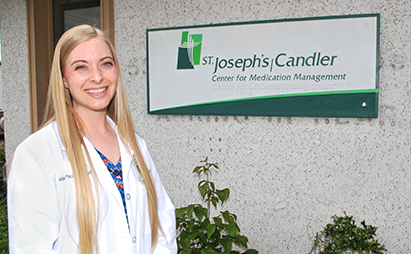 "Clinical pharmacists in primary care can help patients determine what type of medicine they are on and if they were affected by any recall," says Allison Presnell, PharmD, BCACP, BC-ADM, clinical pharmacy specialist with St. Joseph's/Candler. "If they have to switch medicines, we can seamlessly switch them to an equivalent dose of a similar medication to maintain control of their medical condition and avoid any potential side effects."
For example, patients that are concerned about Zantac or were taking a generic, recalled version of the medicine can consider using other over-the-counter medicines approved for their condition such as famotidine (Pepcid) or cimetidine (Tagamet).
Patients should always follow the dosing instructions on the label and consult the pharmacist if they have any additional questions about a specific product.
Medication Recalls
The goal of a medication recall is not to cause panic. According to the U.S. Food & Drug Administration, "a drug recall is the most effective way to protect the public from a defective or potentially harmful product." The FDA works with drug manufacturers, pharmacies and physicians' offices when recalls do occur to ensure public health safety.
A recall can be initiated voluntarily by the manufacturer or requested or mandated by the FDA. Not all recalls are dangerous, but it's important to know what to do if you are concerned one of your medications is under a recall.
"Being a pharmacist in a provider's office is really helpful because I can help navigate patients who hear about recalls," Presnell says.
Related Article: Why you see a clinical pharmacist at your primary care office
Recall classifications
The FDA's role in a recall is to oversee a company's strategy, assess the adequacy of the recall and classify the recall. There are three recall classifications to be aware of:
Class I: A dangerous or defective product that could cause serious health problems or death
Class II: A product that might cause a temporary health problem or pose a slight threat of a serious nature
Class III: A product that is unlikely to cause any adverse health reaction but that violates FDA labeling or manufacturing laws
How will I know if my medication has been recalled?
You can find out about medication recalls in several ways including:
An announcement from the drug manufacturer
An announcement on the FDA.gov website
In the news media
Notification directly from the manufacturer
Notification from your insurance company
Notification from your healthcare provider and/or pharmacist
A recall that is announced publicly via a manufacturer or the news media doesn't necessarily mean your specific medication has been recalled. Presnell explains:
"Every time you fill a prescription, the medication put in your hand is tracked by the pharmacy by the medicine's lot and expiration number. When recalls happen, the manufacturer contacts the pharmacy to identify the specific lot numbers involved in the drug recall. Then your pharmacy will contact you (and your doctor) to let you know you are affected by the recall to consider initiating a switch."
Lot numbers relate to the particular batch that is made in a specific manufacturer's facility. There are some medications, for example, that are made by many different manufacturers; therefore, not all of that drug would fall under a recall if it just affects one manufacturer and their respective lot numbers.
What do I do once I find out my medication has been recalled?
If it is confirmed your medication has been recalled, you will need to work with your physician and pharmacist to find a replacement drug. Never stop taking a medication without telling your doctor.
"My recommendation is to talk to your pharmacist to determine if a medication you are taking is affected, and then you or your pharmacist can work with your healthcare provider to switch to an alternative medication that is not recalled to prevent causing harm," Presnell says. "I would not recommend stopping your medication without first discussing your concerns with your provider."
The FDA keeps a list on its website of public recalls. You also can sign up to receive emails when a recalls are announced.
If you are specifically concerned about the recall surrounding generic versions of Zantac, you can contact Sandoz at 1-800-525-8747 option # between 8:30 a.m. to 5 p.m. Monday through Friday.