LCRP participating in new breast cancer clinical trial that addresses common problem
Cancer
Oct 29, 2019
ASPIRE study looks at the safest course of treatment for certain breast cancer patients where the cancer has spread to the bones
Every day, researchers learn more and more about effective cancer screening and treatments thanks, in large part, to clinical trials. Breast cancer is just one disease that experts have seen the benefits from the results of clinical trials. A new study the Nancy N. and J.C. Lewis Cancer & Research Pavilion is participating in aspires to learn even more about a specific breast cancer treatment.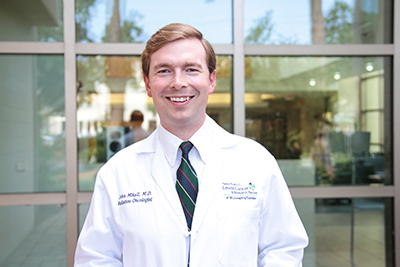 Clinical trials are research studies that involve patients and help doctors and researchers find new ways to improve treatments and the quality of life for people with disease. In clinical trials, researchers methodically test medications, medical devices, screening approaches, behavioral modifications and other interventions.
At the LCRP, we are committed to providing the highest quality treatments and services to our patients. One way we stay in the forefront of the latest advances in technology and treatment is through our robust clinical trials program. Currently, the LCRP has about 75 open clinical trials studying a variety of treatments for breast, lung, prostate, melanoma and other cancers.
"Clinical trials are how we improve clinical care in oncology," says Dr. John Mikell, radiation oncologist at the LCRP. "The progress that has been made over the last several decades is owed to clinical trials and the willingness of providers and patients to participate in clinical trials.
"Patients are doing so much better than they used to in many different diagnoses and settings and that's really all due to progress that's been made in clinical trials."
ASPIRE: A new breast cancer clinical trial
An exciting new clinical trial that the LCRP is participating in is called ASPIRE. It's the idea of native Savannahian and Emory University Hospital Radiation Oncologist Dr. Mylin Torres, who invited the LCRP to participate.
The study looks at the concurrent use of radiotherapy, the drug palbociclib and hormone therapy for treatment of bone metastasis in certain breast cancer patients.
"The purpose of this trial is No. 1 make sure the radiation is safely given along with palbociclib and hormone therapy and then to see if people respond better as far as pain with radiation and palbociclib at the same time versus just with radiation alone," explains Dr. Mikell.
Several years ago, the FDA approved the treatment of the drug palbociclib concurrently with any of several hormone therapy options for breast cancer patients diagnosed with metastatic hormone positive, Her2 negative breast cancer.
In a large portion of patients with that specific type of breast cancer, the cancer spreads to the bone, Dr. Mikell says. This causes pain and puts patients at risk of fracture. The cancer can even spread through the bone and cause pressure on the spinal cord, Dr. Mikell says.
Radiation therapy is the standard treatment for bone metastases to alleviate pain and prevent fractures and is proven to be effective, Dr, Mikell says. Radiation treatment can be as few as one session or as many as 10 rounds of therapy for bone metastases.
While the treatment course of palbociclib and hormone therapy has shown to be very beneficial as far as controlling the cancer and extending disease-free survival rates, there's not a lot of data as far as blending that treatment with radiation therapy for bone metastasis, Dr. Mikell says. This study will help address that.
"We want to give patients on that therapy the best chance of success and the best quality of life as possible," Dr. Mikell says. "This study allows us to be much more scientific in knowing if this is helpful or harmful; will that combination of treatment increase the possibility of side effects from either the radiation or palbociclib; and is there a possibility the palbociclib may help the radiation work better as far as improving patients pain with bone metastasis."
Patients with metastatic hormone positive, Her2 negative breast cancer in which the cancer has spread to the bone should talk to their oncologist about the ASPIRE clinical trial to determine if they'd be a good candidate for the study.
"We are very fortunate to have the opportunity to enroll patients on this trial," Dr. Mikell says. "It's a good trial to look at and a trial that we support as a cancer center because it's an important question to a very common problem."
For more information about clinical trials at the LCRP, visit our website.