Who needs the pneumonia vaccine?
Family Health
Dec 5, 2019
Starting in early fall, you start to hear the push and see the signs about getting your annual flu shot. Well there may be some out there that need an additional vaccine to help prevent another common wintertime illness and that's pneumonia.
Pneumonia is a lower respiratory tract infection that inflames the air sacs in one or both lungs, explains Ann Nguyen, Family Nurse Practitioner, with the St. Joseph's/Candler Center for Medication Management. The air sacs may fill with fluid or pus, causing cough, fever, chills and difficulty breathing.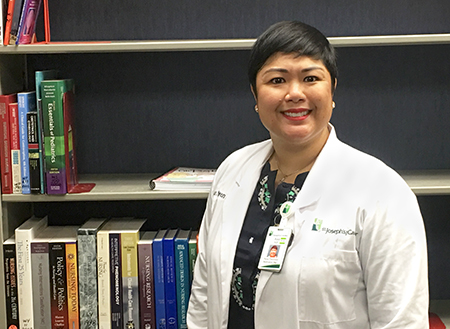 Related Article: Five things to know about pneumonia
Vaccines may help prevent some types of pneumonia. Nguyen says to be sure to get the following vaccines: "An annual flu vaccine can help prevent pneumonia caused by the flu virus. Pneumococcal vaccine lowers your chances of getting pneumonia from Streptococcus pneumonia."
There are two pneumonia vaccines available to help prevent getting the disease, PCV13 (pneumococcal conjugate vaccine/Prevnar13) and PPSV23 (pneumococcal polysaccharide vaccine, Pneumovax23). PCV13 protects against 13 strains of pneumococcal bacteria, and PPSV23 protects against 23 strains of the bacteria, Nguyen explains.
PCV13 is part of the routine vaccines recommended for infants and toddlers at ages two months, four months, six months and 12-15 months old.
Related Article: LIST: Vaccination recommendations from birth to 18 years old
Other children and adults who exercise regularly, don't smoke or drink alcohol excessively, and have no chronic illnesses or weakened immune disorders and are otherwise healthy will not need a pneumonia vaccine again until the age of 65. Then, you'll need PCV13 one time and then a year later, get the PPSV23 vaccine, Nguyen says.
There are certain populations that their doctor may recommend a series of pneumonia vaccines to try to prevent getting the disease. This includes:
PPSV23 is recommended for high-risk children ages 2-5 years old with certain medical conditions including:

Sickle cell disease
Asplenia
Chronic heart disease
Pulmonary disease
Kidney disease
Diabetes
Cerebrospinal fluid leaks
HIV infection
Immunosuppression
Diseases associated with immunosuppressive and/or radiation therapy
Solid organ transplantation
Cochlear implant patients

One or two doses of PPSV23, given five years apart, is recommended for adults ages 19 to 64 years old with certain medical conditions including:

Sickle cell disease
Certain kidney diseases
Patients who smoke cigarettes
Asthma
Chronic heart or lung disease
Diabetes
Asplenia
Alcoholism
Conditions that cause weakening of the immune system

PCV13 is recommended for adults ages 19 to 64 years old with certain medical conditions including:

Asplenia
Sickle cell disease
Cerebrospinal fluid leaks
Cochlear implants
Conditions that cause weakening of the immune system

"Every one over 65 needs to get the pneumococcal vaccine," Nguyen says. "Talk with your doctor if you are younger than 65 and think you may be a candidate for the pneumonia vaccine, based on your own health history."

If your doctor recommends the pneumonia vaccine, it can be taken at the same time as the flu vaccine. However, the pneumonia vaccine is different than the flu shot in that it's not an annual vaccine. Many may just need two doses over a period of weeks or years, depending on their health history.

The vaccine is administered intramuscularly in the deltoid muscle located in your uppermost part of the arm. There is a risk of side effects following the vaccine. These can include:

Pain
Warmth at the injection site
Soreness
Redness at the injection site
Swelling
Headache
Weakness and fatigue
Muscle pain

Nguyen warns that side effects may be more common and may feel worse after a second shot then after the first one.

Tell your healthcare professional or seek immediate help if you experience any of the following, as they may be signs of an allergic reaction: difficulty breathing, wheezing, rash or hives.

"The pneumonia vaccine is both safe and effective," Nguyen says. "Who needs it is really dependent on who the person is and what they have depending on their condition. Your healthcare professional will be happy to help."

Both Prevnar13 and Pneumovax23 are offered year round at the St. Joseph's/Candler Center for Medication Management's four locations – Savannah, Pooler, Bluffton and The Landings – as well as the flu shot. Your primary care office or pharmacy can also administer both pneumonia and flu vaccines.

Related Article: Who should get the flu shot? Everyone.

For Medicare patients, the vaccine is covered at no cost. If you have commercial insurance, you may want to check with your insurance company about any possible co-pays.