Are you taking your medications as prescribed?
Miscellaneous
Jan 14, 2020
St. Joseph's Hospital clinical pharmacist addresses three important tips for proper medication management
Whether you have a chronic condition such as hypertension or a lingering sinus infection, chances are you are taking prescription medication. Your adherence to that prescription can help you get better quicker and save you money in the long run.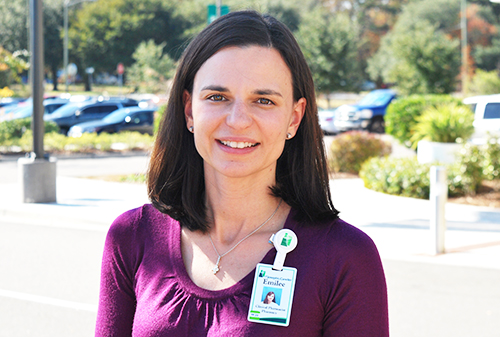 Adherence to prescribed medications is associated with improved clinical outcomes for chronic disease management and reduced mortality from chronic conditions, cites the Centers for Disease Control and Prevention.
Nonadherence, on the other hand, is associated with higher rates of hospital admissions, subpar health outcomes, increased death rates and increased health care costs, adds Emilee Robertson, PharmD, BCPS, clinical pharmacy specialist in internal medicine at St. Joseph's Hospital.
"With chronic conditions, like hypertension, that's usually a medication that people have to take ongoing," Robertson says. "If you stop taking it for any reason without your doctor knowing, you could end up feeling worse, need to be hospitalized, which increases your cost, and just experience a poor overall quality of life because you just don't feel well."
Taking your medications as prescribed
It begins by taking your medications as prescribed. It's important, Robertson says, to take the right dose the appropriate times per day and the appropriate duration. Even if you start to feel better, always finish out the prescription.
"If you only take one dose or half a dose, it may not be as effective," Robertson says. "Or, if you start to feel better and stop taking it, you still could have some lingering bacteria and then develop a resistance to that antibiotic so next time you have that infection that antibiotic may not work."
For those with chronic conditions that require routine medication, Robertson advises them to take it daily and keep it refilled. Never stop taking a medication without a doctor's order.
If you need help remembering to take your medication, put it somewhere you look every day, set an alarm on your phone or purchase an electronic pill box that has an alarm on it. Soon, your medication regime will become part of your daily routine.
Related Article: Medicine and heat: Pharmacist offers tips to keep your prescriptions safe and effective
Don't share medications
It's also important to never share medications. When a physician prescribes something, it's prescribed for that individual person based not just on their condition but other factors such as age, weight and allergies.
Shared medication also may not be as effective because it's most likely a lesser amount needed to treat a condition. There's a risk the medication has expired or been recalled.
Related Article: What do I do if my medication is recalled?
"If, for example, you were taking something for a sinus infection and then got a urinary tract infection, it may not be the same antibiotic you need," Robertson says. "It's always a better idea to be seen by your doctor, let them check you out and prescribe the medication that's best for you and your current condition."
It's OK to ask for help
Robertson finds many patients hold on to medications and share medicines due to cost. If you can't afford something talk to your doctor or pharmacist, Robertson advises. Oftentimes, there are medication cost assistance programs, generic medications or other alternatives that can help alleviate the cost.
Related Article: Generic vs. name-brand medications: Five frequently asked questions about generic drugs
"It's really important to keep an open line of communication with your healthcare team," Robertson says. "Tell your doctor what problems you have because if you don't, they don't know and can't help you. If we do know, then we can try to figure something out to make sure you are taking what's most important for your health."
If you need help managing your medications, St. Joseph's/Candler Center for Medication Management has five locations to help you with your needs and concerns. Learn more on our website and find a location near you.