What can I expect if I need the TAVR procedure?
Heart Health
Feb 6, 2020
Members of the St. Joseph's/Candler TAVR multidisciplinary team explain the patient experience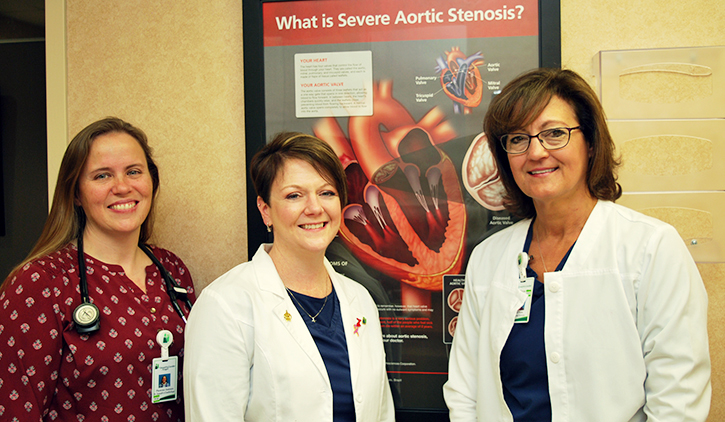 Pictured above: Members of the TAVR team (L-R): Angel Everidge, PA-C, Cardiology Associates of Savannah, Latricia Reisert, BS, RDCS, clinical coordinator for The Valve Clinic at St. Joseph's Hospital and Dina Penn, BSN, RN, nurse navigator for The Valve Clinic.

Symptoms of severe aortic stenosis can be disruptive. It may become hard to walk to the mailbox or simply getting out of the bed in the morning makes you feel dizzy or faint.
Heart valve replacement ultimately is the most effective treatment for severe aortic stenosis, which is the narrowing of the aortic valve opening which constricts normal blood flow.
Related Article: What is aortic stenosis?
At St. Joseph's/Candler, we offer minimally-invasive transcatheter aortic valve replacement (TAVR). If your referring cardiologist determines your aortic stenosis needs to be treated with valve replacement, St. Joseph's/Candler has a team and steps in place to determine your best course of treatment.
"When our patients come in, one of the first things we want them to know is that it's our goal to give them the best care possible," says Latricia Reisert, BS, RDCS, clinical coordinator for The Valve Clinic at The Heart Hospital at St. Joseph's/Candler.
While every patient case is unique, here are some general expectations you or a loved one can have if you need a TAVR.
It requires multiple meetings
During the course of your treatment, you will become very familiar with the team as they get to know you – literally from the inside out – as well. That's because TAVR is not an overnight process. It requires multiple meetings.
"I try to let patients know that it is an extensive process," says Dina Penn, BSN, RN, nurse navigator for The Valve Clinic at The Heart Hospital. "If we see you today, you are not going to get a valve tomorrow. It can feel like a lengthy process, but we find most patients actually find it comforting. Most people don't complain that we dot our i's and cross our t's."
On average, most people have the TAVR procedure within four to six weeks of their first meeting at The Valve Clinic. Then several follow-up appointments are required.
What to expect during the workup appointment
Your first meeting at The Valve Clinic for TAVR is a workup appointment. This helps determine that you are a good candidate for the procedure. It can be lengthy – lasting three to four hours – because it requires several tests.
During the workup appointment, you will meet with different members of the TAVR multidisciplinary team. Penn, for example, will go over aortic stenosis and the TAVR procedure with you to make sure you fully understand everything. You also will meet with Angel Everidge, PA-C, physician's assistant with St. Joseph's/Candler Physician Network - Cardiology Associates of Savannah. She meets with patients frequently throughout the TAVR experience, adding another level of individual attention.
Several tests are required during your workup. You can expect:
A CT scan
Cardioid ultrasound
Breathing (PFT) test
Frailty examination to test strength
Walk test to measure gait
Food and medications can be taken as normal the day of the workup appointment. You also can drive yourself to and from the meeting, Penn says, unless you're allergic to contrast, which is used during CT scans. In that case, a driver is necessary.
Once all your results are in, the TAVR team – comprised of cardiologists, cardiothoracic surgeons, nurses, cardiac imaging techs and others – will meet to review your information to determine if you are a good candidate for TAVR or if open heart surgery is necessary. The patient is not present during this meeting.
The second and third appointments
If it's determined you are a good candidate for TAVR, you will then meet with the cardiothoracic surgeon. St. Joseph's/Candler has two of the best TAVR surgeons in the region: Dr. Robert Jones and Dr. Jeremy London. They will help make sure you understand and are comfortable and prepared for the surgery.
One week before your surgery date (which will always be on a Tuesday by the way) you will visit The Heart Hospital for a pre-op visit. This mostly requires the drawing of blood and checking vital signs.
You can drive yourself to and from both these appointments.
The day of the procedure
Before your TAVR procedure, be sure to have no food or drink after midnight. You also should arrive at St. Joseph's Hospital two hours before your surgery. This time you should go to the Outpatient Surgery area as opposed to The Heart Hospital.
Nearly 99 percent of all TAVR procedures are performed in the cath lab, Reisert says. The operating room is only used in high-risk cases. You will be placed under moderate sedation, but will not be intubated.
The average TAVR procedure takes an hour or less, Penn says. After the procedure, you will be moved to PACU (post-anesthesia care unit) to monitor your vitals while the sedation wears off. Then, most patients are transferred to the third floor for an overnight stay. Your family is allowed to stay with you overnight on the third floor, Penn says.
If all is well on Wednesday morning, a physician's assistant will discharge you to go home. Someone is required to drive you home and continue to drive you for the next seven days.
TAVR patients will be placed on a medication regimen of aspirin and Plavix, a dual anti-platelet therapy to try to prevent blood clots. You will stay on Plavix for six months while tissue grows around the new valve replacement.
Follow-up appointments
TAVR requires several follow-up appointments at The Heart Hospital. The first is one week after the procedure. Your blood pressure will be checked, as well as the incision site to make sure they are healing nicely. You will need a driver for this appointment because it is still in the seven-day window where you should not be driving.
Another follow up is required one month later. This appointment requires an echocardiogram, electrocardiogram (EKG) and lab work.
Also at the one-month mark, The Valve Clinic recommends cardiac rehab. You will learn more about cardiac rehab, which is offered at Candler Hospital, during your stay following your procedure.
Related Article: Outpatient cardiac rehab program helps Savannah man lose the cane, gain strength
A final appointment at The Valve Clinic comes one year later to ensure the valve is still working properly. Of course a patient will continue to see their primary cardiologist as usual throughout the year. Penn also adds anyone can call or schedule an appointment at The Valve Clinic anytime there's concern.
"People are really appreciative of the work we do here," Penn says. "It's really exciting to be a part of this and really rewarding to see someone get better."
Patient outcomes
Speaking of getting better, if you need TAVR, chances are you will feel relief immediately. Aortic stenosis often leaves people short of breath, fatigued and light-headed. Reisert, who is in the procedure room during TAVR, often can notice an instant difference in patients.
"There are a lot of times when the valve is implanted that I can immediately watch them go from this gray look to this nice pink. It's like when a baby is born and they are all nice and pink."
As with any surgery, there are risks with TAVR, including risk of stroke and pacemaker implantation. However, at St. Joseph's Hospital, complications are less than one percent, Reisert says.
While your breathing may be better and your heart is beating again as normal that doesn't mean you can hit the golf course or tennis court immediately. While your healthcare team does encourage you to walk and work your way back to normal activity, remember your body is still healing.
"Patients are so grateful they can play with their grandkids and not get short of breath or ride a bicycle again," Reisert says. "Many are feeling better than they have in years."
To learn more about TAVR and the Valve Clinic, visit our website, call 819-TAVR or ask your physician for a referral.