Five ways you can reduce your risk of colorectal cancer
Cancer
Mar 4, 2020
Gastroenterologist Dr. Travis Wiggins discusses risk factors, the importance of screening for colon and rectal cancers
It's one of the most deadly cancers in the United States. Yet, colorectal cancer is unique among other cancers in that it's almost entirely preventable.
"The way we accomplish this is with the strategy of identifying adenomatous polyps, during colonoscopy for example, which are growths in the lining of the colon that if left in place can turn into cancer," explains Dr. Travis Wiggins, gastroenterologist with Gastroenterology Consultants of Savannah.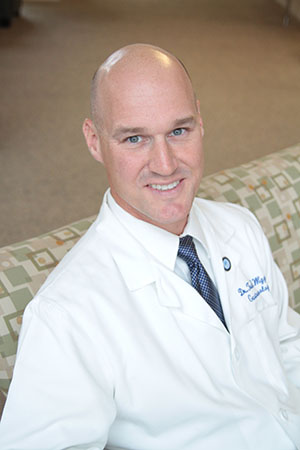 "By taking these polyps out, before they become cancerous, we reduce and can sometimes eliminate an individual's risk of ever developing cancer to begin with."
The lifetime incidence of colorectal cancer in patients at average risk is approximately four percent. It's much higher in those with a first-degree family member diagnosed with colorectal cancer, Dr. Wiggins says.
The American Cancer Society estimates the number of colon cancer cases in the U.S. in 2020 will be approximately 104,610, while another 43,000 will be diagnosed with rectal cancer. Colorectal cancer is lethal, Dr. Wiggins adds. It's the third leading cause of cancer deaths in men and in women. The ACS also estimates more than 53,000 will die from colon or rectal cancers this year.
There is some good news – the number of deaths from colorectal cancer has been dropping in both men and women in the last two decades, Dr. Wiggins says, accrediting the decline to finding the cancers earlier when they are easier to treat and curable.
"We attribute a lot of this to increasing awareness of colon cancer screening, which has resulted in a steady decline of approximately two percent per year of colon cancer in the United States over the past 20 years."
One distributing trend that Dr. Wiggins notes is that while colon cancer rates are declining in individuals older than 50, they seem to be increasing in younger individuals, especially those in their 40s. The reason isn't clear.
Related Article: Studies have revealed a rise in colorectal cancer rates among younger adults
So regardless of your age, it's important to be aware of colorectal cancer by knowing your risk factors and taking steps to try to prevent the disease. And with March being Colorectal Cancer Awareness Month, what better time than now to take steps to reduce your risk of getting colon or rectal cancer.
Get screened
As stated, colorectal cancer can potentially be prevented if polyps are found and removed before they become cancerous. This is best done through colonoscopy. A colonoscopy is a test that allows doctors to look at the inner lining of your large intestine.
The average recommendation for colon screening is 50, unless you have a first-degree relative diagnosed with colorectal cancer. In those situations, you'd want to be screened 10 years prior to your family member's diagnosis age if that puts your age under 50.
You should get a colonoscopy every 10 years if you have clear results. If you have a family history or if polyps are present during routine screening, your physician may recommend a colonoscopy every three to five years.

Related Article: Don't fear the colonoscopy

Colonoscopy is the preferred method for colon cancer screening, but if you are hesitant towards the procedure, there are other options, Dr. Wiggins says. Stool tests, such as Cologuard and immunological stool test (FIT), evaluate for the presence of colonic blood. These often can be performed from the comfort of your home and mailed to a lab.
Fair warning: A positive test will still be followed with a colonoscopy for further investigation, Dr. Wiggins says.
"The main take-home point is that the best test for colon cancer screening is the one that gets done."
Know your family history
Dr. Wiggins also points out the risk of colorectal cancer is higher if a first-degree family member has been diagnosed with colon or rectal cancer. A first-degree relative is your parents, siblings or child. Nearly one in three people who develop colorectal cancer have other family members who have had it, the American Cancer Society reports.
But family history is not the only risk factor for getting colorectal cancer and should not be an excuse not to get screened. There are many factors that you can control, including getting screened, that can reduce your risk of cancer.
Follow a proper diet
Dr. Wiggins recommends a diet that is high in natural fiber, which can be found in many vegetables, fruits and whole grains.
Related Article: Fiber: The unsung hero in weight management, digestion and lowering cholesterol
Diets high in red meats (such as beef, pork, lamb and liver) and processed meats (such as hot dogs and some deli meats) raise your risk of colorectal cancer and should be minimized, Dr. Wiggins says.
Get plenty of exercise
Being overweight or obese, especially having a larger waistline, raises the risk of colon and rectal cancer in both men and women. Being more active can help reduce your weight and lower your risk of colorectal cancer.
Dr. Wiggins recommends exercising most days of the week. Try to get at least 150 minutes of cardio, strength training and stretching in every week.
Related Article: Eight tips to help you be successful with your fitness goals
Stop smoking now
Cigarette smoking isn't just linked to lung cancer. In fact, smoking contributes to other types of cancers and chronic illnesses, such as heart disease and diabetes. People who have smoked tobacco for a long time are more likely than nonsmokers to develop and die from colorectal cancer.
If you smoke, now is the time to stop. St. Joseph's/Candler offers a Comprehensive Tobacco Cessation Program that offers the education and resources to help you quit smoking. To learn more about our program, visit our website.
Get Your Rear In Gear
Want to do your part to help in the fight against colon cancer? Join us Saturday, March 7 for the annual Get Your Rear in Gear 5K Run/Walk. Kids can participate in the Kids Fun Run for free and registration for the 5K Run/Walk is $25 until March 4 when prices increase. Learn more and register now.