What is the Joint Academy at St. Joseph's/Candler?
Orthopedics
Mar 10, 2020
Hour-long educational class is designed for knee and hip replacement patients and their caregivers
Is your doctor telling you it's time for a new knee or hip? While any surgery can have you feeling anxious, thanks to advances in technology and proper education, total joint replacement doesn't have to be scary.
About 1,400 total joint replacement surgeries are performed at St. Joseph's/Candler each year. Most patients require a one or two night stay.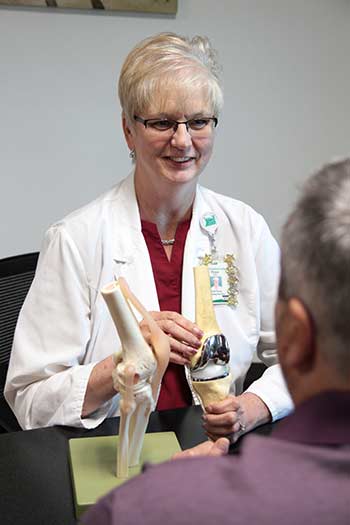 But what else can you expect from total joint replacement? To help prepare you for an upcoming joint surgery, St. Joseph's/Candler offers the Joint Academy, an hour-long educational class for joint replacement patients.
"We go step-by-step what they need to know from the time of their pre-op visit until the time we send them home, in addition to how they can prepare their home once they leave the hospital," says Penny Swindell, RN, ONC, pre-op patient educator for St. Joseph's/Candler. Swindell has been teaching the class for more than 12 years.
"It's targeted towards first-time total joint replacement patients and their caregivers, but any patient getting or considering total joint replacement can attend."
Related Article: New knee or hip can give you a new outlook on life
During the educational class, patients will:
View sample implants and other equipment that may be used in their surgery and recovery
Learn what to bring to the hospital
Learn about post-op hospital care (pain management, infection control, physical therapy and more)
Learn how to prepare for post-surgery care at home (including preparing your house to avoid potential fall hazards)
Address concerns about discharge from the hospital and options for extended care
"We present all this information up front to them so it doesn't come as a surprise," Swindell says. "It really helps with their anxiety level, with their pain management, and they have better expectations of their surgery and recovery."
Typically patients who are mentally and physically prepared before joint replacement surgery experience:
More successful outcomes
Shorter recovery and are able to return to daily activities faster
A more satisfied overall experience
Swindell says nurses and physical therapists can tell when patients have attended the Joint Academy. The Joint Academy helps patients with their confidence in their ability to handle the surgery and post-op recovery. It also teaches them warning signs to watch for at home, such as blood clots or infection.
"Every little bit of education helps," Swindell says. "We make sure you know everything to expect and prepare, right down to packing your suitcase."
Related Article: 10 things you can expect following total knee replacement
The Joint Academy is offered FREE of charge at 11 a.m. every Monday-Thursday. A physician's referral is not required. The class is held at St. Joseph's Hospital on 6 South or at Candler Hospital by appointment only.
For more information, visit our website or call 912-819-4100.