New valve procedure helps patients with emphysema breathe better
Miscellaneous
May 14, 2020
There's good news for people who suffer from severe emphysema. A recent FDA-approved treatment option is now available at St. Joseph's/Candler that can have you breathing better in weeks – and it doesn't require surgery.
Emphysema is a subtype of chronic obstructive pulmonary disease (COPD). In severe emphysema, the air sacs (alveoli) of the lungs may be collapsed, destroyed, narrowed, overinflated or stretched. Damage to the air sacs causes a decrease in respiratory function and breathlessness.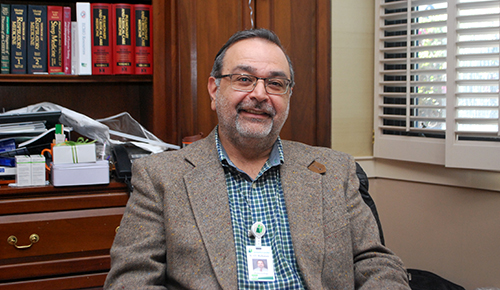 Emphysema is one of the most common forms of COPD. Millions of Americans are affected by COPD, and its estimated 3 million suffer from emphysema.
"COPD is so common. It's the third most common cause of death in Georgia after heart disease and cancer," says Dr. Obaid Rehman, a pulmonologist with Southeast Lung Associates.
Related Article: What is COPD?
Unfortunately, there is no cure for emphysema, but the right treatment can help you breathe better, be more active and improve your quality of life.
Treatment options can include:
Stop smoking/tobacco cessation
Medications
Pulmonary rehab
Minimally-invasive valve treatment
Lung volume reduction surgery
Lung transplant
Related Article: Pulmonary rehab can be a breath of fresh air for patients with lung conditions
Minimally-invasive endobronchial valve placement
Dr. Rehman is the only doctor in the region performing minimally-invasive endobronchial valve placement. He will work with your medical provider to determine if you are a good candidate for the procedure, but some of the requirements include:
You have been diagnosed with severe, late-stage emphysema
You have difficulty breathing in because of your emphysema
You must be healthy enough to undergo a bronchoscopic procedure
Have no active lung infections
Have no allergies to Nitinol, nickel, titanium or silicone
Stopped smoking
Inserting the device, known as the Zephyr valve, doesn't require any surgery or incisions and most patients have just a three-day hospital stay for observation.
"With emphysema, the lung is extremely inflated," explains Dr. Rehman. "When you have too much air in your car tire, you have to let some of the air out for the car to drive in a balanced way. That's what this valve does."
Quiz: How much do you know about emphysema?
Anesthesia is required for endobronchial valve treatment. Once you are asleep, Dr. Rehman and the team at St. Joseph's Hospital will insert a bronchoscope (a small tube with a camera) into your lungs through your nose or mouth.
Using a wire and the camera, the valve – which is smaller than the size of a penny – is placed into your airways and opens like an umbrella, Dr. Rehman describes. This allows the healthier parts of your lungs to expand, taking pressure off the diaphragm and helping you breathe easier.
The procedure can take 30 to 60 minutes and up to five valves can be placed in one lobe at a time. If another lobe needs to be treated, that can be performed six weeks later, Dr. Rehman says.
You will stay in the hospital for at least three nights for observation. As with any medical procedure, endobronchial valve treatment doesn't come without risk. There's a 33 percent chance of lung puncture. The risk is highest in the first three days following the valve placement, Dr. Rehman says.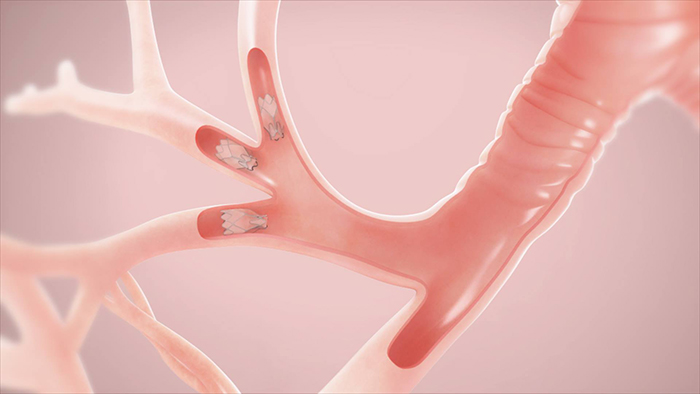 Benefits
While this is a fairly new procedure, valve placement to treat severe emphysema has shown many benefits to the patient including:
Improving your endurance capacity
Reducing episodes of shortness of breath
Better lung capacity
"It's such a relief to be able to breathe better," Dr. Rehman says. "That constant feeling like you're running all the time, that feeling gets better."
Dr. Rehman does point out that benefits aren't immediate. Most patients should expect to see improvements in four to six weeks.
"This is not a cure, but it's definitely a good option for people who have late-stage emphysema."
If you have severe emphysema talk to your primary care physician or pulmonologist about a referral to see Dr. Rehman. Together, they can determine if you are a good candidate for endobronchial valve placement and get you back on the road to a better quality of life.
For more information, you can call Dr. Rehman's Southeast Lung Associates office at 912-927-6270.

Video and photo courtesy of Pulmonx