Surviving perimenopause: What women need to know
Women's Care
Jun 2, 2020
OB/GYN Dr. Jessica Mullinix talks about symptoms, symptom management for women making the transition to menopause
The hot flashes, mood swings and fatigue. Oh no, it's symptoms of perimenopause, and there's no telling how many years – yes years – symptoms will last or how severe they will be.
But, you don't have to face it alone or be miserable because of symptoms. You have options, and just like your first period, years of cramping and childbirth, you will survive this stage of womanhood too.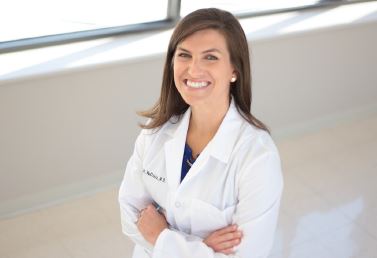 "Honestly, there isn't much you can really do to prevent perimenopause or menopause," says Dr. Jessica Mullinix, OB/GYN with St. Joseph's/Candler Physician Network. "But there are pharmacologic treatments available, as well as other lifestyle changes that can be used in symptom management."
Perimenopause is the transitional time leading up to menopause, Dr. Mullinix explains. Menopause is defined as 12 months without a menstrual cycle.
Perimenopause consists of hormonal fluctuations and typically irregular periods, Dr. Mullinix says. It is characterized by the symptoms of menopause like hot flashes, mood swings and vaginal dryness.
The transition to menopause can last anywhere between one to 10 years, with an average length of perimenopause being about four years.
The average age of menopause is known to be about 51.4 years of age, Dr. Mullinix says. Therefore, with perimenopause typically occurring about four years prior to that, the average age of perimenopause is 47.
But it's important to keep in mind that no two women experience the exact same symptoms at the exact same age.
"Every woman will experience menopause, yes," Dr. Mullinix says. "The timing depends on genetics, surgeries, medical history, medication, bodyweight and overall health.
"Most women will experience perimenopause but not all."
What can I expect during perimenopause?
Symptoms of perimenopause are caused by the changing hormone levels in the body, mainly from your ovaries producing fewer hormones, Dr. Mullinix says. For example, when estrogen is higher, you may have symptoms similar to PMS. When estrogen is low, on the other hand, you may have hot flashes or night sweats.
Some of the most common symptoms include:
Irregular periods
Hot flashes
Mood swings
Sleep disturbances
Vaginal dryness
Low libido
Joint and bone pain
Trouble concentrating
Depression
Fatigue
The symptoms and severity of perimenopause and menopause are highly variable among patients, Dr. Mullinix says.
"Some of my patients deny ever having hot flashes, while some claim to have them daily for 30 plus years."
Yikes. But there's no need to panic.
If you are having bothersome symptoms, talk to your doctor, Dr. Mullinix advises. It's important to realize that the symptoms you are experiencing may be normal, but can be treated, she says.
Treating symptoms of perimenopause
Perimenopause is usually treated by symptom management. There are several options available and not all include prescription medication and/or hormones, Dr. Mullinix says.
Lifestyle changes can help manage perimenopause and menopause symptoms. Some recent studies have shown that HIIT exercises can prevent hot flashes, while also preventing cardiac disease and low bone density that can come with menopause. These are two of the long-term risks associated with low estrogen levels that come after menopause, Dr. Mullinix adds.
For some patients, hormone replacement therapy (HRT) may be the best option; while others may be best suited for non-hormonal options. Your physician can evaluate your medical history, family history and symptoms to determine the best treatment option for you.
"Be a healthy person. Maintain an active lifestyle and choose nutritious foods. Don't smoke cigarettes and avoid heavy alcohol consumption," Dr. Mullinix advises. "Just know that if symptoms occur, you have options."
If you are looking for an OB/GYN, Dr. Mullinix sees patients in Savannah and Pooler. Learn more about her here.