What to expect during a PCU stay
Family Health
Jun 4, 2020
From the number of guests to visiting hours, here's what you should know when a loved one is in the progressive care unit at St. Joseph's/Candler
There are a number of reasons you or a loved one may require a hospital stay in the progressive care unit. Knowing what to expect may make the experience a little less stressful.
The progressive care unit (PCU) is considered a critical care unit, but it's also a step down unit.
"Basically we take those patients who are not quite sick enough for ICU and not quite well enough for med-surgical floors, rehab or discharge," explains Ashley Marks, RN, BSN, resource coordinator for PCU at Candler Hospital.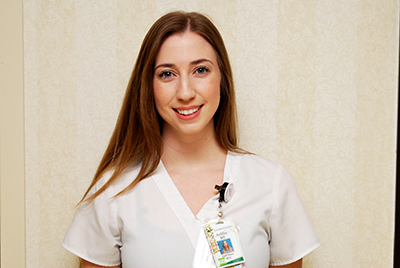 Related Article: What to expect during an ICU stay
Some patients may need to stay in PCU straight from an emergency room visit. Others may be on other floors of the hospital but require closer attention, different equipment or medication that is available in PCU.
PCU treats a variety of patients including those with cardiac issues, complications from chronic issues such as COPD or diabetes, those coming out of surgery or patients who suffered trauma.
The average length of stay in PCU varies, Marks says. Since it's most often a transition of care, most patients aren't there for long. Some are well enough to move to another floor for care or rehab. Some are even well enough to go home.
"We don't tend to see patients here for weeks and weeks," Marks says. "We send a lot of people up to the floors and a fair amount get discharged."
About the PCU team
Both St. Joseph's Hospital and Candler Hospital have progressive care units. St. Joseph's Hospital's PCU is located on the third floor and consists of 45 beds. PCU at Candler Hospital is located on the second floor and is a 14-bed unit.
Both units are staffed by registered nurses, unit clerks and technicians who work hand-in-hand with not just physicians but also the family.
"We have a great team of physicians and the nurses here are amazing," Marks says. "That's one of my favorite things about working here is that we're such a great team, day shift and night shift. Without even having to ask, help is there when you need it."
Visitation policy
Due to COVID-19, current visitation policy states no one in PCU can have a visitor. The PCU team will continuously communicate with a patient's family to keep them abreast of their loved one's condition.
Once visitation restrictions are lifted, typical PCU visitation hours are 8 a.m. to 8:30 p.m. Two visitors are allowed to visit at a time during the day, Marks says. Other family members can wait in the PCU waiting room and rotate in and out.
One person is allowed to stay the night, but Marks says the staff encourages family members to go home to get proper rest. No cots are allowed on PCU. There is a recliner if a family member decides to stay, Marks says.
Children under the age of 12 are not permitted, and no outside food or drinks are allowed.
Working with the families
The PCU team works closely with family members. Marks says day and night shift are in constant communication with family and encourage family members to ask questions and be involved in their loved one's care.
"We are always happy when the family wants to be involved and understand what's going on," Marks says. "The best thing they can do is be there for their family member and ask questions. We love explaining things so everyone is on the same page."