Infusion therapy offered in South Carolina
Cancer
Jun 16, 2020
Chemotherapy patients don't have to leave the Low Country with Lewis Cancer & Research Pavilion locations in Bluffton and Hilton Head
Imagine having chemotherapy treatment for hours at a time over the course of months. For many, that's reality. That's why it's a goal of St. Joseph's/Candler and the Nancy N. and J.C. Lewis Cancer & Research Pavilion to make infusion therapy as comfortable as possible.
"I think sometimes when people hear the word oncology, they relate it to something that's very scary," says Sheila Charron, RN, OCN, infusion manager for the LCRP in South Carolina. "We do our very best to make sure it's a positive environment, that we are engaging with our patients and try to lift them up and make them feel better.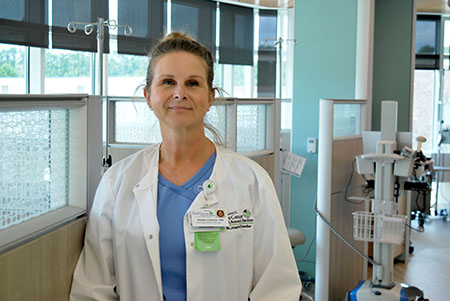 Infusion therapy is a method of administering medications through a vein, or intravenously, whether through an IV, port or PICC line, Charron explains. In terms of cancer treatment, chemotherapy drugs are often given through infusion therapy.
Related Article: How is chemotherapy administered?
Most chemotherapy treatments average six months, Charron says. Depending on the regiment, a patient may need treatment once a month, three times a month or five days in a row once a month for a certain number of weeks or months. The length of a single infusion session can be as short as 30 minutes or up to six hours, Charron says.
That's why our LCRP infusion therapy suites are designed with the patients' needs in mind to create the best patient experience as possible.
Let's look at our South Carolina services as an example.
First is the convenience. If you are a resident of the Low County of South Carolina, we have two locations for infusion therapy – Hilton Head and at our new campus in Bluffton.
Additionally, the LCRP offers other cancer services and support in the Low Country, especially with the opening of our St. Joseph's/Candler – Bluffton Campus. Radiation therapy is offered at both the new campus, as well as the Hilton Head office. Our medical oncologists have offices in Bluffton, Hilton Head and Port Royal. At the Bluffton Campus, there are pharmacists, dietitians, a social worker and spiritual counselors available to patients.
"We all work together for the benefit of the patient," Charron adds.
Related Article: Cancer services offered in South Carolina
In the infusion therapy suites, you'll find a team of dedicated registered nurses, all of which are trained in treating cancer patients and many are nationally certified in oncology. Even before your first chemotherapy session, you'll meet with a nurse trained in providing education. You'll receive a folder full of educational materials about chemotherapy, your medication, your treatment and available support.
"Our patients are very special and have unique needs so it does require a lot of training and commitment and our nurses have that specialized training to provide these services to the patients," Charron says. "And our nurses love it. They are very dedicated, and they want the best for patients."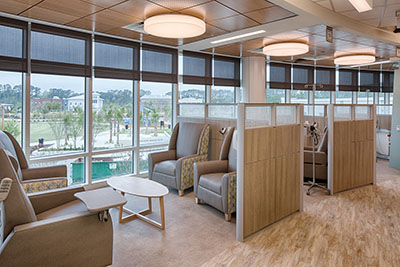 Oh, and we can't forget to mention the heated chairs and other personalized amenities. The SJ/C Bluffton Campus infusion suite, for example, is equipped with heated seats because many chemotherapy patients get very cold. They also are electronic, making them easy to move and adjust. There's a comfy pillow attached and room for electronics and other personal items you may need during your treatment.
"We want the infusion therapy environment to be very peaceful, friendly and calming. We wanted (the Bluffton Campus) to have an upscale feel to it, kind of a spa element to it, so our patients feel very relaxed and comfortable when they are here."
Related Article: Innovation in the patient experience requires big new ideas and attention to small details
The St. Joseph's/Candler – Bluffton Campus is located at 100 Buckwalter Place Blvd. In Hilton Head, we are located at 45 Hospital Center Commons.
Additionally, infusion therapy services for cancer treatment are offered in Savannah at the LCRP main campus, 225 Candler Drive, as well as the LCRP's location at Wayne Memorial Hospital, 865 S. First Street, Jesup.