St. Joseph's/Candler service helps our movement disorders patients have a better quality of life
Neurology
Jun 18, 2020
Are you a movement disorders patient of Dr. Jill Trumble, Dr. Ryon Poston or Dr. Jonas Vanags? Then there's someone you may not know about but should certainly talk to.
Her name is Maggie Gignilliat. She's the St. Joseph's/Candler outpatient movement disorders social worker. She can help movement disorders patients in a variety of ways to improve quality of life – and her service comes at no additional cost.
"If anyone sees a St. Joseph's/Candler Physician Network neurologist, they can use my services. It's part of the package that comes along with being a patient of our neurology practice," says Gignilliat, LCSW, RN, CCM.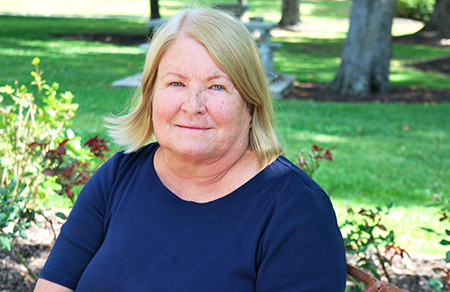 A movement disorder is defined as a group of neurological conditions causing involuntary or abnormal movement. Examples of movement disorders can include Parkinson's disease, restless leg syndrome, Tourette's Syndrome, Essential Tremor, Huntington's disease and other related neurological disorders.
Related Article: Six common movement disorders
Gignilliat works with movement disorders patients to address any concerns or struggles they may have. In addition to being a licensed social worker in both Georgia and South Carolina, Gignilliat also is a registered nurse. She worked for several years at St. Joseph's Hospital as a discharge planner and says that experience helps her in her current role.
Some of her services include:
Help finding an assisted living home for those looking
Home evaluations to suggest ways to make it safer from falls
Durable medical equipment recommendations
Medicaid waiver program referrals
Outpatient rehab referrals
"Something about social work that a lot of people don't realize is that social work believes in a patient's ability to make their own decisions," Gignilliat says. "For example, we don't tell someone they have to move out of their home, but we certainly try to make it where it is safer in their home."
Home evaluations are a common service Gignilliat provides. Movement disorders patients are at a higher risk of falls. Gignilliat can do a home elevation and make recommendations to help prevent falls. Some of her suggestions include:
Adding arm rails to assist walking hallways
Removing or securing loose rugs
Adding a raised toilet seat
Adding railing to a shower or bath tub
Adding cameras to the home so caregivers can monitor their loved one when not there
"One of our main goals is to try to prevent falls and other accidents from happening that could result in a hospital stay," Gignilliat says.
Another common service Gignilliat provides is educating patients and caregivers about the numerous resources available to them. For example, based on certain criteria, if you have VA benefits and fought during war time, you may be eligible for home renovations or home assistance provided by the VA.
A second example is referring people to services like the St. Joseph's/Candler health clinics, St. Mary's and Good Samaritan or pointing out the nearby senior citizen centers or adult day centers for patients with dementia. Many patients are on a fixed budget and don't realize there's so many services available to them, Gignilliat says.
"There's so much out there to help people have a better life and better quality of life, so if you want to enjoy your years, it doesn't make sense not to utilize the talent that God has gifted to other people."
If you or a loved one are a patient of St. Joseph's/Candler Physician Network – Neurology, you can ask your physician for a referral or how to contact Gignilliat. Additionally, if you are a patient of any St. Joseph's/Candler Primary Care physician and have been referred to our neurology practice but are awaiting your appointment, you may contact Gignilliat in advance.
How this service came to be
Gignilliat is able to offer the myriad of social services that movement disorders patients require through the generous donations of corporations and individuals. St. Joseph's/Candler Foundations, with a push from Colonial Foundation, Inc. and Sterling Seacrest Partners, started raising money for the Movement Disorders Program several years ago. These funds not only allow Gignilliat to provide her services, but just nine months into the fiscal year, more than 1,000 area residents received education on movement disorders and more than 500 patients received help through navigation services and free nursing consults.
If you'd like to make a donation to the St. Joseph's/Candler Foundations directed towards the Movement Disorders Program, you can do so here.