How the Pastoral Care Department at St. Joseph's/Candler serves you
Miscellaneous
Jun 23, 2020
At St. Joseph's/Candler, we take a holistic approach to healing. Yes, we have the region's best doctors and trained, certified staff and the latest technology, but sometimes patients need more than medicine for healing. They need spirituality.
And the St. Joseph's/Candler Pastoral Care Department is here to provide that aspect of healing.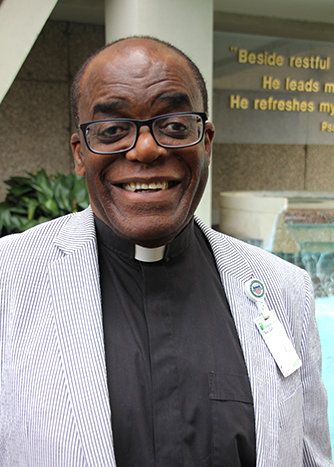 "We know from studies and other research that faith is very important to healing," says Rev. Columbus Burns, D Min, BCC, director of Pastoral Care and Church Relations at Candler Hospital. "We believe in holistic healing and faith is a big part of that."
Pastoral care services provide spiritual counseling and support to patients and their families. The St. Joseph's/Candler Pastoral Care Ministry, which respects all religions and maintains multi-denominational relationships in the community, also provides appropriate patient and family education and comfort resource materials related to issues of spirituality, health and well-being.
"For me, pastoral care is where hospitality and reverence meet in affirming the dignity of the other person as they are going through a serious illness and hospitalization," says Sr. Pat Kennedy, RSM, pastoral care liaison and chaplain to the Palliative Care Program. "It's a ministry of presence and grace."
St. Joseph's/Candler offers its pastoral care services at both St. Joseph's Hospital and Candler Hospital, as well as the Nancy N. and J.C. Lewis Cancer & Research Pavilion and the Pooler and Bluffton campuses. The ministry consists of chaplains of both the Catholic and Methodist faith. Additionally, we have volunteers from other religions, such as Judaism and Islam, that we can call upon to assist with patients of those faiths, Rev. Burns says.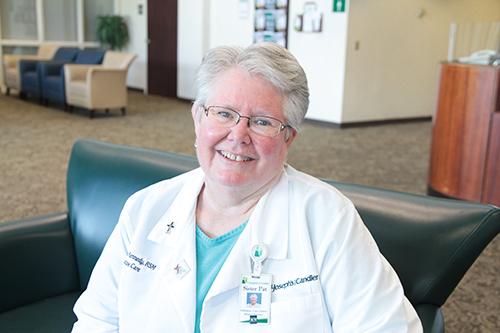 "I think we have a very comprehensive ministry, a very committed ministry," Rev. Burns says. "It's more than just a job for us. We take it quite seriously."
Father Joe Smith is a priest with the Pastoral Care Department at St. Joseph's Hospital. On a daily basis, he works with both patients and co-workers to address their emotional and spiritual needs.
"We may not share the same belief systems, yet we all have questions and sometimes the ear, heart and professional training of myself and other pastoral ministers can be helpful," Father Joe says. "Faith teaches me to 'Love my neighbor as I would love myself.' It is that faith and grace that motivates our ministry here at St. Joseph's/Candler."
What does a pastoral care chaplain do?
There are different functions of a pastoral caregiver. Four in particular stand out to Sr. Pat Kennedy.
Heal: A chaplain is called to heal. Healing isn't always physical. It can be an increase in faith, or it can be forgiveness, Sr. Pat says. "As chaplains, we are allowing that patient to come to a different experience in their journey to grow in their experience, whatever that may be."
Sustain: "When I think of the word sustaining, I think of a chaplain as a person who draws out from that patient the coping skills they already have and use those coping skills at this point in their journey of illness."
Nurture: Pastoral care uses listening skills, eye contact and the appropriate phrasing of communication to offer a caring and comforting presence for patients.
Guide: Chaplains don't make decisions for the patient even though many they meet may be in a dilemma. "I can easily say what I would do, but that's not what I'm called to do," Sr. Pat says. "I am called to help them name for themselves what fits best for their life at this point in time."
How our pastoral care ministry serves the public
If you or a loved one require a visit or stay at St. Joseph's/Candler, there are many avenues of our pastoral care ministry for the public. These include:
Visits to patient rooms: The chaplains of the pastoral care department are assigned different areas of our campuses and visit patients routinely. For example, Rev. Burns spends several hours every day visiting patients at the LCRP. It is, of course, the patient's choice whether or not to see a chaplain.
Daily prayer: One of the more popular ministries of pastoral care, Rev. Burns says, is the daily overhead prayer that is broadcasted over the hospital intercom system of both hospitals. Prayer is offered each morning between 8 a.m. and 9:30 a.m., depending on which hospital you are at.
Talk to a chaplain: If you'd like to speak with a chaplain, you have a couple of options. You can ask your nurse who can contact the chaplain or you can call directly at extension 6001 or on the weekends and evenings, dial 0 for the operator and ask for the on-call chaplain. Our chaplains are on call 24 hours, seven days a week year around, even holidays, Rev. Burns says.
Worship: Worship services are offered in the chapels at both St. Joseph's Hospital and Candler Hospital.

At St. Joseph's Hospital, Catholic Mass is offered at 11:30 a.m., Monday through Friday and 11 a.m. on Sundays.
At Candler Hospital, service is offered at 9:30 a.m. Monday through Friday. Sunday's ecumenical service also is at 9:30 a.m. Additionally, Catholic Mass is offered at Candler at noon every Tuesday.

Dial-A-Prayer: Patients can also hear prayer by calling extension 7729 from any hospital phone or 819-7729 from outside the hospital.
Christian TV: Both hospitals also offer Christian channels on televisions in patient rooms on channels 19-EWTN and 15-TBN. Additionally at Candler Hospital, you can watch channel 74-Lientz, which is a broadcast of services from the Lientz Chapel.
"When we go through hard times, a lot of times it's our faith that becomes the ground we stand on when everything else is shaky," Sr. Pat says. "Patients need to be able to express their faith because in the expression of it, it reinforces the belief. The whole thing of pastoral care is to accompany and be a companion on their journey."