Does my child need a sports physical?
Family Health
Jul 9, 2020
Family and sports medicine physician Dr. Frederick Harold explains what to expect during a sports physical
Is your child playing a sport this upcoming school year? Then you should consider a sports physical for him or her. In some cases, one may be required.
A sports physical is slightly different than an annual physical as it focuses on preventative screening for injuries that may occur playing a sport. Sports physicals should not replace an annual physical.
Related Article: Are you seeing a healthcare provider annually?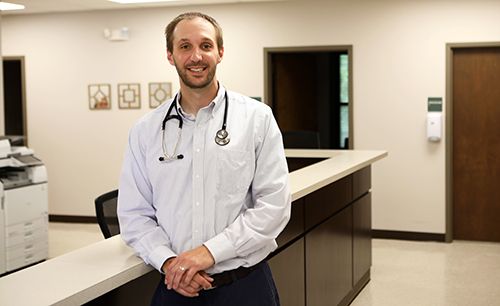 During a sports physical, your doctor exams the musculoskeletal system, as well as screening for certain conditions, most commonly cardiovascular health, explains Dr. Frederick Harold, a family and sports medicine physician with St. Joseph's/Candler Primary Care in Richmond Hill.
For example, Dr. Harold will ask patients, or their parents, if there's a history of a first-degree relative who's had a heart condition under the age of 50. If so, those patients typically need some form of cardiac testing or clearance before they should participate in a sporting event.
Another condition closely looked at during a sports physical is asthma because exercise-induced asthma is a big component, especially in younger athletes, in the overall ability to succeed at a sport and also stay safe, Dr. Harold says.
You can also expect the doctor to examine your vision, assess your weight and ask about any history of hernias, among other things.
A sports physical is not designed to disqualify or exclude an athlete from competition. It's intended to help maintain the health and safety of student athletes.
It's estimated that high school athletes alone account for nearly two million injuries, 500,000 doctor visits and 30,000 hospitalizations each year.
"A sports physical tries to prevent complications from occurring or prevent things from happening before they occur," Dr. Harold says. "For me, success is not necessarily how well you do playing a sport, it's more that you compete, are healthy and don't have any issues at the end of the year."
Ask your pediatrician or family practitioner if he or she is comfortable performing a sports physical. Or, seek out a doctor, like Dr. Harold, who's board-certified in sports medicine.