What are the benefits of aquatic physical therapy?
Orthopedics
Aug 4, 2020
Aquatic physical therapy is available through St. Joseph's/Candler at our Candler Hospital and Landings Club outpatient rehabilitation centers
Is your body too sore to do the things you love – play a round of golf, hit the tennis court or even pick up the kids or grandkids?
Then you may want to consider physical therapy, or more specifically, aquatic physical therapy.
"Aquatic physical therapy is a lot like general physical therapy except we perform it in the pool," explains Brittany Ravenscraft, PTA, St. Joseph's/Candler physical therapy assistant at The Landings Club Outpatient Rehabilitation Center. "We use the benefits of water to help our patients tolerate more activity and really hone in on those benefits of being in the water."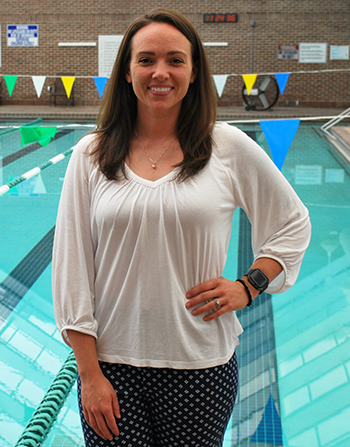 St. Joseph's/Candler offers aquatic physical therapy at its Candler Hospital Outpatient Rehabilitation location and is now excited to offer it at The Landings Club location, which is available for Landings Club members only.
Aquatic physical therapy is rehabilitation, prevention and wellness for a wide array of patients in a safe aquatic environment under the supervision of a licensed physical therapist. It can help treat a variety of conditions, Ravenscraft says, including:
Spinal conditions
Muscle weakness
Strains and sprains
Fractures and other injuries where a person can't bear their full weight
Total joint replacements leading up to or after surgery – as long as the incisions are healed
"Typically people are referred to aquatic physical therapy when they cannot tolerate general therapy because it's too painful or they can't perform certain activities," Ravenscraft says. "We treat in the water because it's easier to tolerate specific movements before we transition back to land."
What are the benefits of aquatic physical therapy?
The physical characteristics of water are used to support, resist and/or assist in increasing flexibility and muscle strengthening while an injury heals. For example, the buoyancy of water relieves stress from the body, Ravenscraft says. The hydro-static pressure helps relieve swelling.
Water also can be used as resistance, which can help with strength, coordination and balance. Additionally, both pools at St. Joseph's/Candler Outpatient Physical Therapy used for aquatic PT are heated which helps relieve pain and tension, Ravenscraft says.
"It's a comfortable environment that typically reduces pain and gets you going again," she says. "There's no need to live in pain."
Aquatic therapy has been shown to increase:
Circulation
Flexibility
Blood flow
Muscle strength and tone
Range of motion
Coordination
What to expect during an aquatic physical therapy session
As mentioned, aquatic physical therapy is similar to general – or land – physical therapy. You will do similar stretches and strengthening exercises. Pilates even can be modified for the pool, Ravenscraft says.
Aquatic physical therapy is offered on a one-on-one basis, meaning it's just you and your physical therapist or physical therapist assistant in the pool. Additionally, both pools used for aquatic PT are routinely cleaned.
Before you get started, your first meeting with your physical therapist will be an evaluation. This is done on land and tests where you are with your physical capabilities. Then, you will move to the pool for your next several sessions. Sessions last between 45 minutes to an hour, one to three times a week. The length of physical therapy depends on your progress but typically is four to six weeks.
In the beginning, your entire session will be in the pool; however, as you improve, land physical therapy will be incorporated, says Ravenscraft. After all, we can't live in water forever.
Every month or ten visits, a progress evaluation takes place. This is similar to your first evaluation and just notes where you are in your healing process. This may also determine how much aquatic versus land therapy you should be doing.
Your physical therapist will recommend certain exercises to do at home as well, whether in a pool or on land. Consistency is key to healing, Ravenscraft says, and she encourages all her patients to do what they can on days they are not in physical therapy.
You will have a final evaluation to make sure you are OK to discharge from physical therapy or if it should continue. This is determined not only by how you feel, but also if you reached the goals set on your very first visit.
"When I do treatments, the goals are first and foremost," Ravenscraft says. "Our treatment is really based on what that patient's goals are and what is specific to reaching them."
So if you have a goal in mind to feel better and get back to doing what you love, talk to your doctor about aquatic physical therapy. A physician's referral is required.
"The goal of physical therapy is to improve your quality of life and what you are able to tolerate," Ravenscraft says. "If you notice you can't do what you really love to do and you need help transitioning back to that, I think aquatic therapy is a great way to get you back to doing the things you love again."
For more information about our aquatic physical therapy program or to request an appointment, visit our website.