Pregnant? Now is the time to get your flu shot.
Women's Care
Oct 27, 2020
Studies show proven benefits for both mom and baby by getting a flu shot
Everyone should get the flu shot. That especially includes pregnant women.
"Due to changes in physiology and immune responses of pregnancy, the flu – as well as other respiratory viruses – can be worse in expecting mothers," explains Dr. Jessica Mullinix, an OB/GYN with St. Joseph's/Candler Physician Network. "While most young women of reproductive age can tolerate the influenza virus well, pregnant women can have increased respiratory symptoms which can lead to hospitalizations."
One of the best ways to prevent getting the flu is through vaccination. And yes, it's safe for women at any point in their pregnancy to get the flu shot, Dr. Mullinix says. The flu can cause high fever, which should be avoided in pregnancy, specifically the first trimester during early fetal development.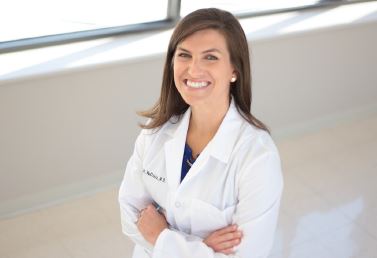 Dr. Mullinix recommends getting the flu shot in October. She also says pregnant women should get the inactivated vaccine and not the nasal spray version.
So expecting moms, if you haven't gotten the flu shot, now is the time to do so.
"The flu shot has been proven to be effective in pregnant patients so my recommendation is that every pregnant patient gets their flu shot by the end of October," Dr. Mullinix encourages.
A recent study shared by the Centers for Disease Control and Prevention showed getting a flu shot reduced a pregnant woman's risk of being hospitalized with flu by an average of 40 percent. Additionally, vaccination has been shown to reduce the risk of flu-associated acute respiratory infection in pregnant women by up to one-half.
And not only does getting a flu shot help protect mom, it can help her baby too.
"One added benefit of getting the flu shot during pregnancy is that the antibodies can pass to the baby," Dr. Mullinix says. "This helps protect the baby from the virus after delivery when he or she is too young to be vaccinated."
How the flu can affect pregnant women
During pregnancy, the heart rate increases, the amount of oxygen consumed increases, but the lung capacity decreases, Dr. Mullinix says. Basically, pregnant women are short of breath at baseline. Contracting a respiratory virus such as the flu on top of that can make breathing more difficult.
Additionally, there have been reports of increased miscarriages, preterm labor and low birth weights associated with getting the flu while pregnant.
Where to get your flu shot
Most likely, your OB/GYN office has the flu vaccine available, or you could get one from your primary care doctor. Flu shots also are available at neighborhood pharmacies and through the department of public health.
Prevention is key
As mentioned, the flu shot is one of the best ways to try to prevent getting the flu. Dr. Mullinix also likes to remind patients to frequently wash their hands and keep commonly touched surfaces cleaned.
If you are pregnant and have a known exposure to a family member or friend with the flu, talk to your OB/GYN about getting Tamiflu. Tamiflu and other anti-viral treatments are safe in pregnancy and postpartum, Dr. Mullinix says.