What is HyperArc radiation therapy?
Cancer
Jan 12, 2021
New treatment technique available at the Lewis Cancer & Research Pavilion in Savannah and Bluffton treats metastatic brain cancers quickly and efficiently

When you get cancer, especially one that has spread to the brain, you want the best treatment possible. And getting that treatment close to home, where family and friends are, is indeed an added benefit.
That's why the Nancy N. and J.C. Lewis Cancer & Research Pavilion continues to add the latest technology to our treatment arsenal to help patients get better quicker with reduced side effects.
One of the latest examples of advanced technology the LCRP introduced is called HyperArc High-Definition Radiotherapy. HyperArc is a new, state-of-the-art technique that allows radiation oncologists to treat patients with multiple brain metastases faster and more efficiently, explains Dr. Joshua McKenzie, radiation oncologist at the LCRP.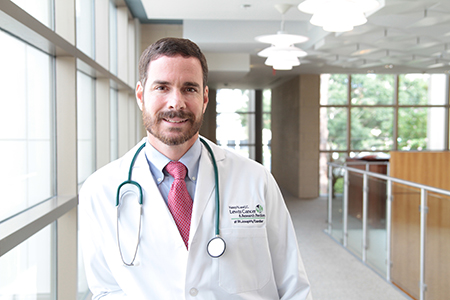 About 20 to 40 percent of cancer patients will develop brain metastases, and more than half of those patients will have more than one tumor in the brain. The risk of a metastatic brain tumor depends on the type of cancer and how advanced it is at diagnosis.
At the LCRP, we have several treatment options for cancer that has spread to the brain. CyberKnife, which allows physicians to deliver high doses of radiation to small areas anywhere in the body with phenomenal accuracy, is one. Now, we can use HyperArc on the TrueBeam system, as an additional tool. TrueBeam delivers a radiation beam that targets cancer anywhere in the body and keeps exposure to healthy cells to a minimum.
Both are excellent modules for treating cancer, Dr. McKenzie says, but the addition of HyperArc is another option for patients, especially those that may be claustrophobic.
Additionally, CyberKnife is not available at our LCRP Bluffton Campus, but for appropriate patients, HyperArc on TrueBeam could be a treatment option close to their Low Country home.
How it works
With HyperArc, radiation oncologists can deliver more compact radiation doses that closely conform to the size, shape and location of the brain tumor while avoiding surrounding healthy tissue. This can help reduce side effects common with previous treatment methods, such as whole brain radiation, that causes hair loss, memory problems and difficult decision making.
There are two components to TrueBeam. There's the TrueBeam Linear Accelerator that delivers the radiation beam, and then there's the treatment couch, which the patient lays on, explains Dr. McKenzie.
In order for HyperArc to precisely deliver radiation doses to brain tumors, it requires the best treatment couch available, which is able to move patients in six different degrees and more precisely than previous treatment couches.
"You are combining that with an advanced head stabilization system, and they all work in concert to deliver accurate treatment," Dr. McKenzie says.
The number of radiotherapy sessions varies from patient to patient depending on the number of tumors, size and location. Dr. McKenzie's first HyperArc patient needed just a single session, while other patients may require more. HyperArc treatment often works in conjunction with CyberKnife, chemotherapy or immunotherapy for the best possible results.
"HyperArc allows us to be more efficient by turning the plan around quicker and get the patient started faster when we are dealing with multiple cancer sites," Dr. McKenzie says. "It's not a substitute for CyberKnife, but it's an additional tool that we have that sets us apart from a technology perspective."
The most significant advancement in radiation therapy in the recent past is the integration of stereotactic radiation therapy as part of a patient's treatment options, says Dr. McKenzie. St. Joseph's/Candler and the LCRP are committed to this approach of offering patients the absolute best, most advanced care available. HyperArc builds upon this legacy and provides doctors and patients with the best technology available to optimize outcomes for patients, Dr. McKenzie adds.
In fact, HyperArc radiotherapy currently is only available at two hospitals in Georgia, the LCRP at St. Joseph's/Candler and Emory in Atlanta; however, the LCRP was the first in the state to perform HyperArc treatment. Additionally, we are currently treating the first patient in South Carolina on HyperArc at our Bluffton Campus.
"As our patients are living longer, we want them to live better with reduced side effects, and we want to be able to have all aspects of technology from a treatment delivery perspective so patients don't have the need to go anywhere else to get it done," says Dr. McKenzie.
If you've been diagnosed with cancer that has spread to the brain, talk to your medical team to find out if HyperArc High-Definition Radiotherapy is right for you.