How we can help multiple sclerosis patients get the support they need
Neurology
Mar 24, 2021
The St. Joseph's/Candler Movement Disorders Program offers many resources from treatment to community outreach

When you have a condition like multiple sclerosis (MS), it's important to have support. This comes from your family and friends, medical team and others with MS.
MS is just one disorder treated by the St. Joseph's/Candler Movement Disorders Program. Through this support program, patients that see a physician through our Physician Network – Neurology practice can find help not only with the highest quality of treatment but also comprehensive education and community resources.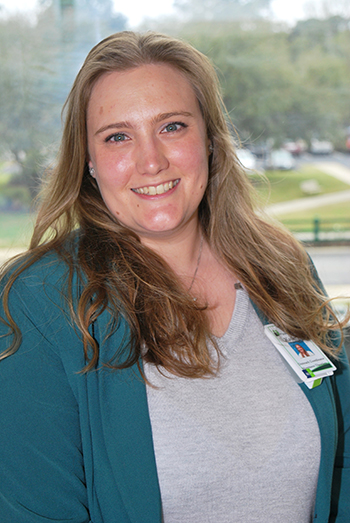 "We can help with referrals for everything from counseling to legal aid to the latest treatment options. Or, if you need help with educating yourself or say a church group about a movement disorder, that's also something we can do – all at no cost to the patient," says Kathryn Wiesmann, Outreach Coordinator for the Movement Disorders Program. "For our patients that have MS, we can help with anything they need with their quality-of-life care around their house or transportation or even help getting groceries."
Related Article: St. Joseph's/Candler program designed to help patients with movement disorders
Multiple sclerosis is a chronic disease of the central nervous system. It can be an unpredictable condition because it affects people differently. Some people with MS may have only mild symptoms. Others may lose their ability to see clearly, write, speak or walk when communication between the brain and other parts of the body become disrupted.
It's estimated that 2.3 million people have MS worldwide, with 1 million of those living in the United States, according to the National MS Society. March is Multiple Sclerosis Awareness Month, a campaign to raise awareness about this disease.
As outreach coordinator for the Movement Disorders Program, one of Wiesmann's responsibilities is educating movement disorders patients about community resources available. One example is a local MS self-help group that meets monthly called PRYME2 (Positive Realities You and Me Educating and Evolving). Wiesmann also attends these now monthly Zoom meetings and sees how commonality and a little social fun – even on Zoom – can be supportive.
"They do walks all of the time. There's a family and friends day. It's a time to celebrate and socialize," Wiesmann explains.
"The negative connotation is that self-help or support groups are a sad entity, but they aren't," Wiesmann continues. "By attending these self-help Zoom meetings and interacting with patients, I've learned they can be fun, social, spiritual and supportive, and sometimes that form of support means allowing a space to say 'this stinks' to a group of people who will understand better than family or friends."
Other services offered through the Movement Disorders Program that patients can find helpful are:
Multidisciplinary team approach to determine the best customized treatment plan for a patient's individual needs.
Designated patient navigators to help guide patients in the continuum of care from diagnosis to treatment.
Specialized diagnostic/therapeutic and surgical procedures coordinated by a highly-skilled neurosurgeon and board-certified neurologist.
Patient evaluation and follow up assessment with the St. Joseph's/Candler Physician Network – Neurology practice.
Physical, occupational and speech therapy offered in both an inpatient and outpatient setting.
Education and community outreach, including connecting patients with support groups.
"For us, the goal is to make sure you have everything you need from your medical treatment plan to going through life as a person with a movement disorder," Wiesmann says.
For help with a referral to a self-help group or community service, contact Wiesmann at 912-819-2224 or by filing out this form. For more information on the Movement Disorders Program, visit our website.