LCRP has dedicated pharmacists for cancer patients
Cancer
Apr 27, 2021
There's a member of your cancer team that you may never see – a pharmacist. But they are a valuable healthcare expert who can help you feel as best as possible during treatment and help get you better quicker.
At the Nancy N. and J.C. Lewis Cancer & Research Pavilion, we have pharmacists dedicated to only helping cancer patients. This allows them to focus solely on those medications – and there's many. Also, new drugs are constantly being developed for treatment that these pharmacists keep up with.
They also keep up with each patient case, reviewing lab results and helping control side effects. And even though oncology pharmacists spend much of their time in a sterile environment, behind closed doors preparing infusion medication, they also speak daily with the oncologists and nurses directly taking care of you.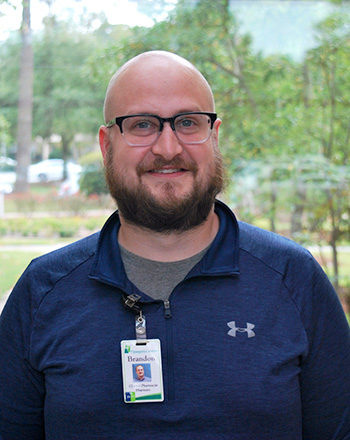 "We don't get seen a whole lot because a lot of what we do is behind the scenes, and we don't have as much interaction with patients as I wish we did," says Brandon Rensing, PharmD, oncology clinical pharmacist at St. Joseph's/Candler. "Really all they see is the drug that arrives at their bedside but a lot goes on before it ever reaches that patient. We've looked at it for days and weeks in advance."
Our oncology pharmacists are members of the clinical effectiveness teams. At least one pharmacist sits in on cancer conference, which is a weekly meeting at the LCRP to discuss individual patient cases.
"We are all part of a team. I may not directly be in (an oncologist's) office, but we are in contact on a daily basis," Rensing says.
The oncology pharmacists also are available to the infusion nurses and physician's assistants to help with any medication questions.
And if you are a cancer patient and want to directly speak with a pharmacist, they also can be available to you. Rensing says there have been times they've directly helped answer questions a patient has about their medication.
One of the most common questions is about side effects.
"That is drug specific, but we can help with that," Rensing says. "There are a lot of side effects that drugs have in common."
In fact, your oncologist and pharmacist can work together on supportive therapy, which has significantly improved for cancer patients over the last 20 years, Rensing says. There are new antiemetic drugs (medications to help with vomiting and nausea) your doctor can prescribe along with your infusion medication to help with acute or delayed nausea and vomiting.
"Thirty years ago, we would have told all patients to expect nausea and vomiting, but with a lot of the new drugs we have, we can really do a good job of controlling those side effects now," Rensing says.
However, some patients will still experience side effects of their chemotherapy. That's when your medical team will work together to adjust your medication, such as delaying it, reducing it or adding another source of supportive therapy.
"If a patient is having problems with side effects, I will try to contact the doctor so we can do whatever we can to mitigate those side effects," Rensing says. "It's really all about making sure the patient gets the correct drug, correct dose and make it as painless for the patient as possible."
"And I like to think that all of us are a part of what goes into that from the nurses who are care side to the doctors to the pharmacists to the nurse practitioners to social workers – there's a massive group of people who are involved in each patient with a goal to get them better."