Hand therapy can help when Fido trips you up
Orthopedics
May 11, 2021
Outpatient occupational and hand therapy now offered at our St. Joseph's/Candler – Pooler Campus
An estimated 50 million households in the United States have at least one dog, according to the American Veterinary Medical Association. That's a lot of dog walking. It can also result in a lot of hand and wrist injuries.
According to Consumer Reports, there were more than 16,000 leash-related injuries treated in American emergency rooms last year. At least 20 percent of those involved fingers while the majority of injuries involved the wrist – think falling on an outstretched hand.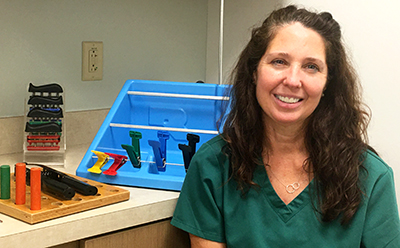 As a certified occupational and hand therapist at St. Joseph's/Candler, Jennifer Brown Owenby has treated many patients injured after tripping on the leash, on their dog or walking on uneven terrain.
As a long-time dog owner, she also knows the struggles some K-9s gives their owners on a daily walk.
Consider these tips on our next dog walk:
Wear comfortable but stable shoes, such as tennis shoes or even hiking boots, while walking to help keep your footing and avoid falls.
Always avoid wrapping any kind of leash around your fingers or hand.
Choose a leash that is not so long that you cannot maintain control of your dog.
Choose a leash that is appropriate for your hand size and that you are able to handle without difficulty.
Consider a harness or head control when walking your dog.
Good training for you and your dog is essential to a safer walking experience. A dog should be trained to not pull on the leash while walking.
When walking at night, use a flashlight or a head lamp.
If you do get injured
Some of the injuries associated with dog walking may require surgery, but a lot can be treated with hand therapy, Brown Owenby says. Hand therapy evaluates and treats injuries and conditions of the hand, as well as the shoulder, arm, elbow, forearm and wrist. Therapists use a number of methods, such as stretching, bending and positioning, to help you return to your highest level of function.
Brown Owenby is a certified hand therapist and offers treatment sessions at the outpatient rehabilitation centers at St. Joseph's Hospital and now the SJ/C – Pooler Campus. Additionally, occupational therapy is also now available in Pooler.
"Our hands and wrists are so important that many don't realize it until they experience an injury," Brown Owenby says. "Our patients want to have their hands for dexterity, for holding, especially if it's the dominant hand. I'm here to help them regain as much function back as possible."
We hope you can follow some of the above tips and safely enjoy your walk with your furry friend. But, if you do get injured, talk to your physician about recommending hand therapy to help regain strength and function. A physician's referral is required for all outpatient therapy at St. Joseph's/Candler.
For more information about hand therapy, visit our website.