Pelvic pain? Physical therapy can help with that.
Women's Care
May 18, 2021
St. Joseph's/Candler's Pelvic Floor & Continence Center offers dedicated physical therapy to help with a variety of pelvic floor conditions
We know that talking about urinary incontinence or constipation or pelvic pain can be uncomfortable. But ladies – and gentlemen – you don't have to suffer in silence.
St. Joseph's/Candler recently opened a dedicated Pelvic Floor & Continence Center. Among the services offered to treat your pelvic health is pelvic floor physical therapy.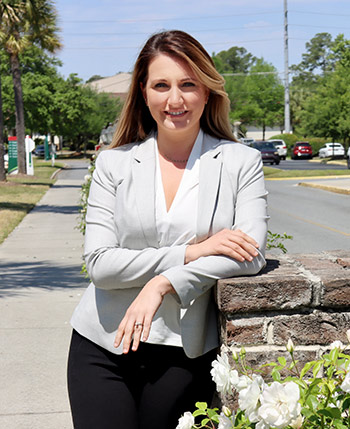 "Pelvic floor physical therapy can improve the quality of life for a variety of patients including those affected by symptoms of bowel and bladder incontinence, pelvic pain, prolapse and post-partum," says Savannah Brooks, pelvic floor physical therapist at the Pelvic Floor & Continence Center. "Many people are not aware of how much pelvic floor physical therapy can help manage their symptoms, but we are here to help and educate patients so they can return to their normal lives and activities they love."
What conditions we treat
Pelvic floor therapy can address several conditions including:
Stress incontinence
Urge incontinence
Bowel incontinence
Pelvic organ prolapse
Pelvic or vaginal pain
Constipation
Urinary frequency
Pregnancy/postpartum conditions
Interstitial cystitis/painful bladder syndrome
How we treat them
Your first appointment with Brooks will include a thorough evaluation to create a personalized plan that addresses the muscles of the pelvic floor using a combination of exercises, manual therapy techniques, specialized pelvic floor equipment and patient education.
Exercises can vary ranging from relaxation and deep breathing to exercises that lengthen and reduce spasm of the pelvic floor to Kegels and hip/core strengthening exercises to promote more control and strength of the pelvic floor, Brooks says.
To help with conditions such as urge incontinence, pelvic/vaginal pain and constipation, therapy may include downtraining, or exercises that relax the pelvic floor muscles.
Biofeedback units, which employ gentle electrodes to measure pelvic floor muscle activity, also may be added to your physical therapy.
Along with pelvic floor exercises, Brooks will incorporate lower extremity stretching, postural activities, lifting mechanics and breathing patterns/techniques – all which may play a role in pelvic floor strength.
What you can expect
Each session is about 45 minutes to an hour long and patients are seen on a weekly basis, either once or twice a week, for anywhere from four to eight weeks depending on the patient's schedule and condition, Brooks explains.
You should also expect to do some work from home.
"We give a detailed home exercise program from day one, which is progressed and updated at each session to ensure continued improvements of their condition," Brooks says.
There's also a lot of education that is provided, including different techniques and bladder management tips that a patient will benefit from following.
Positive patient outcomes
Brooks has seen many positive patient outcomes following physical therapy.
"Through physical therapy, we've used the tools and education patients need to maintain their outcomes including a reduction or elimination of pain, a stronger pelvic floor, resolution of leaks and an overall better understanding of how to keep their pelvic floor, bowel and bladder healthy," Brooks says.
She also encourages post-partum moms to consider pelvic floor therapy to help reduce residual pain, improve strength after childbirth and prevent further stress or strain to their core while returning to their prior level of function.
How to get an appointment
If physical therapy isn't the right fit for your pelvic floor condition, the Pelvic Floor & Continence Center has three outstanding, experienced surgeons that can work with you to improve your quality of life. Our surgeons at the Center are: Dr. Mark Blankenship, Dr. Barry Schlafstein and Dr. Joseph T. Stubbs III.
The Pelvic Floor & Continence Center is located in Suite 318 in the Professional Office Building on the Candler Hospital campus. If you are interested in an appointment at the Center for any of our services, please fill out this form and someone will contact you soon.
For more information about the Pelvic Floor & Continence Center, visit our website.