What can I expect from radiation therapy?
Cancer
Jun 10, 2021
Lewis Cancer & Research Pavilion Radiation Oncologist Dr. Stephen Ramey discusses side effects, safety of this cancer treatment
If you are diagnosed with cancer, there's a good chance one of your treatments may be radiation therapy. In fact, more than 60 percent of all cancer patients will need radiation therapy at some point during their treatment, according to the National Cancer Institute.
Radiation therapy is a technique using different types of radiation, typically x-rays, to treat cancer, as well as a few other benign diseases, explains Dr. Stephen Ramey, radiation oncologist with the Nancy N. and J.C. Lewis Cancer & Research Pavilion. It's like getting an x-ray for a broken bone, but with a higher dose and higher energy to kill cancer cells, he says.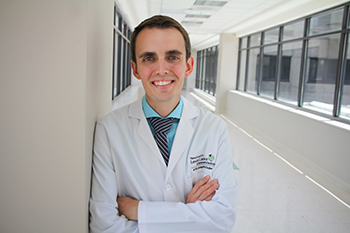 So what can you expect if you or a loved one needs radiation therapy?
First, it's important to realize everyone's cancer case is different. What your mom went through 20 years ago will be different. What your neighbor is going through now most likely won't be the same.
At the Lewis Cancer & Research Pavilion, our clinical effectiveness teams discuss each individual case to determine the best course of treatment for that patient. If its determined radiation therapy is needed, we have four board-certified radiation oncologists who work with a team of physicists, dosimetrists and others to plan out your radiation therapy sessions to maximize effectiveness of destroying the tumor while minimizing side effects.
Methods of receiving radiation therapy
There are two main types of radiation therapy: external beam and internal radiation.
Internal radiation therapy: The radioactive source can either be placed with a procedure or given through an IV or oral medication. Also referred to as brachytherapy, procedures to place radioactive sources in your body are most commonly used in cervical, endometrial or prostate cancers, Dr. Ramey says.
External beam radiation: This is more commonly used and comes from a machine that aims a radiation beam at the tumor. You will lie still on a bed while the machine moves around you, delivering precise radiation to the tumor. The LCRP has two of the world's most advanced radiation technologies in the CyberKnife and TrueBeam machines.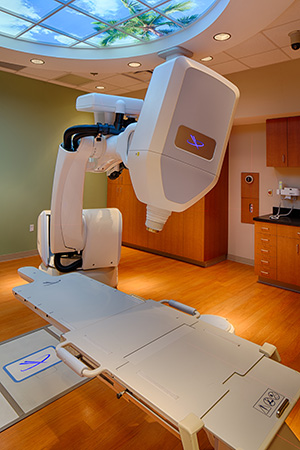 CyberKnife (pictured right) is often used to treat smaller tumors, especially ones close to critical organs, and tumors that move a lot, Dr. Ramey says. Examples are brain tumors, whether primary or metastases, and lung tumors, which tend to move with treatment.
However, the majority of cancer patients are treated on TrueBeam, which can treat any cancer. With new technology, such as HyperArc, TrueBeam can treat brain tumors in patients that might not be suited for CyberKnife.
"It's not that CyberKnife is always better than TrueBeam or vice versa," Dr. Ramey says. "It really depends on the patient and their tumor which is going to be better treatment for them. The doctor will go over with the patient which is more appropriate. "
Related Article: What is HyperArc radiation therapy?
What are the side effects of radiation therapy?
Once you know how you are getting radiation therapy, it's important to be aware that it may come with some side effects. A common side effect is often fatigue. Other side effects depend on the location of your tumor. Let's look at some examples:
For esophageal cancer patients, they may experience irritation with swallowing, weight loss and irritation of the lungs, which may cause cough or shortness of breath.
For breast cancer patients, the most common side effect is redness or peeling of the skin.
In treating prostate cancers, the patient may experience frequency with urination or bowel movements and irritation with urination.
"We try to reduce as much as possible the side effects people would have with radiation," Dr. Ramey says. "And, throughout their treatment, we are checking up on them to see what side effects they may be having and to help them manage those."
How safe is radiation therapy?
Experts are constantly looking at ways to improve radiation therapy both in terms of reduced side effects and safety, Dr. Ramey says. Technology has improved greatly in recent years in that it allows radiation oncologists to accurately deliver radiation to cancer cells, avoiding healthy tissue around the tumor.
"This is a cancer treatment that has been around for more than 100 years, so we have a large variety of studies in terms of what is safe to do, and we have guidelines that we look at very stringently in terms of dose we can give to the organs around the cancer we are treating," Dr. Ramey says.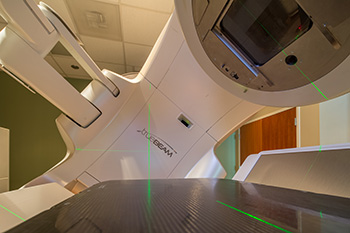 If you are receiving radiation therapy via TrueBeam (pictured right) or CyberKnife, before your treatment even starts, you will have a planning CT scan, or CT simulation. This is a scan of the position you will be in during each radiation therapy session – which can range in number from one treatment to up to 40, depending on your specific tumor. This scan is used, along with any PET, MRI or other pertinent scans you've had before, to draw out where the tumor is and any organs around it that may have side effects with treatment.
"We calculate the dose we need to give to the tumor to try to maximize the killing of the cancer cells there, but also try to limit as much as possible the dose to the organs around it to minimize side effects people might have with radiation treatment," Dr. Ramey explains. "It's definitely a team effort for radiation therapy."
Dr. Ramey also assures patients it's safe to be around family and friends following external beam radiation. However, with certain types of brachytherapy there can be some exposure risk to people around you. Your doctor will go over those risks and guidelines if you are getting that type of treatment, Dr. Ramey says.
"I think radiation therapy is a great option for many patients to treat their tumors, and that's what made me excited to go into this field," Dr. Ramey says. "We have this great treatment technique for patients to hopefully minimize their side effects but still safely get rid of their cancer. It's a pretty amazing thing to be able to do for people."