VIDEO: Workout fatigue? Try our two new fitness classes.
Fitness
Sep 9, 2021
St. Joseph's/Candler Wellness Center offers a wide variety of workout classes Monday through Friday
Have you hit the weight loss plateau? Or maybe a gym environment and weight lifting just isn't your thing. Then you may want to consider a group fitness class.
The Wellness Center at St. Joseph's/Candler offers a wide variety of workout classes Monday through Friday. Recently, we introduced two new classes: POUND and WERQ. They are designed for everybody, so if you are looking for something new to add to your exercise routine, consider one or both of these classes.
WERQ
INSTRUCTOR: Brandy Ramey, certified WERQ instructor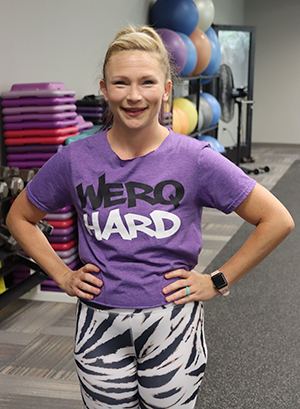 WHAT: "WERQ is a cardio fitness class based on pop and hip hop music that you hear on the radio. It's a licensed program, so if you take a class from me and then another certified instructor, you'll see the same choreography. The warm-up previews the moves so you'll know what to expect later on and that's to help build muscle memory. A lot of times when you start coming back, you'll know those moves and be glad that song was in class that day. Everything is pretty repetitive, and the cool-down is yoga-inspired. It's a party in the gym is the best way I like to explain it. I put on (strobe) lights, so we have lights going and loud music. It's a lot of fun. I love it."
WHO: "I've taught WERQ to 5, 6, 7-year-olds. I've taught WERQ to seniors and to college kids. The people that attend the class now are a wide range of ages, professions and dance histories. Anyone can do it. WERQ is for everybody because there's no one way to work your body."
WHY: "We encourage attendance by letting people know that there's no judgment. I tell participants all the time that if you don't like a move, as long as you're moving, I don't care. Moving your body is the No. 1 important goal, the reason you are here. WERQ is for everyone. It's all encompassing. It's inclusive. If you come and feel frustrated with the moves of a song, don't worry. As long as you come back, you will see that song again, remember the moves and really start to feel success. That's another important point. We really want people to feel successful."
WHEN: Every Thursday, 5:30 p.m. to 6:30 p.m.
WHERE: The Track, Suite 120 in the Heart & Lung Building on the Candler Hospital campus
POUND
INSTRUCTOR: Kate DeMasi, health educator at the Wellness Center and certified POUND instructor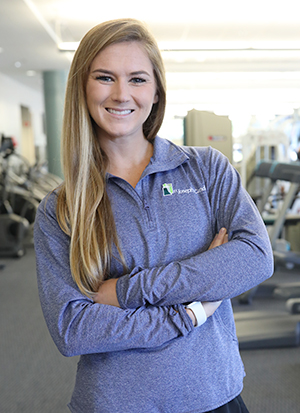 WHAT: "POUND is an aerobic dance activity that's inspired by rocking out. It is a full-body workout that combines cardio, conditioning and strength training with Yoga and Pilates-inspired movements. Using light-weight drumsticks engineered specifically for exercising, POUND transforms drumming into an incredibly effective way of working out. It provides the perfect atmosphere for letting loose, getting energized and rocking out."
"When you first come to class, I have mats laid out, and there's a pair of drumsticks on each mat. There are 11 songs, including a warm up song. It's anything from classic rock music to hip hop to pop to oldies. The main chunk of the class is about 35 minutes and your heart rate is about as high as you want it to be because it's modifiable for all ages. I tell people if you can make it through 11 songs, you are out of here with a smile – and maybe a little wiped out too."
WHO: "The cool thing is anyone can do it. I'd say a fourth of our class are SilverSneakers (ages 65 and older), but I also have SCAD students and PT students who attend, as well as (St. Joseph's/Candler) co-workers. It's literally for all ages. We've had people that have had back injuries or knee injuries that have come to class. It can be modified for you."
WHY: "POUND is really empowering. I always want people to try it because there are a lot of people nervous about weights or get bored going to the gym. There truly is not a more fun way to enjoy exercise than becoming a POUND Pro every Tuesday with me at 4:15 p.m."
WHEN: Every Tuesday, 4:15 p.m. to 5 p.m.
WHERE: The Track, Suite 120 in the Heart & Lung Building on the Candler Hospital campus
Membership information
To participate in any fitness class at the Wellness Center, you must be a member or purchase a guest pass. Membership to the Wellness Center not only includes all group fitness classes, but full access to the center full of cardio and weight machines and equipment. Personal training and massage therapy also are available at additional costs. For more information, visit our website or call the Wellness Center at 912-819-8800.