What is the Stroke NET-work?
Neurology
Nov 2, 2021
St. Joseph's/Candler partners with rural hospitals to offer telemedicine when patients come in having a stroke
When you are having a stroke, the saying is, "time is brain."
That's because 1.9 million neurons die each minute during a typical large vessel acute ischemic stroke. Compared to the normal rate of neuron loss in brain aging, that's equivalent to 3.6 years lost each hour you go without treatment.
But what do you do if you live in rural Georgia, an hour or further from Savannah and the nearest neurologist?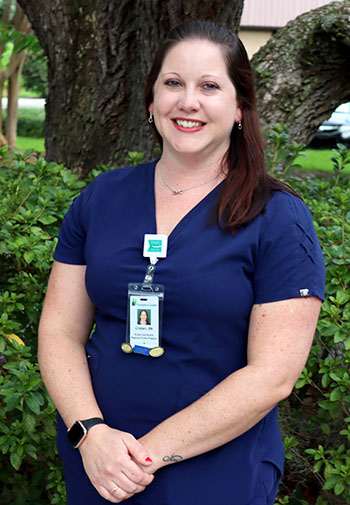 You immediately go to your closest hospital, and St. Joseph's/Candler can still help. Because not all hospitals have a neurologist available 24-hours a day, St. Joseph's/Candler created the Stroke NET-work.
"We are a hub and spoke model," explains Cristen Wood, St. Joseph's/Candler Stroke Program Coordinator. "Both St. Joseph's and Candler are hubs, and we provide telemedicine for stroke patients in outlying rural areas. We have nine spokes for our hubs as far out as Douglas, Ga., and as close as Springfield, Ga."
Those nine hospitals include:
Effingham Hospital in Springfield
Liberty Regional Medicine Center in Hinesville
Wayne Memorial Hospital in Jesup
Evans Memorial in Claxton
Appling HealthCare System in Baxley
Coffee Regional Medical Center in Douglas
Optim-Tattnall Hospital in Reidsville
Candler County Hospital in Metter
Optim Medical Center – Screven in Sylvania
How the Stroke NET-work helps save lives
St. Joseph's/Candler invested in technology called REACH Call and partners with Augusta University. This allows a board-certified neurologist to diagnose and treat patients via telemedicine in our partnering hospitals. Neurologists also can prescribe TPA, also called alteplase, which is a high-powered, clot-busting medication that breaks up the clot restricting blood flow to vital tissues in the brain, Wood says.
"The quicker we can get a patient to see a neurologist during this acute phase, the better in the long term they will be," Wood says. "The quicker we can get them TPA, if they are a candidate, the less likely they'll have a severe disability. Being able to have a neurologist essentially right in front of the patient during that acute event to assess the patient and give them TPA is vital for their survival of the stroke, as well as long-term effects of it."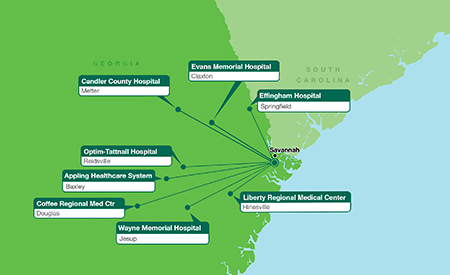 Many of these patients seen through REACH Call are then brought to St. Joseph's Hospital's neuro intensive care unit.
"A lot of times, we're seeing patients who wait to go to the hospital or they try to come here instead of their local community hospital, but it's important for them to realize they can receive the same amount of high-quality emergency care there, and then they will be transported to Savannah if necessary," Wood says. "Just get to the hospital as fast as you can if you start noticing signs of a stroke. Don't wait and think it's going to go away."
Related Article: What are the signs of a stroke?
Why this is extra important in Georgia
Georgia is in an area known as the "stroke belt" of America. The southeast has a 40 percent higher stroke death rate than the rest of the country, according to a study by the University of Alabama at Birmingham and the University of Vermont. Stroke is the fifth leading cause of death in the United States, but in Georgia, it's the third leading cause of death.
A lot of that has to do with the fact that more people in the south are diagnosed with the major risk factors that lead to a stroke – high blood pressure, diabetes, high cholesterol and poor care of those conditions.
Related Article: How preventable is a stroke?
If you have any of those risk factors, it's extra important to be aware of the signs of a stroke:
Changes in vision
Weakness, drooping or numbness in the face, arm or leg, usually on one side of the body
Dizziness or problems with balance or coordination
Problems with movement or walking
Severe headaches with no known cause, especially if they happen suddenly
Even if any of these symptoms happen but go away, it's still important to seek care, Wood says. You may be experiencing a transient ischemic attack, or TIA. This is a precursor of an acute ischemic event that could happen in the next month or so, Wood says.
"Anytime a symptom like that happens, even if it goes away, you still need to take it seriously," Wood says. "If you have any of those risk factors, try to get all of that in check and follow a heart healthy diet. It really goes a long way to reduce your risk of a stroke."
Related Article: There's nothing small about a mini-stroke