What to expect in the Neurological Intensive Care Unit
Neurology
Dec 7, 2021
Long-time Neuro ICU nurse explains the state-of-the-art features on this dedicated unit
On the second floor of St. Joseph's Hospital is the most advanced unit dedicated to treating some of our sickest patients. Our dedicated Neurological Intensive Care Unit (Neuro ICU) is just one example of our pledge to be the region's leader in neurological care.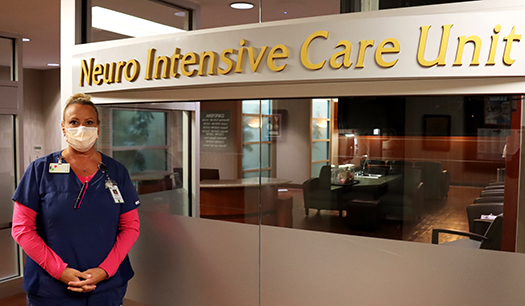 From the lighting to offering some of the largest hospital rooms, our Neuro ICU can treat up to 12 patients and has a dedicated staff of physicians, nurses and others to treat common neurological conditions. The most common conditions treated in the Neuro ICU are:
Stroke
Brain tumors
Aneurysms/bleeds in the head
Brain surgeries
Back/spinal surgeries
"In this region, we have a very high volume of stroke patients because of diet, lack of exercise, genetics, high blood pressure and cholesterol, so it's important we have a dedicated unit and staff specialized in neurological care," says Dana Welser, nurse resource coordinator for Neuro ICU.
Related Article: What is the Stroke NET-work?
State-of-the-art features
The St. Joseph's/Candler Neuro ICU has many state-of-the-art features on the 14,000-square-foot unit. The space is broken out into distinct areas for patients, family and staff including:
Twelve large, private patient rooms with ample lighting and space to accommodate an overnight stay for one family member
The family waiting area is designed to create a warm environment that promotes privacy and comfort for families during a time of significant emotional distress
A quiet dedicated space for physicians to work, with the ability to maintain visual contact with staff
Nursing units located in pods directly outside the patient's room which allow for closer bedside nursing care and constant visualization of each patient
"Everything is very light-oriented, high-tech. I also think we are aesthetically pleasing," says Welser, who's been a nurse in Neuro ICU for 21 years.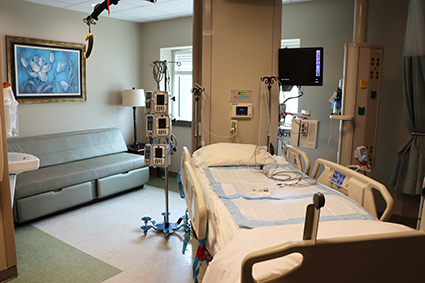 Each room has a couch that folds out into a twin size bed for overnight visitors. Televisions are positioned so the patient and family member on the couch can view. Patient beds are placed in the center of the room so physicians and nurses, and even family members, can go around the entire bed and not worry about a wall.
It's all about the lighting
And just as important to care for neurological patients is the lighting. Each room has some sort of natural light, Welser says. Ten rooms get natural light from windows and two rooms from sky lights. The back wall of the unit is all glass. Additionally, artificial plants in the room help give it a feel of being outside.
Why is this important?
"Circadian rhythm. The hospital is not always a quiet place to be so it's important that you see sunlight, that you see night time," Welser says.
One possible side effect of a stroke is sundown syndrome, in which the patient starts to get disoriented late in the afternoon or early evening. This can be triggered if you are in a room all day with no natural sunlight.
"Sunlight and darkness also help with your rest period. If you see the sun, you typically don't want to constantly rest," Welser says.
Visitation policy
Normal visiting hours in Neuro ICU are 8:30 a.m. to 2 p.m.; that's followed by quiet time from 2 p.m. to 4 p.m., and then open again from 4 p.m. to 6 p.m. One visitor is allowed to stay overnight and during quiet hours, but is asked not to come and go during quiet times, Welser says.
Other NICU visitation guidelines:
No outside food or drink (except water) to be consumed by the visitor in the patient room.
Only two visitors at a time except in comfort care or bereavement situations.
One visitor may spend the night if necessary; however, we encourage everyone to go home and rest.
No one under the age of 12, unless otherwise mandated hospital wide (flu season for example).
There may be times during procedures and patient care when visitors will be asked to leave.
We reserve the right to ask any visitor to leave if they are disruptive or not adhering to the above guidelines.
Additionally, Neuro ICU has a password system so information on the patient can be given over the phone if the patient/family chooses to add a password to the account.
"We take care of a lot of patients that unfortunately at the time don't even know they are being taken care of. That's why it's important that we are family-oriented and work closely with families so we can all be an advocate for our patients," Welser says.
Learn about other areas of our hospital: