Eight safety tips when working outdoors
Orthopedics
Apr 12, 2022
If you do get injured, St. Joseph's/Candler offers five outpatient rehabilitation locations that may be able to help
It's a springtime activity that many of us do – work in our garden or yard. The results can mean beautiful flowers and lush greens. However, gardening also can lead to injuries, and no one wants to go from planting azaleas to a trip to the emergency department.
Jennifer Brown Owenby is a certified occupational and hand therapist at St. Joseph's/Candler. She's treated many patients who've injured themselves after working outside whether it was a cut on the hand that led to an infection, spider bite or overuse of the muscles affecting their carpal tunnel.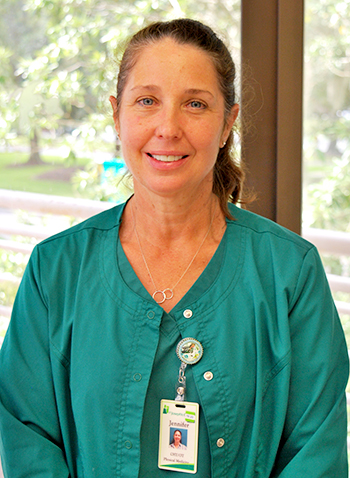 Brown Owenby also enjoys working outside but is careful of how it affects her body. She shares these tips from the American Society of Hand Therapists to follow the next time you are working in the yard or garden:
Wear gloves at all times – Thick, leather or suede gloves may protect your hands from thorns, cuts and scrapes. Bacteria and fungus live in the soil and a small cut can develop into a major infection. There also are anti-vibration gloves available when mowing the lawn that can help those that experience nerve compression, numbness or tingling in the fingers or hands.
Keep your hands and arms covered – This is especially true if you are working in an area that may have snakes, spiders or other rodents. You also will be better protected from poison ivy, sun burns and other common skin irritants that may occur.
Take a break every hour or switch to another activity – Overuse of repetitive motions, such as digging, can cause tendonitis of the elbow or lead to carpal tunnel syndrome.
Use the correct tool when digging, especially in unfamiliar or new areas – Buried sharp objects, rocks or sticks can cause tendon lacerations or punctures. Use the correct tool for the task at hand in order to avoid injury.
Store your tools safely to prevent accidents – When not working outside be sure to store your tools safely and correctly to prevent accidents. Keep sharp tools out of the reach of children.
Use wide handled tools – Use tools with padded or thicker handles to protect the smaller joints in your hands. Working with your wrist in a more neutral or straight position will help to prevent injuries in the wrist and forearm.
Avoid constant gripping and awkward motions – Use both hands for activities such as lifting a heavy bag of potting soil and alternate hands on more repetitive tasks like scooping dirt out of the bag into a pot. Sustained grip and repetitive motions can cause pain and lead to tendonitis.
Plan ahead – Use a wheel barrel or large basket to carry supplies around the yard. Bring a short gardening stool or bench when planting to avoid sitting back on your knees, which not only can bother your knee joints but puts added pressure on your hands and wrists when standing.
If you do get injured
While we hope no one gets injured enjoying a fulfilling day of yard work, studies show it happens. A recent Consumer Report estimated 143,000 people are injured each year, requiring a trip to the emergency room. If your injury requires therapy, St. Joseph's/Candler can help. We have five outpatient locations that all offer physical therapy with occupational therapy available at St. Joseph's Hospital, Candler Hospital and the Pooler Campus. Additionally, Brown Owenby is a certified hand therapist and offers treatment sessions at St. Joseph's and now the Pooler Campus.
"Our hands and wrists are so important that many don't realize it until they experience an injury," Brown Owenby says. "Our patients want to have their hands for dexterity, for holding, especially if it's the dominant hand. I'm here to help them regain as much function back as possible."
If you do get injured in the yard this spring and need therapy, talk to your physician about a referral to any of our outpatient locations. For more information and locations, visit our website.