Introducing St. Joseph's/Candler Bone, Joint & Muscle Care
Orthopedics
Jun 9, 2022
Dr. Steven Greer sees patients of all ages at our Pooler Campus to treat any musculoskeletal issue
Arthritis. Pulled hamstring. Twisted knee. Back pain. There's a new medical practice at St. Joseph's/Candler that can help with all that and more.
It's called Bone, Joint & Muscle Care with Dr. Steven Greer. He takes care of patients – from young kids to the elderly – with any musculoskeletal issue.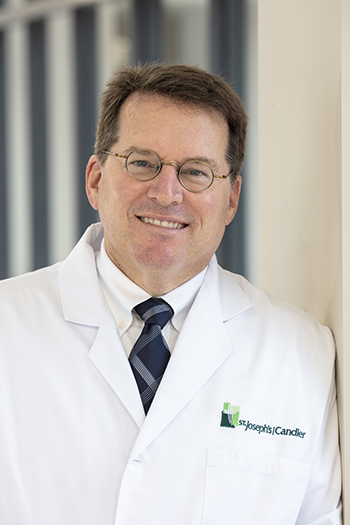 And we're not just talking athletes. In fact, don't let Dr. Greer's board certifications in both family medicine and sports medicine confuse you. His practice involves a lot more than taking care of sports injuries.
"That's why we wanted to call the practice Bone, Joint & Muscle Care as opposed to sports medicine because I used to get a lot of patients that would come in and say, 'I'm not an athlete,'" Dr. Greer says. "It's not about that; it's that everybody moves. You may not move as fast as a professional athlete but you still move in similar ways, and the better we can get you feeling and moving, the better you will be."
During the course of his 20 year career, Dr. Greer has taken care of the elderly with arthritis (his oldest patient is 104), ballerinas and musicians, college athletes, runners and even someone who happened to trip over the curb.
Some of the general services offered at Bone, Joint & Muscle Care are:
Diagnosis and treatment of musculoskeletal conditions in all ages
Athletic injury care in children, teens and adults
Non-surgical fracture care
Back pain
Impact Testing (a computer-based neurocognitive assessment test to evaluate concussions)
Ultrasound guided injections
Joint care
Concussion management
Coordinator of pre-surgical care
Hand and foot injuries (trigger finger, fractures, etc.)
Prevention, muscular strengthening and joint flexibility management
Why treating musculoskeletal conditions are important
Following a healthy lifestyle that includes exercise has shown to reduce the risk of certain diseases and prolong life. Strength and conditioning that includes routine exercise decreases your overall mortality rate, your risk of certain cancers, your risk of heart attacks and heart disease and your risk of stroke, Dr. Greer says.
But if you are injured and fall out of the habit of exercising, that increases your risk of obesity, diabetes and many of the conditions just mentioned.
"There's the idea that if you aren't feeling well enough to move in all the ways you need to move (or want to move), the rest of your life starts to go downhill," Dr. Greer says. "It's my goal to make sure that everybody is healthy and able to do the things they want to do."
So, if you are a runner and hurt your Achilles tendon, Dr. Greer isn't going to tell you to just stop running. He may suggest you rest the injury through modification of your running program, strengthening exercises, other physical therapy treatments or medications (if needed), but the answer won't lie with stopping your exercise routine altogether. As an example, he may advise you to not run five miles a day on rough terrain, but to run slower and shorter while you work on healing that tendon.
"Unless it's a broken leg (you can have a broken arm and still run) or have a heart issue, or some other contraindication for running, there's no reason to stop completely," Dr. Greer says. "Typically, you get better faster if you do a little bit of something."
Also, only about 1 in 10 to 15 of his patients actually needs surgery. Therefore, Dr. Greer doesn't want the fear of surgery to keep you from seeing a specialist. He will comprehensively treat your injury and make referrals to orthopedic surgeons when the course of treatment calls for it.
Say at 45 years old, you are experiencing arthritis in the knee. That doesn't necessarily mean you need a knee replacement any time soon. That's where Dr. Greer comes in to assess the level of arthritis you have and set a course of treatment to manage the pain and other symptoms until such time that they are resolved or the arthritis progress to a point where surgery is the absolute best option.
"We'll talk about exercises that can alleviate your knee pain, what medications you can take for the pain, what vitamins and supplements you might take and injections if you need them," Dr. Greer says. "Many times, we can hold off surgery for years and years, and sometimes, avoid surgery altogether for your arthritic pain – like my 104-year-old patient."
"It is my goal to take exceptionally good care of those patients who don't need surgery and get them doing the best they can possibly do so they can keep moving."
And that is Dr. Greer's goal for you whether you're an elite athlete, the casual golfer or someone just trying to keep up with the grandkids.
Dr. Greer sees patients five days a week at our St. Joseph's/Candler – Pooler Campus, Suite 340. You can request an appointment online now or call our office at 912-737-2450.