Three healthy recipes to kick start the summer
Nutrition, Cancer
Jun 30, 2022
Our clinical dietitians at the Lewis Cancer & Research Pavilion recommend three easy and tasty recipes designed for nutrition, ease to help you get through your cancer journey
We don't let the southern heat stop us from enjoying cookouts, beach time with family or relaxing by the pool. At the Nancy N. and J.C. Lewis Cancer & Research Pavilion, we also don't want your cancer treatment to prevent you from enjoying refreshing summertime favorites.
Three of our clinical dietitians at the LCRP – Melissa Boncher, Erica Abbarno and Morgan Fink – came up with recommendations for a cool, healthy sandwich, an updated version of a Southern staple and some hydrating beverages to get you through the summer.
PS: While designed with our cancer patients in mind, anyone can enjoy these tasty recipes!
Chickpea Salad Sandwich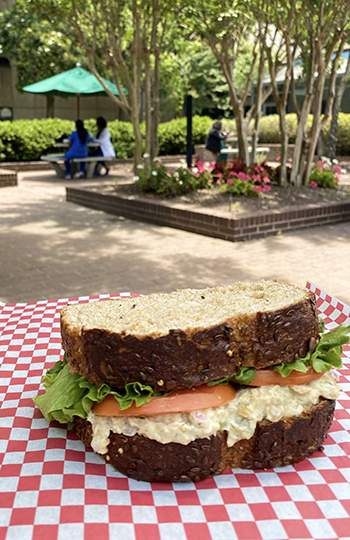 The American Institute for Cancer Research recommends eating a diet rich in whole grains, vegetables, fruits and beans to reduce the risk of cancer and cancer recurrence. This chickpea salad recipe is packed with plant protein and fiber. What's more, it's easy to prepare and cost-effective. Enjoy it on Triscuit crackers or in a sandwich or wrap.
Ingredients:
1 can of chickpeas, drained and rinsed
¼ cup of red onion, chopped
¼ cup of celery, chopped
¼ cup of mayonnaise
¼ cup of plain Greek yogurt
1-2 tablespoons of Dijon mustard
2 tablespoons of pickle juice
1 tablespoon of fresh dill, chopped (optional)
½ teaspoon dried dill
Onion salt and pepper, to taste
2 slices of whole grain bread
Your favorite sandwich toppings – lettuce, tomato, onion, etc.
Instructions:
Using a potato masher or fork, mash chickpeas until a smashed but chunky consistency is achieved. You may also put chickpeas in a food processor for a similar result.
Add onion, celery, mayonnaise, yogurt, mustard, pickle juice, fresh and dried dill, onion salt and pepper. Stir well to blend all ingredients.
Serve on bread with desired sandwich toppings.
Refrigerate any leftovers in an airtight container for up to 5 days.
Note: This recipe is versatile – feel free to use what you have on hand.
You can find more information about plant-based eating at aicr.org. (www.aicr.org)
Source: Melissa Boncher
Peach Cobbler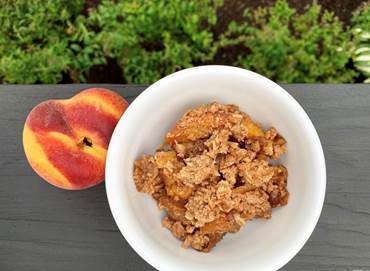 During treatment, it may seem difficult to find foods that taste good to you that are also higher in calories and protein to aid in weight maintenance. This Peach Cobbler is an easy-to-make dessert filled with peaches, a summertime seasonal fruit, which adds a natural sweetness. This can be served with a scoop of ice cream or yogurt to add a refreshing flavor as well as additional calories and protein. Grab some peaches at your next stop at the grocery store or local farmer's market and bake away.
Ingredients:
¾ cup whole wheat flour (or all-purpose flour)
¾ cup old fashioned oats
½ cup coconut sugar (or brown sugar)
1 tsp baking powder
Dash of salt
1 tsp cinnamon
6 tbsp cold butter, cut into small cubes
8 peaches
Optional toppings: ice cream, yogurt, frozen yogurt
Instructions:
Preheat oven to 350 degrees.
Cut peaches into thin slices and place into a 9x9 baking dish. Coat the peaches with ¼ cup of coconut sugar/brown sugar.
Combine the remaining ¼ cup coconut sugar/brown sugar, old fashioned oats, whole wheat flour, baking powder, salt and cinnamon in a medium sized bowl.
Combine butter with mixture in a bowl. You will need to use your hands to mix this in thoroughly. The mixture should be nice and crumbly.
Pour the mixture over top of the peaches.
Bake for 30 minutes.
Enjoy with a scoop of ice cream or yogurt on top!
Source: Erica Abbarno
Salted Watermelon Juice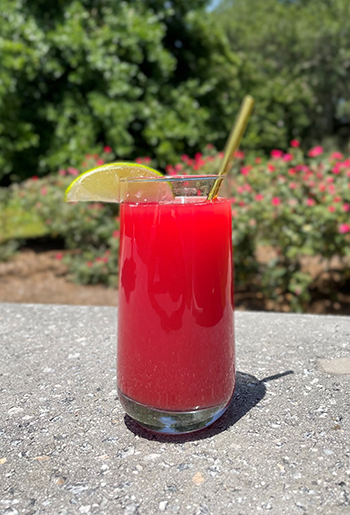 makes about four cups
There are few better ways to beat the heat than reaching for a cool, refreshing beverage. But we all know that which beverage you reach for matters? The American Institute for Cancer Research recommends limiting or omitting alcohol to reduce cancer risk or recurrence. This means no more than one drink per day for women and two for men. But no need to fear, here are a few delicious, alcohol-free recipes to try this summer when relaxing by the pool, on the beach or with friends. Our featured Salted Watermelon Juice is packed with vitamins, minerals and electrolytes.
Ingredients:
6 cups cubed seedless watermelon (about ½ of your medium sized watermelon)
¾ tsp kosher salt
Lime wedges for serving (optional)
Instructions:
Blend watermelon in a blender until smooth. Strain through a fine-mesh strainer into a pitcher, pressing on solids to get as much juice as possible. Throw away solids. Mix the salt into your fresh squeezed juice.
Pour your juice into an ice filled glass, garnish with a lime wedge, and enjoy!
Source: Bon Appétit

You may also want to try:
Mojito Mocktail
Ingredients:
2 lime wedges
2 tbsp. simple syrup (this may be made by boiling equal parts water and sugar on your stove)
Fresh mint leaves
Sparkling water
Ice
Instructions:
Place your mint leaves in the glass. Add your lime wedges and simple syrup and muddle. If you do not have a muddler, you may use a wooden spoon or a mortar and pestle.
Top with ice and sparkling water, and garnish with a lime wedge.
Source: Bon Appétit


Strawberry Banana Smoothie w/ Vanilla Ensure Complete (for extra calories)
Ingredients:
1 banana, fresh or frozen, sliced
1 cup frozen strawberries
1 bottle Vanilla Ensure Complete
Instructions:
Place strawberries, banana and Ensure in the blender. Add ice if desired.
Blend until smooth and enjoy!
Source: Bon Appétit