Have osteoporosis? Physical therapy can help.
Orthopedics, Women's Care
Jul 19, 2022
St. Joseph's/Candler has five outpatient rehabilitation centers that can design a plan just for you and your symptoms
With more than 54 million Americans having osteoporosis and low bone mass, chances are you or someone you know has the disease.
Osteoporosis is a bone condition that causes weak, thinning bones. This puts bones at greater risk of breaking. The bones most often affected by osteoporosis are the hips, spine and wrists.
Women are four times more likely to get osteoporosis than men, but the disease can affect any gender and ethnicity. It does tend to affect the elderly more frequently as bones become less dense and weaker with age.
But there are things you can do to help stay mobile and active if you are diagnosed with osteoporosis. One example is physical therapy.
"We help a lot of osteoporosis patients to both maximize the bone density a patient has, but to also strengthen all the muscles around the bone," says Mary Carpenter, physical therapist at our Candler Outpatient Rehabilitation Center.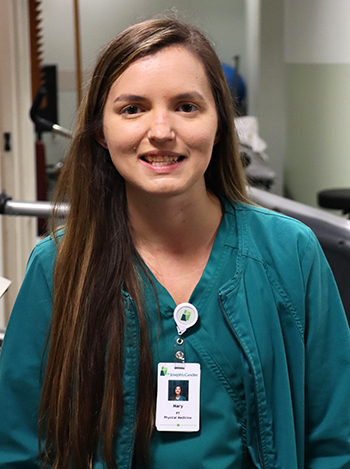 Our physical therapists can help patients who come in directly for osteoporosis, as well as patients that come in from injuries as a result of osteoporosis, such as a hip fracture, Carpenter says. Additionally, if a patient needs physical therapy for another reason and has osteoporosis, our physical therapists can add exercises to help with that condition as well.
The patient experience
Your first visit with one of our physical therapists will include an evaluation. You'll discuss your symptoms, pain tolerance, medical history, as well as go over educational materials, such as fall prevention, and discuss exercises you can do at home.
Patients typically meet with a physical therapist once or twice a week for six to eight weeks, depending on the nature of the condition. Hip replacement patients may need more sessions. Appointments last about an hour and include exercises and education.
"We do a lot of weight bearing activities like walking, using our different exercise machines, doing squats and lifting to help build up the bones and all the muscles," Carpenter says. "We also work on balance training so if they were to lose balance, they'd be able to recover from it and not get hurt. We certainly don't want someone who has osteoporosis to fall and need a hip replacement and need more therapy."
Carpenter emphasizes that patients start out with gentle movements and activities. Don't expect to be doing squats and lifting weights on day one. Your physical therapy plan is designed specifically for you and your tolerance.
For some patients with severe pain and immobility, we may recommend aquatic therapy. Being in the pool and having the effect of gravity can help with the ease of moving. Then, you would transition to doing exercises in the rehab gym. (Aquatic therapy is offered at our Candler outpatient location.)
Related Article: Is aquatic physical therapy right for you?
As mentioned, you also will be given a home exercise routine. The exercises will be safe and designed to continue to help with strengthening. All balance activities are done in person with the guidance of a physical therapist to reduce fall risk.
"We start a home exercise routine on day one, and we modify that and progress it as we go along," Carpenter says. "Maintaining your home exercise routine is important on your journey to strengthen your bones and muscles."
The patient outcome
Patient outcomes vary from patient to patient, but Carpenter says the large majority of patients respond really well to physical therapy, especially if they follow their home exercise program.
Unfortunately, osteoporosis cannot be completely reversed and is not considered curable, so the risk of falling and getting injured may always be there. However, success rates are higher in patients who follow a healthy lifestyle with proper diet, exercise and taking steps to reduce accidental falls. There also are medications and injections available to manage any pain.
Related Article: Fall frequently? Your doctor can help.
Many osteoporosis patients tend to join the St. Joseph's/Candler Wellness Center upon completion of physical therapy to continue staying active, Carpenter says. For those on Medicare, they qualify for a program called SilverSneakers, which makes membership to the Wellness Center, as well as our SilverSneakers classes, free.
Related Article: SilverSneakers program offers seniors a fun, safe environment to work out
"I like to stress the importance of activity on a daily basis," Carpenter says. "Maybe not exercising daily per say, but just getting up and moving is one of the best ways to counteract the effects of osteoporosis. Start off slowly and slowly build up your endurance and stamina."
St. Joseph's/Candler has five outpatient physical therapy locations. A physician's referral is required. Learn more and find a location near you on our website. (https://www.sjchs.org/a-z-services-list/center-for-rehabilitation/outpatient-rehabilitation)
Also about osteoporosis: