Why you might see a social worker at your hospital stay or visit
Cancer
Aug 31, 2022
When you come to St. Joseph's/Candler or the Nancy N. and J.C. Lewis Cancer & Research Pavilion, you expect to see doctors and nurses. But what about social workers?
Across the health system, SJ/C employs social workers, or referred to as clinical care coordinators, to help with a variety of needs outside of your medical treatment. At the LCRP, for example, we have four social workers that assist patients in Savannah, Bluffton, Hilton Head and our other regional offices.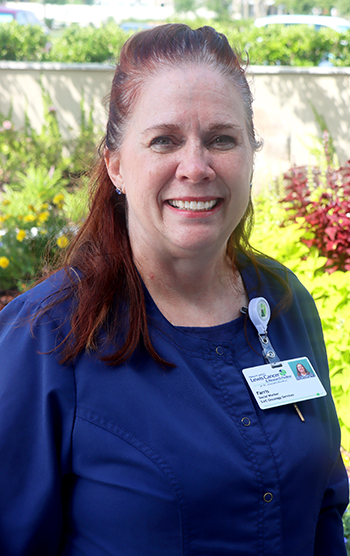 "If we feel there is a need or if we see a need, we try to help with that need," says Farris Smith, licensed social worker at the LCRP in Bluffton and Hilton Head. "We may not always have the answers, but we will find them if don't. We are advocates for our patients."
A healthcare social worker provides patients, families and other caregivers with support and resources needed to cope with their illness. That can include:
Connecting patients to outside resources such as a meal delivery service or home care for a loved one so the patient can come to treatment
Finding community financial assistance with the mortgage or electric bill
Helping with transportation or the cost of gas
Suggesting support groups or outside counseling to help the patient adjust to the illness
And it can include a whole lot more.
"Sometimes people aren't looking for answers. They just need someone to listen," Smith says. "We can be that person they need to lean on. As a social worker, you have to be patient focused because it's our job to be an advocate for that patient."
Not every patient will see a social worker during their stay or appointment. At the LCRP, for example, patients are frequently asked to fill out a distress thermometer, which gauges their stress level over the last week or so. Anything resulting higher than a four on a scale of zero to 10, a social worker will be alerted.
Additionally, your nurse or physician may refer you to a social worker for further assistance. Smith personally tries to see new patients in infusion and radiation therapy to at least hand out her card and works closely with the nurse navigators to identify patient needs.
And, of course, if you are patient here and think you could benefit from a social worker, it's OK to ask. Seeking the assistance and support of a social worker is not a bad thing.
"We want our patients to know there's someone here to help. If you need us, call us," Smith says. "If we can make somebody's life just a little bit better, I feel like we've accomplished a whole lot."
So during your next appointment or stay with us, don't be afraid to ask questions or seek help about things other than your prescription or next appointment. Our goal is to treat you as a whole person.
"You can't just treat one part of the body," Smith says. "It's the physical, the spiritual and the mental, and when you help with that, it helps the person feel better so they can focus on the treatment they are going through."