What you need to know about ovarian cancer
Women's Care
Sep 20, 2022
September is Gynecologic Cancer Awareness month and Sept. 20 is World Gynecologic Cancer Day – but St. Joseph's/Candler wants you to be aware of these deadly diseases every day
It may not be the most talked about cancer. It may be considered a rare cancer compared to other diseases. But all women should take ovarian cancer seriously as it accounts for more deaths than any other cancer of the female reproductive system.
Ovarian cancer is one of five gynecologic cancers – cervical, ovarian, uterine/endometrial, vaginal or vulvar. Ovarian cancers were previously believed to only begin in the ovaries, but new research shows that some cancer cells may begin to grow at the end of fallopian tubes.
It's estimated nearly 20,000 women will be diagnosed with ovarian cancer in the U.S. this year, according to the American Cancer Society. Of those, nearly 13,000 will die. Ovarian cancer ranks fifth in cancer deaths among women.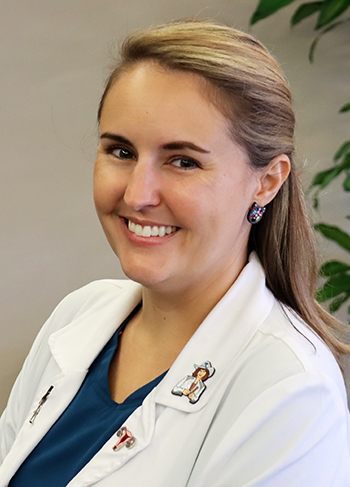 "As an oncology certified registered nurse, gynecologic oncology nurse practitioner and woman, I fear ovarian cancer most of all," says Lizzy Norton, nurse practitioner at St. Joseph's/Candler Gynecologic Oncology and Surgical Specialists. "Why? Because it flies under the radar. It often silently grows within the woman's body until widely metastatic."
In fact, ovarian cancer is known as the silent killer. That's because there's no proven method of screening for early detection of ovarian cancer, Norton says.
Additionally, ovarian cancer is often asymptomatic. If a woman does experience symptoms, they are usually mild and fleeting, Norton says, such as constipation, bloating, fatigue or back pain. These symptoms also usually mimic other conditions such as irritable bowel syndrome, diet intolerances, depression or arthritis, adds Norton.
That's why oftentimes it's diagnosed at an advanced stage, where the disease has spread to other areas of the abdomen, pelvis and sometimes the chest and other parts of the body.
"Women can carry a large ovarian mass, up to the size of an orange, before it is even palpable on a bimanual exam," Norton says. "Very frequently it is found incidentally. For example, a woman may have a CT scan to diagnose a benign hernia that shows her right ovary is engulfed with disease."
So what should you do to protect yourself?
Be aware of your risk factors, Norton says. It's estimated that 15 to 20 percent of ovarian cancers have a genetic or inherited link. Norton encourages patients to have open conversations with female and male family members about their health history. (Yes, men can carry ovarian cancer genes and pass them to their daughters.) She also encourages genetic counseling, especially if there's a family history of ovarian, breast, colon, uterine, pancreatic, melanoma and prostate cancers.
Related Article: Should I have my genes tested if my mother or grandmother had breast or ovarian cancer?
Other risk factors include:
Age – about half of women diagnosed with ovarian cancer are 63 or older
Certain familial genetic mutations
Nulliparity, meaning a woman has never given birth
Early menstruation or late menopause
Endometriosis
Obesity
Another piece of advice Norton shares with patients is to be their own advocate. If you feel something is wrong with your body, talk to your primary care doctor or OB/GYN.
"Tell your doctor about any symptoms such as changes in your bowel pattern, fatigue or persisting pain with no obvious origin," Norton says. "Do not let anyone brush your concerns aside, including yourself."