Georgia Infirmary Adult Day Health Center: Helping the disabled, elderly maintain good health in a safe environment
Miscellaneous
Sep 27, 2022
The Georgia Infirmary Adult Day Health Center helps participants maintain good health while providing an enjoyable, caring and safe environment. Nurses are present at all times to assist members with their physical needs, such as preventing falls, going to the bathroom, taking medication and assisting with eating. Activities are offered daily that cater to the individual interests of the members.
Daily activities at the Adult Day Health Center include everything from arts and crafts, games, gardening, exercise classes, movies, Bible study and off campus field trips. Staff at the Day Center maintain a produce garden that allows members to grow and take home produce. Raised beds allow members in wheelchairs and others with disabilities to work in the garden from a comfortable position. They grow beans, peppers, tomatoes, cucumbers and more. The food is either shared with other members, such as in a cucumber salad, or can be taken home to enjoy.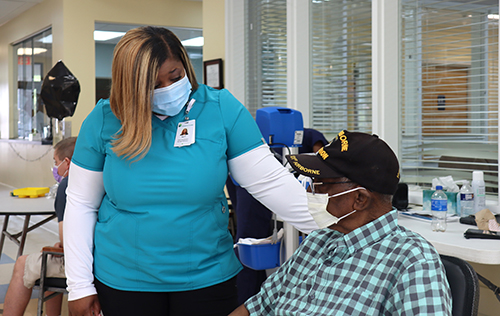 "Here at the Georgia Infirmary Adult Day Center, we develop person-centered nursing care plans and activity programs in an effort to provide a safe and pleasurable experience to all of our members," Albright says.
Related Article: St. Joseph's/Candler continues rich tradition of care at the Georgia Infirmary
Due to COVID precautions, the Georgia Infirmary was forced to close the Adult Day Center from March 2020 to July 2021. On July 7, 2021, the Adult Day Health Center reopened its doors and welcomed back members. Currently, the Georgia Infirmary Adult Day Health Center has approximately 53 members, with an average of about 21 members a day. The doors are open from 7:30 a.m. to 4:30 p.m. Monday through Friday.
The Adult Day Health Center welcomes individuals enrolled in SOURCE, CCSP, VA Community Care Program or on a private pay basis.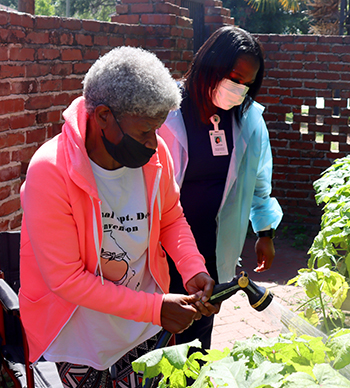 Our Adult Day Health team maintains a manager and nurse onsite at all times. All staff are CPR and first-aid trained. A variety of nutritious meals and snacks are offered by the staff each day.
In addition, our Adult Day Center has individual rooms separate from the main area in the event a member would like to enjoy some peace and quiet or enjoy an activity on an individual basis. We also have a rest area with four hospital beds that allow members to rest under nursing supervision.
"Also at the Georgia Infirmary, we have physicians onsite two days per week operating our primary care clinic," Albright says. "This provides our Adult Day Health members direct access to a physician if needed."
"There really is something for everyone."
For more information about the Georgia Infirmary Adult Day Health Center, call 912-819-1500.