Successful podiatry surgery has Pooler resident ready for her first 10K
Miscellaneous
Oct 20, 2022
Army soldier had procedures on both feet to correct bunions, hammertoes with SJ/C Podiatrist Dr. Prianka Sharma

A lot has changed for Ellisha Jones in the last year – and for the good, thanks in part to Dr. Prianka Sharma, a podiatrist with St. Joseph's/Candler.
But let's start at the beginning of Ellisha's feet problems. It began in 2020, when the Pooler resident and active Army member was serving in Iraq. Just the wear and tear of the terrain and uncomfortable boots can cause anyone foot problems, but Ellisha also injured her ankle. This led to overuse of her other foot and caused more problems – bunions and hammertoes.
"I could hardly walk, even on regular terrain," Ellisha recalls. "I used to go to the gym but that was hard to do because my mobility was so limited."
A hammertoe is when the toe bends or curls downward, causing the proximal joint of the affected toe to protrude or poke up. A bunion is a painful bump that is actually the anatomic bone that is misaligned. Both are common feet deformities.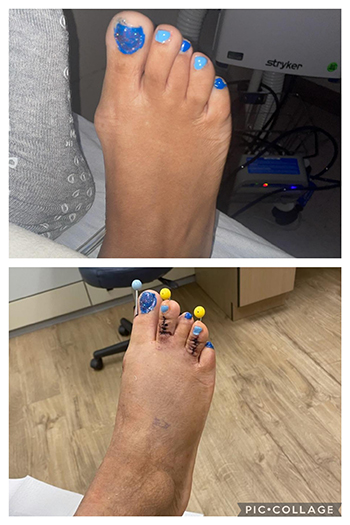 Ellisha tried physical therapy and medication to deal with the pain her feet caused, but her lack of mobility, weight gain and sleeping troubles were frustrating. She sought out Dr. Sharma for advice on what to do.
"We tried to do as much as we could before surgery, and then when I started coming to Pooler to see Dr. Sharma she acknowledged that I had tried other options and recommended surgery to correct the problems," Ellisha says.
Ellisha would undergo a percutaneous bunionectomy on both feet to fix the bunions and hammertoes. She first had surgery on her right foot in August 2021 and surgery on her left foot in December. She had three pins inserted into her right foot and four pins in her left to straighten her toes.
Both were outpatient procedures that took less than an hour, Ellisha says. The first surgery was done at St. Joseph's Hospital and the second at the SJ/C Pooler Campus.
The second one was a little more painful, but she was able to bare weight on her foot within about four days. She considers her experience a great outcome. She credits a lot of that to Dr. Sharma and her team.
"Dr. Sharma and her team are amazing. They are so sweet and made me feel like family," Ellisha says. "Sometimes people don't realize or think about what you are going through, but Dr. Sharma and her team – really everyone I see at Pooler – treat you with kindness and don't treat you like any other patient or just a number. Dr. Sharma is very warm and kind and so is her team."
Yes, Ellisha is a regular at our Pooler Campus. After her surgery, she did physical therapy at our outpatient rehabilitation center there. She's also a patient of Dr. Dolores Foley at our Pooler Primary Care office.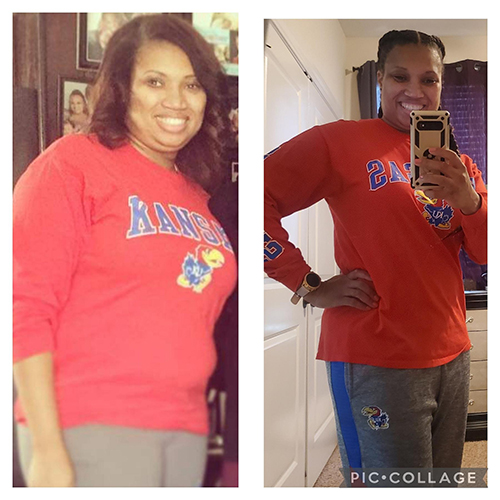 "Everybody here makes you feel like you're family. That's why I always push to have my care at St. Joseph's/Candler because of how I've been treated."
Since her surgery and physical therapy, Ellisha is feeling like her old self again. She's back to being a "workout junkie," regularly participating in HIIT classes, thanks to her mobility returning and pain gone. She's lost about 40 pounds and says her energy levels are higher. She's also sleeping much better, and now when she travels, she can actually do a lot more walking and enjoy time with her husband and daughter.
Ellisha is also preparing for her first 10K in November – something that would have been impossible the last few years.
"It's so easy to think about what can go wrong, but what about what can go right? For me, I had to get my life back," Ellisha says. "Everybody has just been amazing. My care has been excellent here."
Before and after photos courtesy of Ellisha Jones