What is a neonatologist?
Family Health
Dec 15, 2022
These highly-trained physicians are here 24-hours a day, seven days a week to help our tiniest and sickest patients
If your baby is born prematurely or develops a problem after birth, your newborn most likely will require a stay in our Level II Neonatal Intensive Care Unit (NICU) at Candler Hospital. It can be a scary and unexpected experience for parents, but we have a highly-trained and compassionate staff around the clock to take care of your baby.
That includes neonatologists. A neonatologist is a specialty trained physician to care for the most vulnerable and sick babies, whether born prematurely or one who develops a condition that needs special care following birth, explains Dr. Corrine Nelson, neonatologist and medical director of the NICU at Mary Telfair Women's Hospital at St. Joseph's/Candler.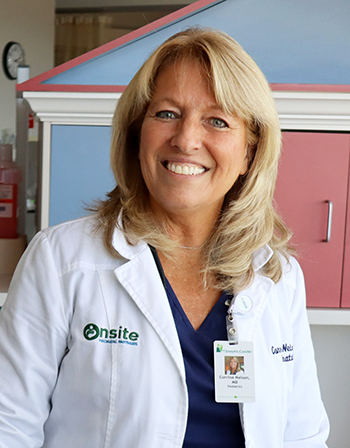 "If a baby has a problem in delivery, we bring them up to the Special Care Nursery, and we admit them and get them whatever they need whether it's respiratory support, nutritional support or antibiotics if they need it," Dr. Nelson says. "That's one of the benefits of us being here."
Related Article: What to expect if my baby has to stay in the Neonatal Intensive Care Unit
A neonatologist also attends high-risk deliveries, including all planned, scheduled C-sections. Your OB will still deliver the baby, but the neonatologist is right on hand if any immediate problems occur.
"It's great that we are here and can attend deliveries to take care of baby right from the beginning," Dr. Nelson says. "The outcomes are much, much better if we are there."
And, our neonatologists work 24 hours a day, seven-days a week in the NICU to always be available for high-risk deliveries or any needs that arise with our babies in the nursery.
"It's really a benefit to the community to have this service, because every second can count."
There's a lot of training that goes into taking care of sick newborns. To become a neonatologist, you complete medical school and then do a three-year residency followed by another three years of fellowship training in neonatology before you can begin to practice on your own, explains Dr. Nelson, who finished her fellowship in 2008.
"It's a wonderful career. Kids and babies in general get sick really fast, but they get better really fast as well. They have this remarkable ability to recover and get better and make progress every day," Dr. Nelson says. "Of course, there are some times when they don't do so well, and it can be heartbreaking at times, but for the most part, it's a very positive experience."
While our neonatologists are on staff to take care of our vulnerable newborns, they also work with parents, providing emotional support. Dr. Nelson understands that even what may appear as a minor setback to her as a physician, feels like a major setback to the parents. She often tells parents it's going to be a roller coaster ride, and she encourages them to visit as often as they want and ask questions of the NICU staff.
"We do whatever we can to support the entire family because it's really traumatic for a mother to be separated from her baby. Nobody expects that to happen," Dr. Nelson says.
And some of our NICU babies are here a long time when born prematurely. Think if a baby is born at 30 weeks, that's 10 weeks early, and those babies are going to need time to develop before being able to go home.
"It can be a really long time for parents to be separated from their child, but we're the best babysitters you're ever going to have."