What is stereotactic body radiation therapy?
Cancer
Mar 7, 2023
This innovative highly-precise, high-dose method of giving radiation therapy is available to LCRP patients both in Savannah and Bluffton
If you're diagnosed with cancer, one treatment option to fight the disease is radiation therapy. But did you know there are different types of radiation treatments?
One state-of-the-art approach that is commonly used at the Nancy N. and J.C. Lewis Cancer & Research Pavilion is called stereotactic body radiation therapy (SBRT). SBRT is an advanced outpatient technique that delivers a highly-precise dose of radiation to a tumor as an alternative to surgery, explains Joshua McKenzie, MD, MHA, a radiation oncologist with the LCRP. Because it is so precise, this type of radiation therapy reduces unnecessary radiation exposure to healthy tissues and organs near the tumor.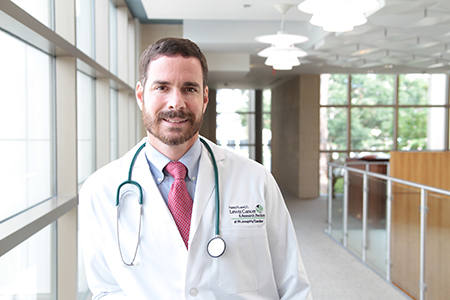 Another benefit of SBRT is shortening the overall treatment course. Because it delivers such a large dose accurately to the tumor, most patients can be treated in five or fewer sessions over a week instead of the more standard approach of up to nine weeks of treatment, Dr. McKenzie says.
"SBRT affords patients more convenient treatment, while also increasing the chance of cure and reducing the risk of side effects of therapy," Dr. McKenzie says. "SBRT is frequently used as an equally effective, but safer alternative to surgery."
Prior to the SBRT treatment, our specialists work together to create a personalized treatment plan using sophisticated computerized software based on the patient's latest diagnostic imaging, such as from Computed Tomography (CT), Magnetic Resonance Imaging (MRI) and/or Positron Emission Tomography (PET) scans.
Related Article: What to expect during a PET scan
SBRT can be given either on the TrueBeam or CyberKnife systems at the LCRP. LCRP has TrueBeam machines both in Savannah and Bluffton. SBRT requires not only state-of-the-art technology, but also medical and technical specialists, who are trained and credentialed for this treatment.
TrueBeam delivers a radiation beam that targets the cancer and keeps exposure to healthy cells to a minimum. Prior to each treatment, the machine performs a CT scan, which is used to pinpoint the location of the target in millimeter accuracy. Then, TrueBeam rotates around the patient to deliver the radiation dose continuously – from 360 different angles while it can adjust the radiation intensity and shapes the beam, matching the three-dimensional shape of the tumor at that particular angle. This intensive, leading-edge procedure is performed under direct supervision of a radiation oncologist and medical physicist, who are trained specialists and work together for this type of technique, Dr. McKenzie says.
CyberKnife is another advanced modern approach for SBRT. The machine utilizes automatic robotic movements synchronized with x-ray imaging to allow tracking of the tumor and its movement during the radiation session while minimizing damage to healthy cells. It has pinpoint precision, with sub-millimeter accuracy. CyberKnife is only available in Savannah.
The majority of cases can be treated by both systems, and some particular cases are better managed by one over the other system. Both SBRT systems require no incisions and both should be pain-free.
SBRT can come with some side effects, such as fatigue or skin irritation and others depending on the location and type of cancer. However, most improve within weeks of treatment and are usually less severe than previous radiation treatment options, Dr. McKenzie says.
Related Article: What can I expect from radiation therapy?
Not every patient is a candidate for SBRT. It is most commonly used to treat localized tumors or metastasis in the lung, prostate, bone, brain, pancreas, liver, lymph node or potentially any other site in the body. SBRT can also be used for patients who have had prior radiation treatment. Depending on the cancer and stage, SBRT could be an alternative for surgery with similar cure rates, Dr. McKenzie says.
"We commonly encountered patients with early stage lung cancer who could choose between surgery or SBRT. Thankfully, reported outcomes are very similar with either approach," Dr. McKenzie says. "However, the risks of treatment are much less for SBRT. Therefore, patients who either cannot have surgery, or are at increased risk for surgical complications, can receive similar cure rates with SBRT. "
Sometimes SBRT may be given in addition to surgery. It also may be a part of your treatment plan that requires chemotherapy or immunotherapy. At the LCRP, our clinical effectiveness teams discuss each individual cancer patient's case to determine the best course of treatment according to the medical evidence and national guidelines from the National Comprehensive Cancer Network (NCCN).
"Stereotactic body radiation therapy requires advanced equipment and special skills to perform," Dr. McKenzie says. "It also requires a special team of doctors working with trained and experienced staff to deliver this highly-precise, highly-specialized, and highly-potent procedure to benefit our patients."
Learn more about our radiation therapy services here.