How our nurse navigators can help you through your lung cancer diagnosis
Cancer
Apr 18, 2023
At the Nancy N. and J.C. Lewis Cancer & Research Pavilion, a team of navigators help you on your cancer journey
Lung cancer is the second most common cancer in both men and women in the United States, not counting skin cancer. At the Nancy N. and J.C. Lewis Cancer & Research Pavilion, it's also the second most common cancer we see in patients (again not counting skin cancer).
That diagnosis can be scary and honestly, complex. That's why we have two dedicated oncology patient nurse navigators in which your physician may refer you to for assistance throughout your journey.
Laurie Luteran mostly works with patients who have stage 3 or stage 4 lung cancer, but can help others. Kaitlyn Youmans is the nurse navigator for the Rapid Access Lung Treatment Program and our Lung Cancer Screening Program.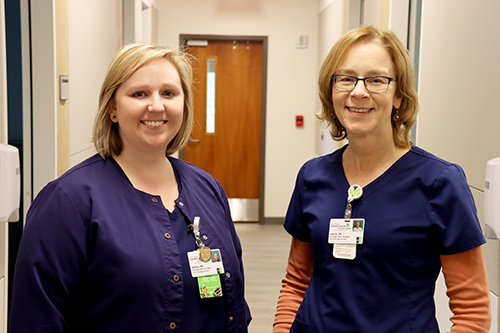 Related Article: LCRP program gets lung cancers diagnosed quickly, treatment started sooner
We also have a nurse navigator at our SJ/C Bluffton Campus that assists lung cancer patients being treated in Bluffton.
In fact, at the LCRP, there's a whole team of nurse navigators to help patients throughout their cancer journey. Meet them here.
"Cancer is such a complex thing," Youmans says. "You are dealing with three or four doctors at one time. I tell patients, I'm your go-to person when you need something. We help smooth the process for them."
"We do everything from coordinating their schedule to explaining treatment options to helping patients at new decision points like new treatment options or recurrence or a decision to seek hospice care," Luteran adds. "We help educate them and their families. We really are an advocate for them."
Our nurse navigators may work with new patients, patients beginning treatment, going through treatment and even afterwards, especially if there's recurrence, Luteran says. They may attend appointments with them, coordinate lab work or imaging needs and make referrals as appropriate for other services.
"We are with them throughout the entire journey," she says.
Luteran and Youmans both have had patients who were surprised of the role of the nurse navigator. Some patients know about them, but many didn't realize they would have a dedicated nurse to go to with any questions or concerns.
"I'd say most patients are pleasantly surprised," Luteran says. "For me, I really like the whole range of things we can do for the patient and their families. I received an email recently that said, 'Thank you for your advice and guidance.' I like the word guidance because I do feel like we guide them where needed, and I think they feel that way too."