Feeling better than 20 years ago
Heart Health
May 4, 2023
Use of Impella device in Savannah man's open-heart surgery helped him recover quicker
As someone in his early 60s, David Lamson thought his shortness of breath was due to getting older and admittedly getting lazy. But a routine checkup with his primary care physician revealed something much more concerning.
His cardiologist, Dr. Roy Flood with SouthCoast Cardiology, confirmed the finding. David was in Atrial fibrillation, or AFib. AFib is a quivering or irregular heartbeat that affects blood flow from the heart. While AFib can feel weird and be frightening, the real concern is the increased risk of stroke, blood clots, heart failure and other heart-related complications.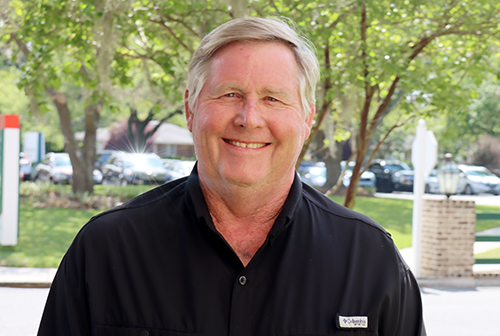 Related Article: Understanding Atrial Fibrillation and its misconceptions
For David, he didn't feel any irregularities with his heart beat, but the shortness of breath was a tell-tale sign. All four of David's arteries were partially to nearly fully blocked. His heart was working at only 30 to 40 percent ejection fraction, the measurement of the percentage of blood leaving the heart each time it squeezes.
Dr. Flood recommended several different treatments, but the blockages were too severe and surgery was needed. That's when David started seeing Dr. Andrew Papoy, cardiothoracic surgeon at St. Joseph's/Candler, and preparing for open heart surgery. Dr. Papoy did a number of procedures within the surgery, all of which he explained by drawing a photo illustration of his heart.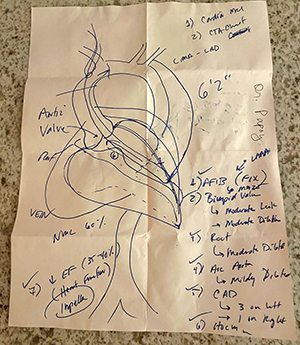 "When he was explaining to me what he found in my heart, he drew me a picture while he was sitting there talking to me," David recalls. "I have that picture framed in my house. It was amazing."
Among the procedures Dr. Papoy performed was the insertion of Impella 5.5. Impella is a temporary left ventricle assist device, or heart pump, and is about the size of your finger.
"It lives inside the heart, and it siphons blood through the end of it and projects blood through an area that is on the other side of the valve," explains Dr. Papoy. "Basically, it does the job of a beating heart without the heart having to do it."
So Impella is considered an assisted-recovery device, allowing the heart to have a couple of days to rest and heal. During this healing time, Impella off sets the command of the heart to allow the heart to fully recover. Often, it helps prevent peaks and troughs in recovery where a patient may experience short arrhythmias, which is when the heart beats with an irregular or abnormal rhythm. With Impella, you typically see these peaks and troughs much more stable, Dr. Papoy says.
Then when the assisted device is no longer needed, whether that's one day after your surgery or the day you are leaving, it is removed right at the bedside.
St. Joseph's/Candler has been using Impella devices to assist in high-risk surgeries for more than five years now. Dr. Papoy believes it's the future in cardiothoracic surgery and allows our cardiothoracic surgeons to do more high-risk procedures while keeping patients close to home.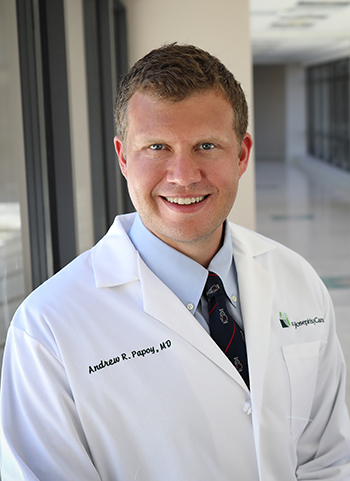 "Although Impella is newer, it's going to be the future. I anticipate it's going to be a mainstay for cardiac recovery," Dr. Papoy says.
Impella is just another example of St. Joseph's/Candler's commitment to offering advanced technology in our region so patients don't have to travel hours to larger cities to have surgery.
"The approach that we use of who will benefit from Impella, as well as the post-operative care and the way we use it as a recovery tool, is something that we are ahead of the curve," Dr. Papoy says. "We are recovering patients and doing pretty cool things here in Savannah for our patients. It's commendable."
How David is doing today
David had his procedure on June 29, 2022, and was discharged on July 4, which is also when he had Impella removed. One day after his surgery, he was walking the unit floor. He started riding his bike about two weeks afterwards, and while he was told he could be out of work for up to 12 weeks, he was back to light duty within five. By December, just six months after an eight-hour open heart surgery, David was cleared for all activity.
"The whole St. Joseph's/Candler staff, from Dr. Papoy and his team to the staff at The Heart Hospital to St. Joseph's/Candler Cardio Rehab, as well as SouthCoast, are absolutely amazing," David says. "The night before my surgery, my mind was at ease. I never felt uncomfortable. I wasn't really nervous. I stayed so calm because Dr. Papoy was so calm and so confident."
Today, David is feeling great. He's also become an ambassador for Impella. He's been invited to speak at two conferences hosted by Abiomed, the company that created the device. He's also toured the facility to see how Impellas are made, met the engineers who designed his pump and the staff that actually assembled David's specific pump, which meant a lot to him, he says. David even got to participate in a simulation to insert an Impella into a mannequin's heart.
David said he'd be happy to speak at other conferences or to anyone willing to listen to his story.
"Especially if you have a family history, but as you get up there in age, and feel a little winded, go see a cardiologist because apparently I had been in AFib before and didn't know," David says. "Now, I probably feel better than I did 20 years ago when I thought I was in good shape."