Staying active as a "Smart Senior"
Fitness
May 9, 2023
St. Joseph's/Candler's SmartSenior program offers many resources and activities, including several fitness classes
Even as you age, it's important to maintain a routine exercise plan. That's because exercise is known to be an effective form of medicine.
Exercise has shown to decrease the risk of diabetes, high cholesterol, high blood pressure, stroke and osteoporosis. If you already have those conditions, exercise can help stabilize them.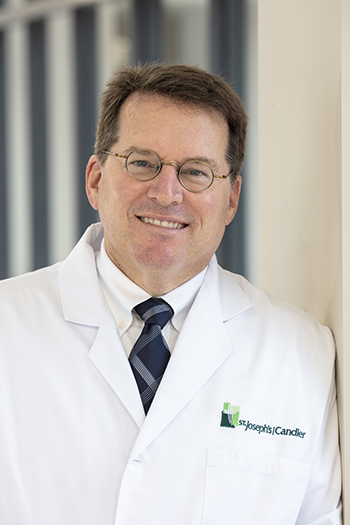 "Exercise helps you feel better physically and psychologically, improving depression and self-esteem and decreases insomnia," says Dr. Steven Greer with St. Joseph's/Candler Physician Network – Bone, Joint & Muscle Care. "Exercise also improves productivity and decreases stress."
There are even more benefits to regular exercise including improving balance and strength which can decrease fall risk by 30 to 40 percent. Exercise also can help decrease pain associated with arthritis.
So make exercise a habit now, whether you're in your 20s or 70s, Dr. Greer encourages. Four areas to focus on are aerobic exercise, strength training, flexibility training and balance training.
If you are just starting an exercise program, you should consult with your doctor, especially if you have ongoing health conditions. Start low and slow, Dr. Greer says. You want to aim for 30 to 60 minutes a day for at least five days a week, but that's something you can build up to if you are new or getting back into a fitness routine.
SmartSenior
If you are 55 and older and looking for a good place to not only get a good work out, but some social interaction as well, you may want to consider joining St. Joseph's/Candler's SmartSenior program.
SmartSenior offers dozens of resources and activities for members in Southeast Georgia and the South Carolina Lowcountry. Fitness activities include: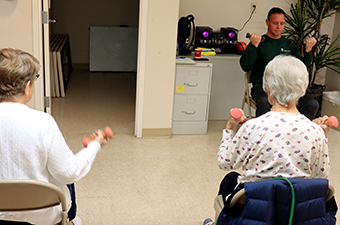 Yoga every Wednesday at 2 p.m. taught by a SmartSenior member
Chair aerobics every Monday at 9:15 a.m. taught by a St. Joseph's/Candler Wellness Center exercise physiologist (pictured here)
Line dancing each Tuesday and Thursday at 11 a.m. at St. Michael's Church
Then there are other resources and classes the program offers including crafts, card games, movie days and Mahjong Mondays. You can also use the physical location's computer lab for printing, copying or laminating. There's also a notary on staff. SmartSenior is located in building No. 8 at the Medical Arts Center off East 65th Street, Savannah.
Typically once a month, SmartSenior hosts a Lunch & Learn, which is one of the more popular events because you get a good meal, interact with fellow seniors and learn about a different health topic. Also once a month, SmartSenior has "Discover Local" days, which is basically a field trip to a business or historic site to learn about it.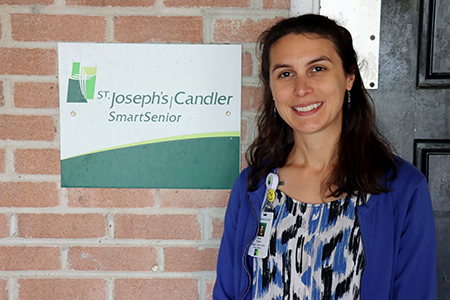 "There's a huge social component to our program as well, especially if you are retired," says Amy Taylor, SmartSenior manager. "People are coming out of the everyday work force where you have to interact with other people and now you have to seek those opportunities on your own."
"There's so many ways to participate in SmartSenior. On the surface, you can attend all the events, but I'm surprised there are a quite a handful of members that have found a niche by coming and serving, whether that's volunteering, organizing our lending library or suggesting a movie for next movie day."
SmartSenior is for those 55 and older. To become a member, you can sign up on the website, call the office at 912-352-4405 or stop by between 9 a.m. to 5 p.m. Membership is $18 a year.
Wellness Center
Another option at St. Joseph's/Candler to help you get into an exercise routine is becoming a member of our Wellness Center. Located at Candler Hospital, our Wellness Center is a full gym with different cardio stations and strengthen training. We offer personal training and several fitness classes, including water aerobics and SilverSneakers chair aerobics, which is a low-impact, chair-based class that uses hand weights, small exercise balls and resistance bands to increase endurance.
Related Article: SilverSneakers program offers seniors a fun, safe environment to work out
For more information about our Wellness Center or to become a member, call us at 912-819-8800 or visit our website.