Medicine and heat: Pharmacist offers tips to keep your prescriptions safe and effective
Miscellaneous
Jun 8, 2023
St. Joseph's/Candler Pharmacist Abby Case also shares tips on safe practices when traveling with medications
Where do you store your medications at your house? If your answer is a medicine cabinet in the bathroom, you may want to consider moving them.
That's because heat and humidity can negatively affect a medicine's potency and effectiveness, meaning they break down sooner than their expiration date, explains Abby Case, a clinical pharmacy specialist with the Center for Medication Management and at our primary care offices in Richmond Hill and Rincon.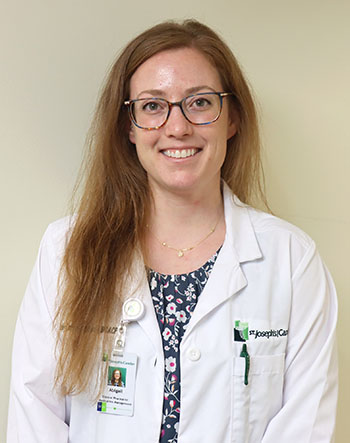 Related Article: Why you see a clinical pharmacist at your primary care office
And with the dog days of summer upon us, it's the perfect time to review your medication storage habits both at home and when traveling.
"We tell patients not to store medications in the bathroom because of the moisture in the air," Case says. "In the kitchen, especially if you don't have a vent hood over the stove or oven, the heat and humidity there can cause them to break down too if they are stored near an oven or sink."
Many medications should be stored at controlled room temperature, which is between 68 to 77 degrees Fahrenheit. Some can handle slightly higher or lower temperatures for short bouts, but patients can run into trouble with medication safety and effectiveness when storage locations exceed 86 degrees.
So if your home is unusually hot in the summer or you're traveling in your car for an extended period of time, it's important to take precautions.
Where's a good place to store my medicine?
Keep these three things in mind when storing your medication:
Keep it away from direct sunlight
Keep it away from moisture
Try to keep it in its original container
For example, moisture and heat can damage capsules with an exterior coating, which can change how medicine is absorbed by the body. Or, a lot of medications have extended release, but if the coating is damaged, the drug may be released quicker into the body, causing potential side effects.
"I tell some patients, if it's safe and away from kids, your bedside table or a kitchen cabinet that is not near the sink or oven can be good places to keep you medications," Case says. "You want to make sure it's a clean, dry, room-temperature place."
Case also says to be weary of leaving medications in your car. Some people may need to always be able to access certain medications, such as an EpiPen or rescue inhaler. Or you maybe you pick up your prescriptions in Savannah but live an hour away, or you pick up your prescription while out running other errands.
In those situations, Case recommends having an insolated cooler bag with you to store the medicines.
"The main thing where we live is the heat. Try to keep medicines out of your car because if it's 100 degrees outside, the inside of your car is going to be closer to 120 degrees, and that's certainly not room temperature," Case says.
What is a safe way to travel with my medication?
When you travel, Case also recommends keeping your medications in a cool, dry place, such as an insulated cooler or bag. If you are traveling with medications that need to be kept refrigerated, such as insulin, you may want to side ice packs.
If you don't need immediate access to your medicine, you could store it in the trunk so it's not exposed to direct sunlight. For example, if a medication tablet melts into another tablet and you still take it, you could be getting an inaccurate dose of medicine that could potentially have harmful side effects.
When you are traveling by plane, Case always recommends keeping it with you instead of storing it in checked language. And whenever you travel, it's always a good idea to carry a current list of medications in case of an emergency.
Not related to heat, but important to remember when you are traveling, is to check expiration dates. This is especially important of rescue medications that may not get used often, such as rescue inhalers. If you become short of breath and reach for an expired inhaler, the medicine will not be as effective in opening your airways.
Related Article: Traveling soon? Here are some tips for traveling by plane or automobile.
Can medication get too cold?
It's also important to make sure your medicine doesn't get too cold, Case says.
"Medicines can freeze, especially if they are liquid, and that can cause potential mishaps with the integrity of the medicine," Case says.
"I encourage patients to call me or they can talk to their community pharmacist wherever they get their prescriptions filled if they have any questions," Case says. "It's always to ask and know than guess, especially when it comes to medication."