Surviving perimenopause: What women need to know
Women's Care
Aug 22, 2023
St. Joseph's/Candler OB/GYN Dr. Michelle Gainty talks about symptoms, symptom management for women making the transition to menopause
The hot flashes, mood swings and fatigue. Oh no, it's symptoms of perimenopause, and there's no telling how many years – yes years – symptoms will last or how severe they will be.
But, you don't have to face it alone or be miserable because of symptoms. You have options, and just like your first period, years of cramping and childbirth, you will survive this stage of womanhood too.
"I try to tell my patients that these symptoms are normal, common and expected," says Dr. Michelle Gainty, St. Joseph's/Candler OB/GYN. Dr. Gainty has joined the practice with Dr. Katherine Bebeau.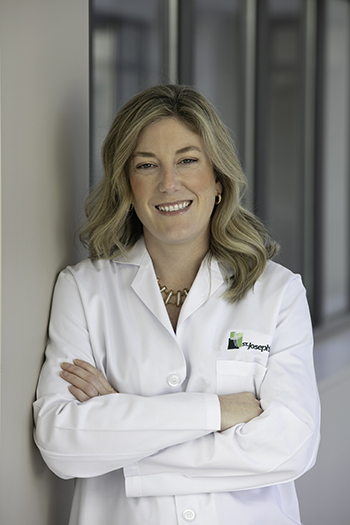 Perimenopause is the transitional time leading up to menopause, Dr. Gainty explains. It can start as early as in your 30s, when estrogen levels start to fluctuate, she says. You can have the same symptoms as when you go through menopause but during this transition period, you will also have your menstrual cycle, which can start to become heavier and more frequent, Dr. Gainty says.
The transition to menopause can last anywhere between one to 10 years, with an average length of about four years.
But it's important to keep in mind that no two women experience the exact same symptoms at the exact same age and for the same amount of time. "Some women are barely symptomatic and for others, they can have symptoms for 10 years," Dr. Gainty says.
What can I expect during perimenopause?
Symptoms of perimenopause are caused by the changing hormone levels in the body, mainly from your ovaries producing fewer hormones. For example, when estrogen is higher, you may have symptoms similar to PMS. When estrogen is low, on the other hand, you may have hot flashes or night sweats.
Some of the most common symptoms include:
Irregular periods
Hot flashes
Mood swings
Sleep disturbances
Vaginal dryness
Low libido
Joint and bone pain
Trouble concentrating
Depression
Fatigue
While these symptoms are common and to be expected as we get closer to menopause age, Dr. Gainty encourages her patients to talk about their symptoms. There are hormonal therapy options to help manage symptoms. That can include estrogen and/or progesterone that comes in the form of a pill or patch. There are also localized medications in the form of creams and gels.
For women who want to stay away from hormonal options, some anti-depressants can help with hot flashes, in addition to moodiness, Dr. Gainty says. Be sure to talk to your physician before taking anything over-the-counter.
If you are looking for an OB/GYN, Dr. Gainty sees patients at our midtown Savannah office and at our Pooler Campus. Request an appointment here.
Coming Thursday: You've gone through perimenopause and are (finally) in the menopause stage of life. What should you expect now?